Leaves are one of the most important parts of a plant. They are like a tree's "food production factory", producing food for the tree through a process called photosynthesis. The leaves of different plants vary widely in size, shape, and colour and provide a wonderful platform for exploration.
Find out more about leaves and their functions In this short video by Wildsight educator Janelle Park. After watching the video, head outside on a leaf discovery walk using the "Look at those Leaves!" activity below.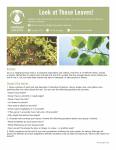 Look at those Leaves!