New Environmental Education Resources at the EcoGarden by Wildsight Elk Valley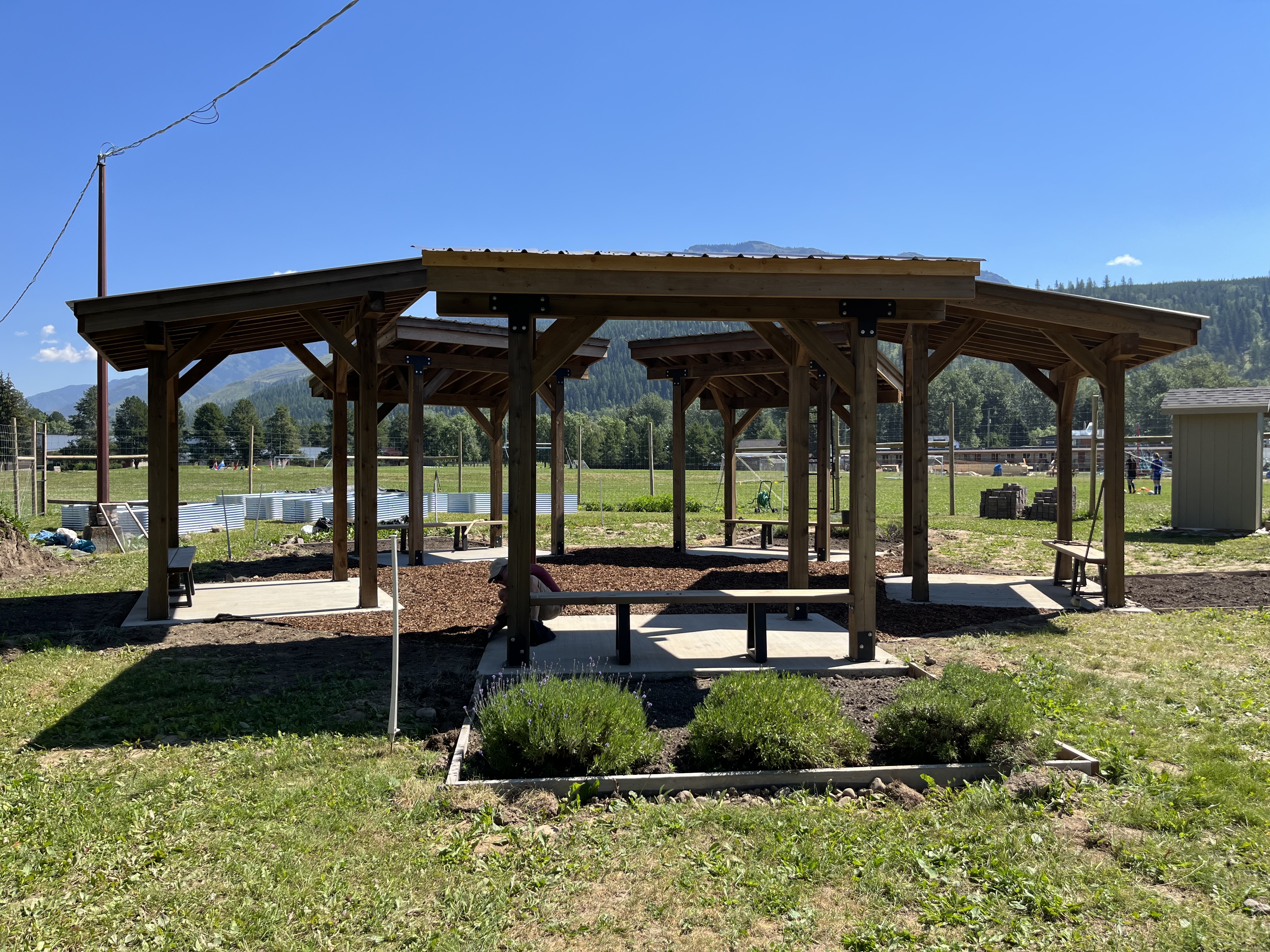 EE Resources at the EcoGarden
Now available to book for use at the Community EcoGarden in Prentice Park. Note: these are 2 separate items, by booking one doesn't mean you get both. You can choose to book both the learning area and learning shed if you want to seat many students (x on the benches and x in front of the benches, on sit pads on the concrete)
OUTDOOR LEARNING AREA
5 outdoors covered structures (10×12' each) – arranged in a circular fashion
Five 1 by 8.5 feet long benches in each structure (seat 4 youth, 3 adults each)
LEARNING SHED
Sit pads (35)
Clipboards (35)
Magnifying glasses (35)
Broom (1)
Programmable lock to access shed
EcoGarden Use Agreements
When in the EcoGarden teachers are expected to enforce the following rules, ensuring that no gardens or structures are damaged. Students are expected to be under a watchful eye to ensure they have support in following the EcoGarden use agreements..
No picking – do not pick anything, including the grass. The EcoGarden is for helping things grow. If everyone that came here picked things there wouldn't be much left.
Feet on the ground – no climbing or jumping in the garden. We don't jump off the garden beds or climb on the benches. We don't want to hurt the plants or ourselves.
Walking feet – we don't run in the garden as the ground is uneven and there are tripping hazards. We move slowly so we can enjoy the space around us.
Leave things better than you find them – any waste you create must be removed with you when you leave.

EcoGarden FAQ
Where is the EcoGarden? The Community EcoGarden is a public green space on City of Fernie land in Prentice Park. The EcoGarden is managed by the Wildsight Elk Valley Branch since it was built in 2003. This space is open to the public.
How do I reserve the EcoGarden EE resources? Details coming soon
Do I need to reserve a time to visit the EcoGarden? You can visit the EcoGarden in other areas with no reservation required. If you would like to use the bookable resources (outdoor learning area & learning shed) then you need to reserve them via the booking system.
How do I know if the EE resources are available? You can view the schedule for the outdoor learning area or learning shed bookings via the booking platform.
Can I host a workshop or event at the EcoGarden? There is a cost to rent the EcoGarden outdoor learning space for events or workshops. Please contact us to explore the cost and availability.
Can we reserve the Angel Garden structure at the EcoGarden? At this time we are not able to reserve this area of the EcoGarden. This does not mean you can't use this area when you are at the EcoGarden.
Is there space where my class can plant things we have started in our classroom? We would be pleased to discuss how we can fit your ideas and plants into the EcoGarden. Please contact us early in your planning process to increase the likelihood that it be successful.
Can my class have a plot at the EcoGarden? Experience has shown us it is difficult for teachers to care for a plot during the summer. We do not offer plots to schools at this time.
What is Growing with Garden programs? Depending on volunteer availability we may offer volunteer programming and support you in bringing your class to the EcoGarden for a tour or activity (vermicomposting, composting, saving seeds, planting, apple pressing, native plants and raking leaves).