Thank you all for joining us Saturday, May 27 for our 2023 Community Yard Sale!
See you next year!
========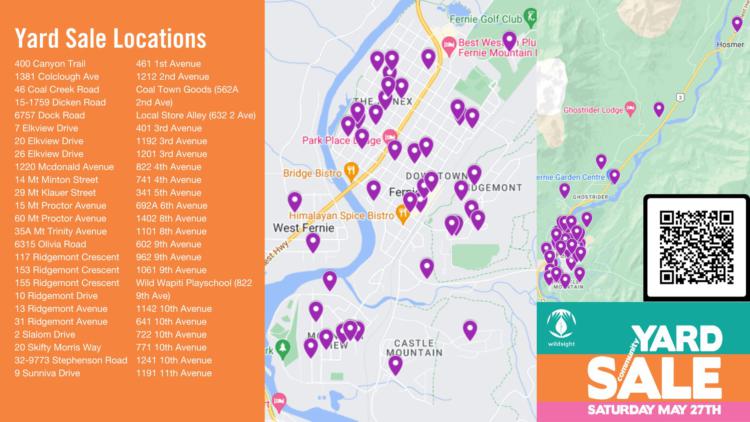 List of Yard Sale Addresses:
461 1st Avenue
1212 2nd Avenue
401 3rd Avenue
1192 3rd Avenue
1201 3rd Avenue
822 4th Avenue
741 4th Avenue
341 5th Avenue
692A 6th Avenue
1402 8th Avenue
1101 8th Avenue
602 9th Avenue
962 9th Avenue
1061 9th Avenue
1142 10th Avenue
641 10th Avenue
722 10th Avenue
771 10th Avenue
1241 10th Avenue
1191 11th Avenue
400 Canyon Trail
1381 Colclough Ave
46 Coal Creek Road
15-1759 Dicken Road
6757 Dock Road
7 Elkview Drive
20 Elkview Drive
26 Elkview Drive
1220 Mcdonald Avenue
14 Mt Minton Street
29 Mt Klauer Street
15 Mt Proctor Avenue
60 Mt Proctor Avenue
35A Mt Trinity Avenue
6315 Olivia Road
117 Ridgemont Crescent
153 Ridgemont Crescent
155 Ridgemont Crescent
10 Ridgemont Drive
13 Ridgemont Avenue
31 Ridgemont Avenue
2 Slalom Drive
20 Skifty Morris Way
32-9773 Stephenson Road
9 Sunniva Drive
==================================================
REGISTRATION IS NOW CLOSED
2023 Event Information
All individuals, families, organizations and businesses in Fernie are encouraged to take part. The registration fee is $20.00 in exchange for:
Colourful Yard Sale signs
Advertisement on the exclusive Community Yard Sale map
Event promotion both online (Instagram, Facebook, website), in-store at Local, and posters around town
NOTE: This year there will be an advertisement in the Free Press for the Yard Sale. However, the map will not be printed in the Free Press. It will be available online in both a static picture and an interactive Google maps format.
Access to a massive group of yard salers coming for the event
Being part of the yard sale event excitement
Interested in hosting a Yard Sale but don't have the space? Send us an email at elkvalley@wildsight.ca
How to Participate?
Register online or in-person by dropping off the registration form and payment at Local – 632 2nd Ave.
Registration is open until May 24. However, addresses must be submitted by May 20 to be included in the Yard Sale map. Registration after May 20 will only be featured in the online listings.
As per insurance requirements, all yard sale hosts must complete a Wildsight waiver upon registration.
Say you are going to the Community Yard Sale Facebook Event to join in the fun and help spread the word.
Have a question?
Contact the organizers via email elkvalley@wildsight.ca or drop by the Local store at 632 2nd Ave.
Media