Moving beyond single-use packaging and reducing waste in the community…
Join us in taking action to move beyond single-use packaging towards a world where items can be reused rather than being sent to the landfill. To achieve this, it will require individual and collective action to drive for change at a larger scale. Our goal is to make alternatives to single-use items more affordable and accessible for the entire community, erasing the need for single-use items in the first place.
Current Event:
Beyond Single-Use: Holiday Edition
Join us on from November 28th to January 3rd as during our Beyond Single-Use Holiday program. Get some pro-tips on how to be a zero-waste advocate during the holiday by following our tips throught the Merry season!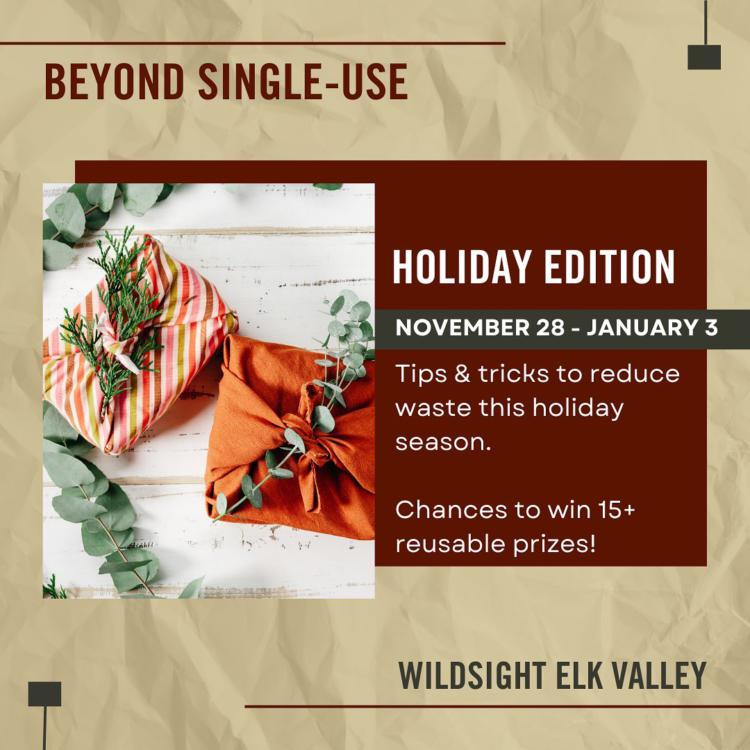 The Pledge
Take the pledge –> coming soon
Past Efforts:
The Art
A third component of the weekend will be a community art exhibit to be displayed at the Mountain Market on Sunday, August 29. We are encouraging all members of the community to contribute a piece of artwork themed around the single-use packaging. Artwork must be submitted by August 26. By contributing a piece of art, individuals will be entered into a separate draw to win some fabulous prizes!
The Petition
The team at Wildsight Elk Valley knows that in order to change the course of the future, it will take more than just individual action. While every effort counts(!!), there is also a need for systemic change to make alternatives to single-use more affordable and accessible for the community. This is why part of the weekend will include a petition centred around the demand for more alternatives to single-use items. The signatures collected will be used to reinforce Wildsight Elk Valley's efforts in the push to move towards a more sustainable, circular economy by demonstrating the demand and support that exists within the community.
The Home
Reducing waste starts in the home. We highly recommend The Zero Waste Chef cookbook by Anne-Marie Bonneau. Available at Polar Peak Books, we suggest stopping by their store to pick-up your copy! More than just recipes, this is an amazing rule book and teaching guide on how to prepare your meals while eliminating unnecessary waste.
Zero Plastic Toolkit for Businesses
We are part of a larger Wildsight Elk Valley Waste Reduction Project endorsed by the City of Fernie and are advocating for the reduction of single-use waste in our community. We would love to work with your business in reducing your use of single-use plastics and discover how together small steps have huge impact!
We support businesses in their choice to reduce plastic bags, straws, and cutlery and we are hoping the customers and clients of these businesses support them by giving a positive response.
We will:
offer suggestions and a format for how businesses can introduce this reduction to their public.
offer alternatives for plastic bags and straws.
accumulate information on where Fernie is in its plastic consumption now and track reduction over the next year.
inform and inspire people to take an active role in ending plastic pollution by opting to reject personal consumption of single-use plastics.
First Steps:
We are asking you to consider eliminating the offering of plastic bags and straws, and to only give bags and straws ON REQUEST. This would mean that over the next several months you would deplete your businesses inventory of plastic bags, straws, and cutlery and switch to a paper or compostable product, and only give on request. Finding suppliers for the compostable options isn't hard and there are various price ranges to suit. In North America, Aardvark Straws and Green Munch supply compostable straws.
We would like to collect data on how many plastic bags and/or straws your business uses in one year and we will come back to you next year to see how much that has been reduced.
Business can tag and challenge each other on social media by using hashtag #zeroplasticchallenge and #ferniedoesntsuck.
Things To Think About:
How many plastic bags and/or straws do you currently have onsite?
How long do you think it would take to use them?
Can they be sent back to your supplier for a credit?
Can they be sold?
Are they recyclable?
Can they be donated for craft projects to raise awareness?
Resources for compostable options?
Does your existing supplier sell a biodegradable option?
Can your existing supplier swap out your existing plastics for biodegradable options?
Have a staff meeting or send an email to all staff with the plan to remove the single use plastic bags and/or straws.
Set a plastic free date! When will your business aim to be single-use plastic free?
Let all staff know that bags and straws will no longer be given out UNLESS REQUESTED.
Remove your straws from the bars and counters.
Mention in any new menus, social media posts, etc that your business no longer be serving any plastic in drinks, it's a positive marketing angle for your business.
If you would like to talk more or to join the Beyond Single-Use Challenge, drop us an email and let us promote your business being single use plastics free! Let's do this as a community, and then let the world know that Fernie is single use plastics free!
Thank you to all the volunteers that are canvasing for the project and also Surf Riders Pacific Rim for their support and guidance in bring this worthwhile community project to Fernie.
If you require more support or have any questions please email elkvalley@wildsight.ca
Click here to download the Zero Plastic Toolkit for use in your business