#ferniefallfair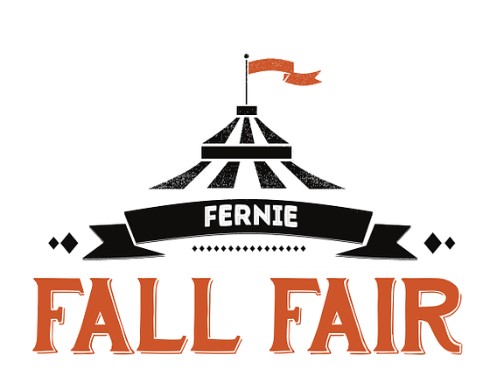 Follow Wildsight Elk Valley on Instagram and Facebook
Thank you for a beautiful 2022 edition, it was good to be back after such a long break!
All pictures taken by Sharon Kelly
— SEPT 11th 2022 @ ROTARY PARK —
Wildsight Elk Valley is once again hosting the Fernie Fall Fair and we're celebrating with a festival that is as unique as our community! Did you know the 1st Fall Fair was in 2016 at Prentice Park?
The Fernie Fall Fair is a grassroots public event that encourages people to bridge rural and urban living through enjoying locally grown food.
It is our goal to showcase healthy, farmstead living and promote the importance and achievability of sustainable food production in the Elk Valley.
Get your taste buds ready for the Blue Ribbon competitions — pies, cakes, preserves, and bread bragging rights will be contested for.
Fernie's favorite Sunday event, the Fernie Mountain Market, and its amazing vendors will be providing the best of the harvest for you to take home!
Join us for the Fernie Fall Fair at Rotary Park (6th A Ave) where all sorts of fun will be happening from 10am-2pm on September 11th, 2022.
What is there to do at the Fall Fair?
Peruse the Fall Fair entries and be inspired at all the amazing things Fernie-ites make
Put in a bid at the Pie Auction
Enter the Cake Walk and try and win yourself a cake
Stock up on locally grown produce at the Mountain Market
Taste something yummy at one of the food trucks
Explore the unique artisans at the Mountain Market
How do I enter the Fall Fair?
Explore the categories in the Fall Fair Guidelines – click to download the PDF or view images of the guidelines below
Grow, bake or make something great
If you are entering cake, pie or cupcakes, be sure to pick up your containers at Local before Sept. 10th
Bringing your entry to the Rotary Park gazebo on Sept 11th between 9-10:30am
Fill out the Registration Form and Entry Forms when you arrive and pay your $1 fee per entry
Throughout the day enjoy the Farmers Market at Rotary Park and visit Chautauqua at City Hall
Pick up your entries between 2-3pm
How can I volunteer at the Fall Fair?
The #ferniefallfair would not happen without the amazing volunteers that Fernie has!
Click here to go to the volunteer signup sheet and choose your shift
There is loads of volunteer fun at the Fall Fair with many short shifts that allow you to be part of the action!
Volunteers go home with pie and other yummy treats as a thank you for sharing your time with us
How can I stay in the loop about the Fall Fair?
Join the Fall Fair Facebook event (coming soon)
Follow #ferniefallfair on Instagram
Read and share this content
Check out the Fall Fair schedule of events (coming soon)
What else is happening in Fernie this weekend?
Be sure to check out all the fun at Chautauqua this weekend in Downtown Fernie at www.ferniechautauqua.com
Stock up on local produce at the Mountain Market from 10am – 2pm at Rotary Park
How can I learn more about Wildsight Elk Valley?
Sign up for the Wildsight Elk Valley Branch e-blasts – click 'get updates' in the menu above
Visit Local at wildsight.ca/local located at 632 2nd Ave
Visit the Community EcoGarden at wildsight.ca/ecogarden located in Prentice Park in Fernie
Become a member – click 'become a member' in the menu above
Fall Fair Rules and Categories 2022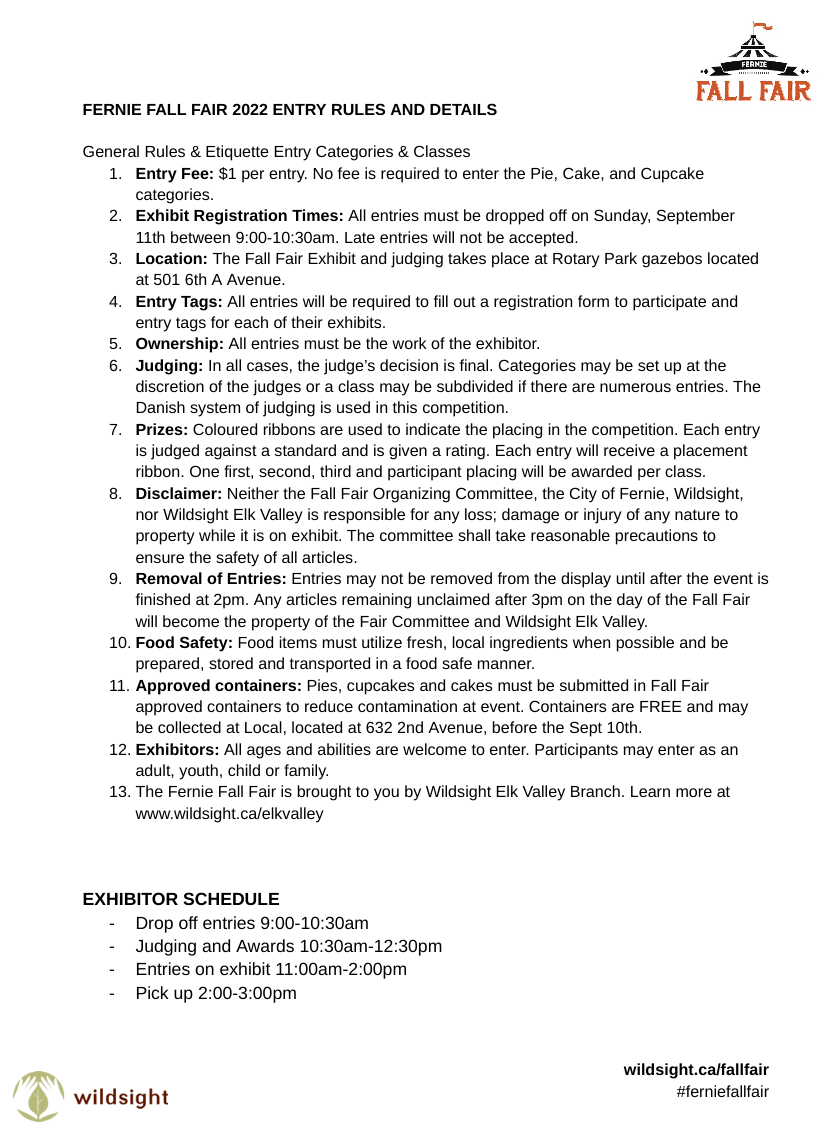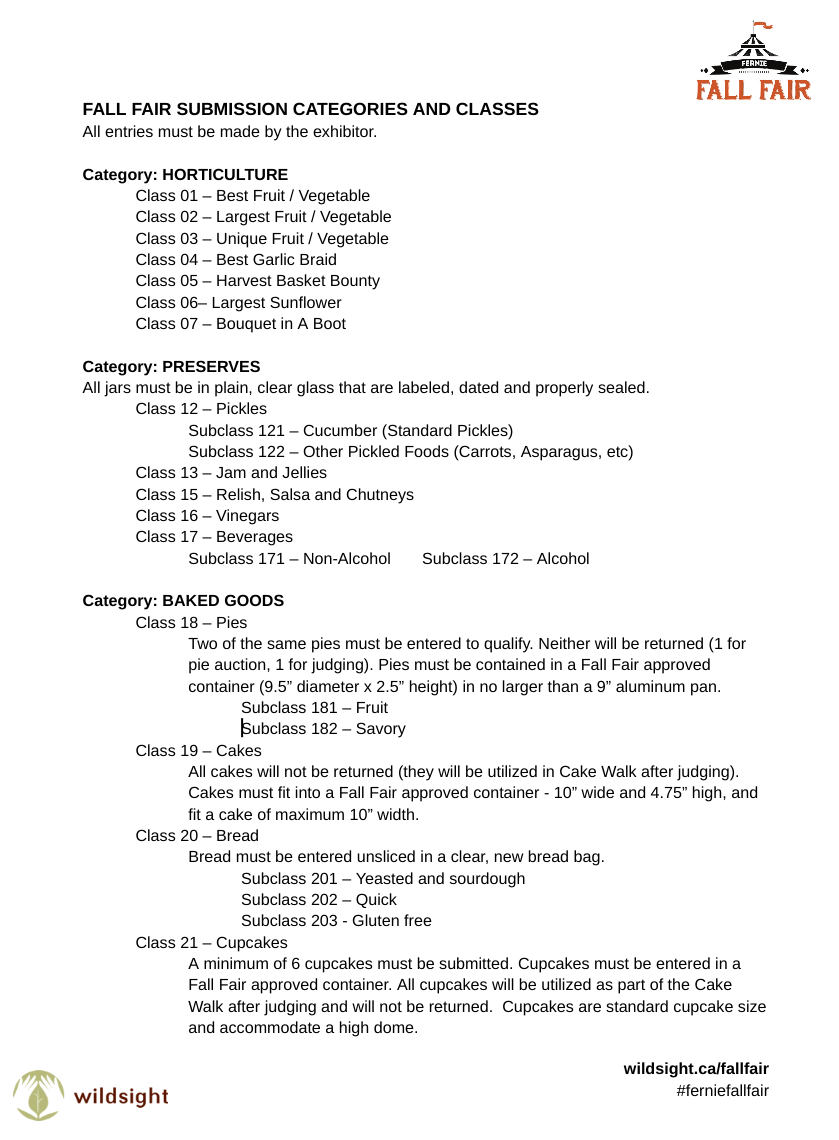 Still have questions? Please contact us via phone (250) 423-3322 or email elkvalley@wildsight.ca.