Coming soon to the EcoGarden in 2023
– a Wildsight Elk Valley social enterprise
———————————————————————————
evergreens
Pesticide-free | Herbicide-free | Year-round produce
We produce delicious fresh leafy greens
Everyone deserves access to fresh and healthy vegetables! Our leafy greens are grown with care in order to remain flavourful, robust, and healthy.
We grow thoughtfully and responsibly
Evergreen grows fresh, clean, high-quality leafy greens with no pesticides and no herbicides. Our indoor growing, harvesting, and packaging allow for maximum quality control.
Grown locally for fresher food
Our tasty produce is freshly harvested and delivered for the peak of freshness. Imported produce loses essential nutrients and freshness while traveling many miles. Now you know exactly where your food comes from.
We grow 365 days a year
Our fully controlled growing environment allows our farmers to recreate the perfect growing day, every day. Now we have Fernie-grown, consistent high-quality local produce, year-round.
We grow for our community
Evergreens is a social enterprise operated by Wildisght Elk Valley. A social enterprise is a business operated by a non-profit to achieve social, cultural, or environmental goals through the sale of goods and services.
FAQs
Where are we located? We grow hydroponically in a structure located at the Community EcoGarden in Fernie BC. We seed, grow, harvest, package, and deliver produce grown in the structure to ensure and maintain cleanliness and freshness.
When will Evergreens start growing? The expected start date is fall 2023
What is hydroponic? Hydroponic farming happens indoors without soil, with the plants obtaining their nutrition from the water their roots sit in and energy from powerful LED lights.
Do we use pesticides? Nope! We are proud to say that we don't use any form of pesticide or herbicide on our produce. Also, our indoor controlled environment allows for no exposure to pests and outside additives.
Where can you buy our greens? TBD
Do we use plastic packaging? We use compostable plastic bags to package our leafy greens and ensure they are fresh and delicious when they get to you. We continue to search to find the best packaging for our produce and our planet.
What produce we currently grow? TBD
How do we grow year-round? Our farmers can control the environment inside our indoor grow area so we're able to grow year-round, no matter the weather. Snow or shine – we've got fresh greens always!
How do we give back to the community? A portion of all produce grown will be donated back to community organizations that support at-risk community members – including the food bank, aged care, and schools.
Can I volunteer to help? Definitely! We will have volunteer shifts available to help grow, harvest, and package the leafy greens each week. Be sure to follow the Wildsight Elk Valley eblast, Facebook and Instagram pages for the inside scoop.
———————————————————————————
From Kootenay Mountain Culture Magazine – Winter2022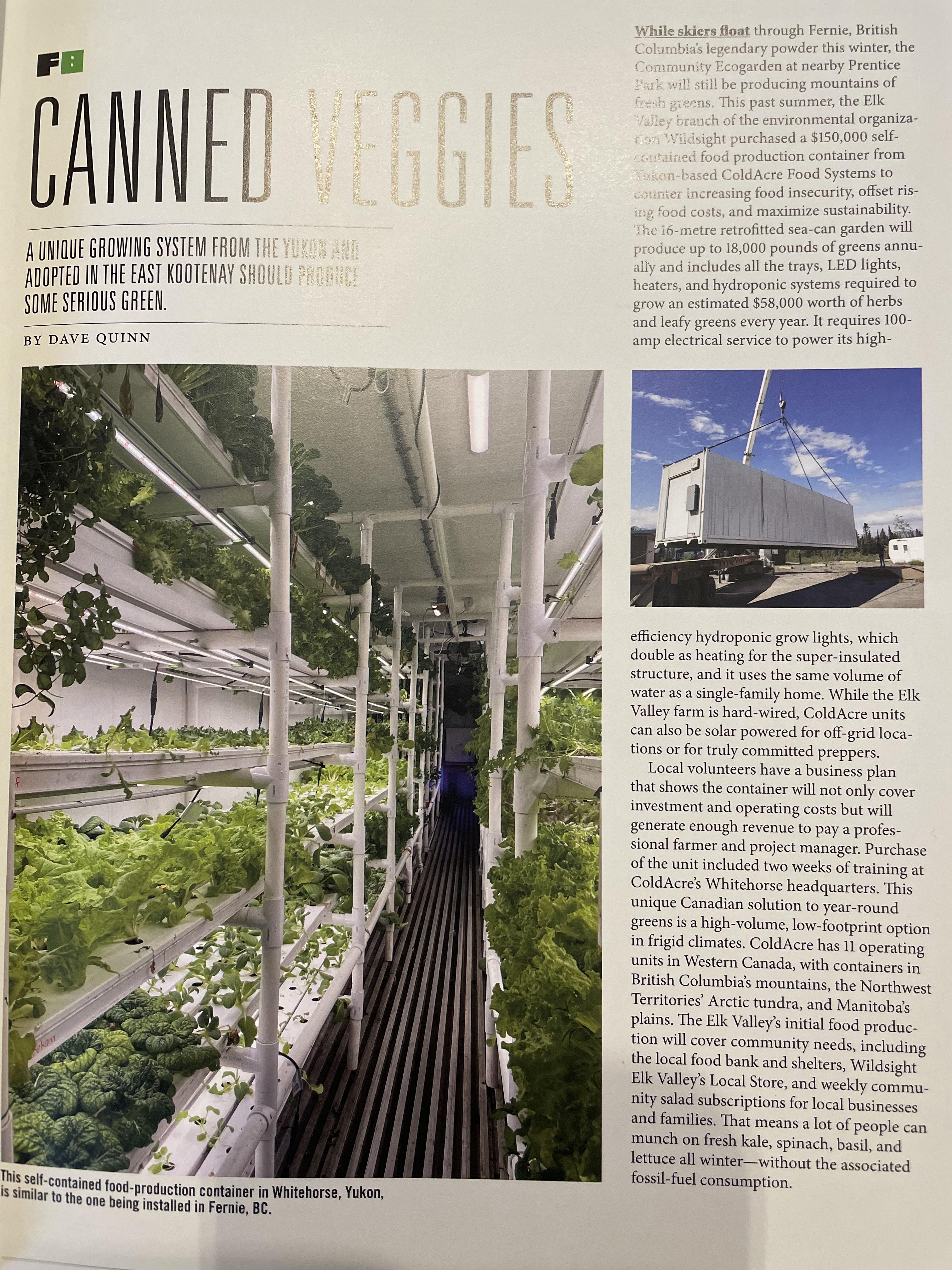 ———————————————————————————
News Release December 8, 2022 – PacifiCan
East Kootenay communities receive over $2 million in funding to revitalize public spaces and enhance tourism experiences
From: Pacific Economic Development Canada
The Government of Canada is making investments across British Columbia to refresh community spaces, attract new visitors, and stimulate local economies
Safe and inclusive public spaces and dynamic tourism attractions are key to vibrant communities. They bring together people of all ages and abilities, in turn supporting businesses and boosting economic vitality. Throughout the East Kootenays and across British Columbia's Southern Interior, communities are ready to welcome residents and visitors alike to enjoy new and improved public spaces and tourism experiences.
Today, the Honourable Harjit S. Sajjan, Minister of International Development and Minister responsible for the Pacific Economic Development Agency of Canada (PacifiCan), announced over $2 million in PacifiCan funding for ten projects throughout the East Kootenays. This includes almost $1.5 million for five projects funded through the Canada Community Revitalization Fund and over $550,000 for five projects funded through the Tourism Relief Fund.
PacifiCan is the federal economic development agency dedicated to British Columbians. PacifiCan works with partners who are building innovative businesses, creating quality jobs, and supporting inclusive growth throughout British Columbia.
"These investments demonstrate how the Government of Canada is helping to boost economic development in communities across British Columbia. We are here to support small- and medium-sized businesses on the road to recovery. Investing in shared public spaces and tourism experiences will bring communities together." – The Honourable Harjit S. Sajjan, Minister of International Development and Minister responsible for the Pacific Economic Development Agency of Canada
Wildsight Elk Valley is receiving $252,000 in funding through the Canada Community Revitalization Fund to construct a Hydroponic Container Farm, which will allow produce to be grown year-round at the Fernie Community EcoGarden. Upgrading existing infrastructure and building new public assets will mean British Columbians will have better access to recreational programs and facilities; these projects will grow economic opportunities, create jobs, and improve community wellness.