OUR COLD CLIMATE SEED LIBRARY
Wildsight Elk Valley Branch's Community EcoGarden has been hosting seed swap events every winter since 2005. Most seeds offered at the seed swaps have come from plants grown in members' gardens and at the EcoGarden. Over the years, other local gardeners have contributed more seeds to our "stash." Many seeds represent varieties that have been grown here for several years by these gardeners. They are successfully grown favorite varieties that have adapted to the unique growing conditions in our valley.
Out of this ongoing project, the idea came of establishing a seed library to preserve and continue to share these varieties that have adapted to our climate. The mandate of our Seed Library is to preserve and maintain seeds from staple vegetable and edible herb and flower varieties This addresses an aspect of food sovereignty involving access to organic, non-GMO, open-pollinated seed for growing our own food.
All seed varieties in the Library have been grown out in our area for at least two plant-generations. The Library houses a small supply of about 50 plant varieties in a dedicated steel cabinet inside Wildsight's Local store in Fernie. The cabinet provides the three conditions necessary for long-term seed storage: darkness, dryness and cool temperatures.
Library members who have been trained in seed saving planning and techniques and have adequate garden space are needed to grow out seeds from each variety to keep Library content fresh.

SEED LIBRARY MEMBERSHIP
This project needs more gardeners interested in saving seeds! A lifetime membership fee of $10 provides gardener access to training workshops, our Seed Strategies workbook, and free access to seeds in the Library. Members are encouraged to work with only a few varieties each year and plan their gardens to give plants being grown for seed the proper isolation distances to prevent unwanted cross-pollinating and allow for minimum plant populations. As a community working together, we can successfully renew and maintain our Library stock.
New members are welcome!
Membership fee can be paid by e-transfer to: elkvalley@wildsight.ca.
Please specify Seed Library Membership in the comments.
Your welcome email will include information on how you can get involved in the project.
2023 SEEDY EVENTS
Hands-on Seed Saving Workshops at our Community EcoGarden are planned for August and September. Dates and times will be announced on social media or are available by emailing us.
Our Annual Seed Swap will be live and in person on February 25th 2023. This event will feature access to our community seed stash as well as seed saving, gardening and composting information with experts and visiting vendors. Click here to learn more about this event.
The EcoGarden publishes a list of seeds currently available from our community stash. Email us for the list.
Gardeners wanting seeds can order by email and pick up their seed orders at our Local Store at 632 2nd Avenue in Fernie. Cash donations are appreciated and can be made at the time of pickup.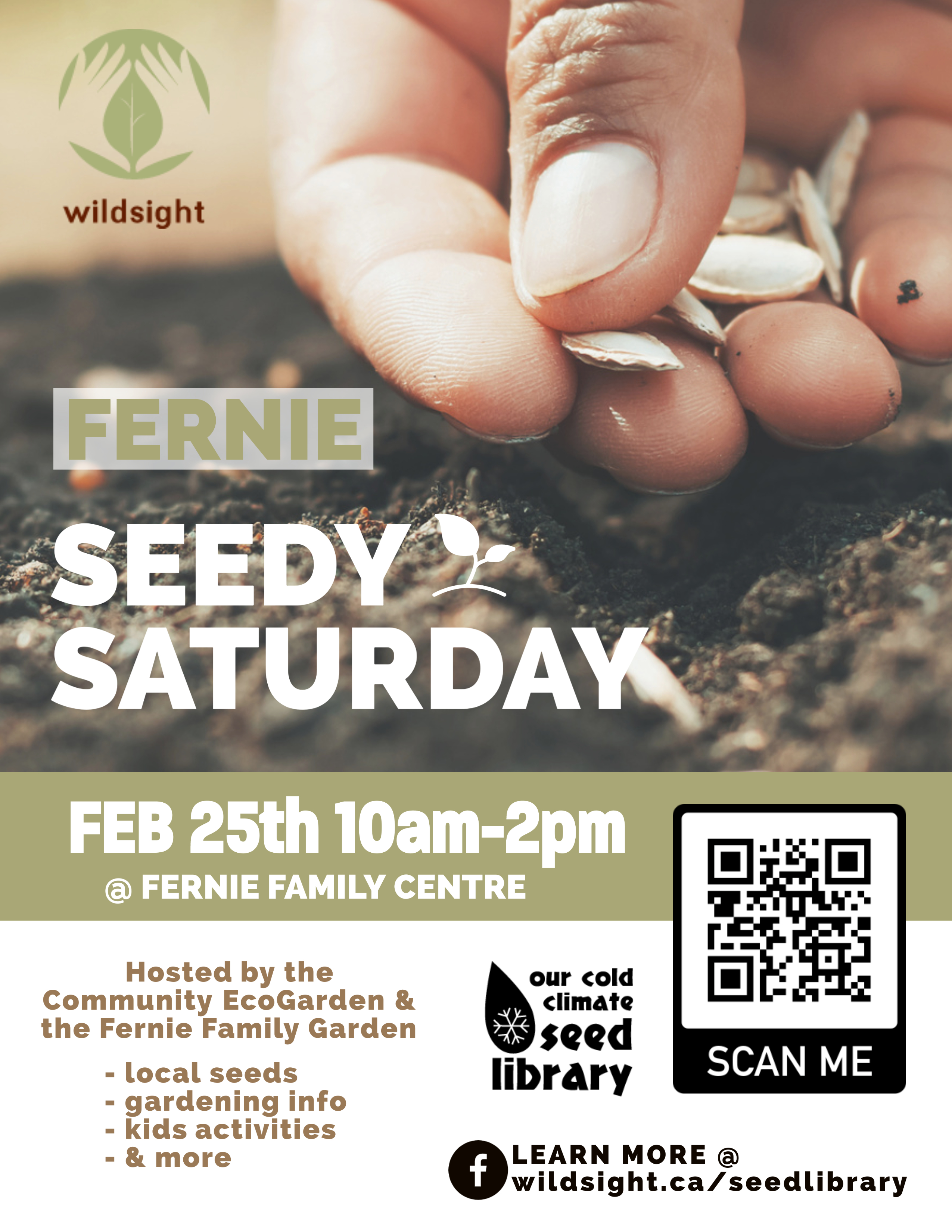 DONATING SEEDS TO THE SEED SWAP
There is a box at the Local Store to receive donations from gardeners of seeds they have grown. Please secure seeds in envelopes labeled with the plant name and variety, year collected, and any additional information available, such as where the original seed came from. These seeds will be germination-tested and added to the community stash.
FERNIE GROWN SEEDS
Plants adapt to the region they grow in. Our seeds thrive in Fernie's unique, cold climate growing conditions. This seed was grown, saved, cleaned and packed by the Community EcoGarden in Fernie, British Columbia, Canada.
These locally-grown local seed varieties (and others) as well as seed sprouting kits are available (online and in-store) at Local – 632 2nd Avenue, Fernie BC.