At the Community EcoGarden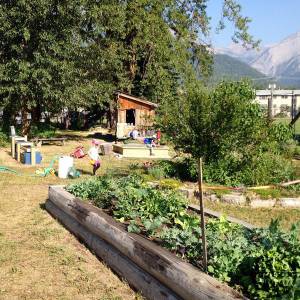 Since 2003, the Community EcoGarden in Fernie, BC has provided gardening opportunities and community education. Inspired by permaculture principles, the EcoGarden enables members to utilize individual garden plots to grow and harvest flowers and vegetables. Located in Prentice Park, behind the Tom Uphill Memorial Home, this common green space features a small greenhouse, compost, toolshed, demonstration gardens, small play area and berry zone.
The Community EcoGarden is located on 5th Avenue next to the local hospital. You can find us just off the main highway. Check out the map below for directions.
Interested in knowing more? Join the EcoGarden Facebook page.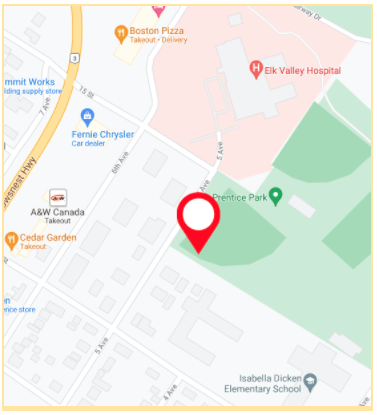 Becoming a Plotholder
Plots cost $100 a season. Email us with your name and phone number to be placed on our plotholder list. Don't delay, the sooner you are on the list, the higher you will be on the list come spring. We contact people.
Volunteering at the EcoGarden
There are many ways to be involved with the EcoGarden besides having a plot. You can choose to adopt a space in the EcoGarden to care for, or join us for a scheduled work party. Email us to learn more and be put on our volunteer list.
For more information, to inquire about your own plot or to volunteer at the EcoGarden email garden.fernie@gmail.com.
Work Party Wednesdays – October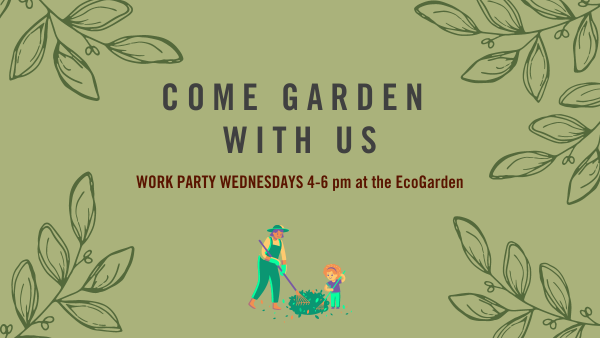 Come join us at the EcoGarden for a work bee each Wednesday from 4 to 6pm throughout the month of October! No experience is needed. Stop by and lend a hand, even if it's for only 20 minutes, every little bit helps! All ages and abilities are welcome.
Eco Garden 2017 – Canada's 150th from Wildsight on Vimeo.
2021-2022 Expansion
The team at Wildsight Elk Valley is excited to announce that we have received funding from Columbia Basin Trust and the Canada Healthy Community Initiative to expand the EcoGarden! We have expanded our gardening space to provide more ways for the community to utilize the garden. The expansion includes new fencing, additional garden areas and more rentable lots, an outdoor covered area, small play space, the purchase of tools, and the construction of a toolshed.
With the completion of our 2021 upgrades, we are now working on another addition to our EcoGarden space a container farm that will allow us to cutivate greens all year-round! Stay tuned for more details to come as the project progress.
Programs hosted at the EcoGarden
Little Sprouts
During the summer months, Wildsight Elk Valley runs the Little Sprouts program at the EcoGarden. This is intended for parents/guardians and their children to attend. It is a great opportunity to get the little ones out in the garden and begin their gardening education at an early age. For more information, please join our Little Sprouts Facebook group.
Garden 2 Market:
Connecting Growers with Market Goers since 2008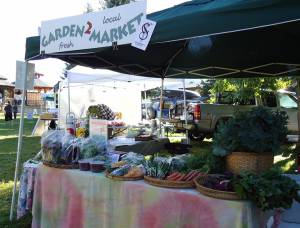 Sundays from July to September
This program offers local growers & gardeners an easy way to sell their produce, and provides Fernie Mountain Market goers a great selection of local produce. From our Garden 2 Market stand locally grown flowers, fruits, vegetables, berries, fresh eggs and more can be sold & purchased – you bring the goods, we get them to the community! If you are interested in selling your harvest please review the information below.
Questions? elkvalley@wildsight.ca
How it works:
Bring your washed & ready to sell products to the Garden 2 Market booth between 9-10 am at the Fernie Mountain Market
Wildsight will price and sell your products & retain 25% of the sale.
Payment to the growers and unsold produce can be picked up at 2 pm at the Garden 2 Market booth.
Tell all your friends about Wildsight's Garden 2 Market program!
All unsold produce not collected by 2 pm will be donated to community organizations and/or volunteers.