Community EcoGarden
As our ability to grow food increases, our dependency on imported food decreases. Gardening becomes a mechanism by which our individual and community food security and emergency preparedness increase and it is a means of improving health and well-being, and increases the capacity of our local food systems.
Wildsight Elk Valley Awarded a "Happy Birthday Canada" 150th Celebration Garden

Fernie, BC, – The Wildsight Community EcoGarden is the lucky recipient of one of a hundred and fifty, '150th Celebration Gardens' being distributed across Canada – by the Canadian Garden Council in collaboration with Vesey's Bulbs of PEI – in celebration of Canada's sesquicentennial in 2017. Containing 1000 tulip bulbs, the international symbol of friendship and an enduring symbol of our national ethos of kindness and hospitality, the 150th Celebration Garden is a terrific way to say "Happy Birthday" to Our Home and Native Land.
The garden, consisting of 500 red and 500 white tulip bulbs, generously donated by Vesey's Bulbs of PEI, will be planted on 26 October, 2016 at 10am in the Community EcoGarden in Prentice Park. Everyone, from seniors to school children and the public, is invited to attend the planting ceremony as our community makes preparations to celebrate Canada's 150th birthday next year.
"We feel very fortunate," said Dawn Deydey, Wildsight EcoGarden Founder," to have received one of these Gardens." The Canadian Garden Council's 150th Celebration Garden program received more than 400 applications.
Symbolic link to a Flagship Celebration Garden in Niagara Falls
The EcoGarden, and the other 149 gardens planted across the country, will be symbolically linked to a Flagship 150th Celebration Garden Promenade, consisting of 25,000 tulips also donated by Vesey's, to be planted this fall and bloom next spring adjacent to Niagara Falls, one of the great natural wonders of the world, and one of Canada's largest gateways for visitors to our country.
The Community EcoGarden will also be featured on Canada's Garden Route, www.canadasgardenroute.ca
The Wildsight Elk Valley Branch would like to thank Jean Marchi and Brian Gray for their continued commitment in planning and preparing the garden, and Valley View Contracting for their support in developing the garden space.
This heartwarming program was made possible by: Canadian Garden Council, Vesey's Bulbs, Canada Post, Canadian Nursery Landscape Association, Niagara Parks Commission, GardenMaking magazine, Landscape Ontario, Ontario Garden Council, Baxter Travel Media, Enterprise Canada, Gardens BC, Québec Gardens' Association and VIA Rail Canada.
At the Community EcoGarden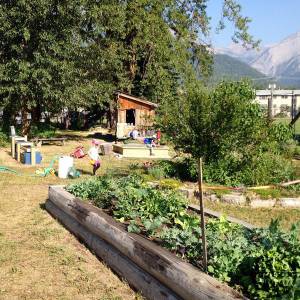 Since 2003, the Community EcoGarden in Fernie, BC has provided gardening opportunities and community education through sustainable organic projects. Inspired by permaculture principles, the garden enables members to utilize individual garden plots to grow and harvest flowers and vegetables. Located in Prentice Park, behind the Tom Uphill Memorial Home this common green space features a native plants demonstration garden and a hummingbird/butterfly garden.
For more information, to inquire about your own plot or to get involved email garden.fernie@gmail.com