Put your mower away for the month of May
The Challenge
Choose NOT to mow your lawn for the month of May to allow dandelions and other wildflowers to grow to support bees and other pollinators. Flowers in your yard can provide vital pollen and nectar for bees and other pollinators. Until summer hits, wildflowers are in low supply and our yards can provide a much-needed source for the bees to thrive.
How to get involved
COLOURING CONTEST: Download the b&w coloring page (or make your own!). Put the poster in your window to tell your neighbors why you aren't mowing your lawn, or bring it to Local at 632 2nd Ave to be posted in the store window and enter the coloring contest. Kids of all ages are welcome to enter.
PHOTO CONTEST: Take a photo of your beautiful unmown lawn. Post your photo to Facebook or Instagram and tag @elkvalleywildsight and use #NoMowFernie2023
CLICK THE IMAGE BELOW TO DOWNLOAD PDF COLORING CONTEST FILE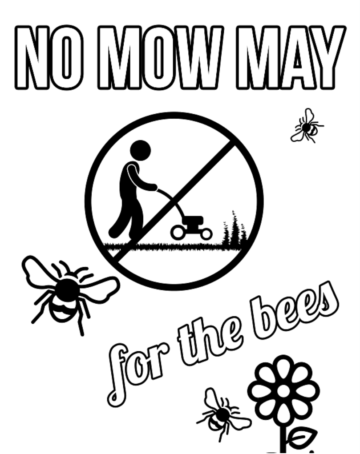 Prizes
Local gift cards will be awarded to winners of the coloring contest and photo contest. A total of $100 in gift cards are available to win. Submit your entry by May 31st, 2022 for a chance to win. Winners will be drawn on June 1st, 2023
HOW DOES WAITING TO MOW HELP? Although we all get anxious to clean up in the spring, hibernating pollinators often need a bit more time under the leaves before they can safely emerge. Leaves left on the ground provide important insulation for bees hibernating underground and for moths and butterflies that overwinter in the leaves. Leaving your leaves where they are until temperatures are above 50 degrees F for 5 consecutive days will give most of those hibernating pollinators the protection that they need. Bees that nest in stems may not emerge until mid-June or later. It is best for the bees to leave the stems where they are. New growth will soon cover them, any bees nesting in the stems will emerge, and the old stems will decompose. If you want to remove past seasons' stems from your garden before mid-June, find a place to safely stash the cut stems until the bees that might be nesting in them have a chance to emerge. Come midsummer, you can safely compost these stems. When you do cut stems back, leave about 12 inches of stem standing to create nesting habitat for this summer's bees.
DOES A NO MOW LAWN LOOK UNTIDY? Visit the Fernie Community EcoGarden throughout the year to explore what a No Mow Lawn looks like. The EcoGarden doesn't mow in May. For the rest of the summer, the EcoGarden chooses to mow sections of the garden. You will see certain areas of the EcoGarden are not mown and kept wild, like the edges of the garden or along select fence lines. Here you will see red clover, white clover, self-heal and other naturalized plants flowering.
ARE DANDELIONS BAD? Dandelions are one of the earliest flowers for bees. Dandelions were originally brought to North America as food. Every part of a dandelion is edible and nutritious (as long as it is unsprayed). You will find that dandelions push to flower in the spring, once they bloom the plant does not continue blooming but instead puts its energy into its roots & leaves. The dandelion root helps bring up nutrients from deeper in the soil.
WHY STOP AT THE END OF MAY? Consider choosing areas of your lawn to let grow out all summer long or plant a pollinator garden. Bonus: Before May join 31st join the Every Flower Counts citizen action project to count the number of flowers growing in your lawn and check your nectar index.
HOW TO MOW AFTER LETTING IT GROW? According to the Bee Lab at the University of Minnesota – the one-third rule is a good guide. Don't mow more than one-third of the vegetation at one time to a height between 3.5 to 4 inches.
LEARN MORE: Join PlantLife to learn more and participate in their Every Flower Counts event after participating in No Mow May at https://www.plantlife.org.uk/everyflowercounts/. Like the EcoGarden and Wildsight Elk Valley Facebook and Instagram pages. Become a Wildsight Elk Valley branch lifetime member for just $20.