Get the entire virtual summit straight to your inbox! Wildsight Elk Valley Branch proudly offers an Audio Pack recording of the entire World Food Day summit designed to educate, connect & inspire anyone interested in food security. We brought together thought leaders, community organizers, politicians, educators and growers to hear their thoughts about what you can do to raise awareness about food security at a local level, how you can take action to encourage a food system redesign, and what's happening in their communities to inspire you to keep up the work you're already doing.
ONLY $14.97 You'll hear from nine speakers who are doing this important work right now. This valuable investment gets you your FOOD for THOUGHT Mp3 download of the entire summit. That's both ALL audio downloads at your fingertips anytime forever.

WHO IS THIS SUMMIT FOR? Food Security communities across Canada. This community includes individuals, professionals, educators, community groups, non-profits, food banks, farmers, hunters, fishers, business, health authorities, municipal and provincial governments and Indigenous communities working towards food security.
KNOWLEDGE EQUALS RESULTS Often times understanding what it means to have food justice in your community is a difficult trail map to navigate. During this summit you'll learn:
How to build relationships with municipal governments in order to move forward with your proposals.
What other communities are doing to build sustainable food systems.
Why it's important to position yourself as an expert in Food Security in your community.
Where to access free resources to support your work.
How to support your local agricultural economy so that you are partners in success.
How to engage with and encourage the next generation of change makers to get involved.
What's happening at the federal level in Food Security
What the current landscape of urban farming looks like and how to get involved.
PLUS much more!
What you get:

There is a growing movement across the country that understands how much local food matters to communities, from farm to fork. Ensuring that Canadians have access to healthy, affordable food and sustainable food systems need to be national priorities. Supporting and celebrating local farmers, manufacturers and retailers in every community across Canada is essential to achieving these goals.
-Wayne Stetski, MP

"Community involvement is fuelled by will and capacity. The minimum requirement for any community‐led initiative is enough people with the interest and capacity to participate."

– Aimee Watson
Meet the Speakers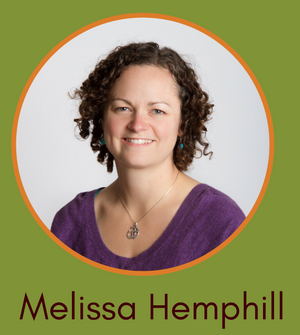 Melissa Hemphill
Food Security Coordinator
Community Connections (Revelstoke) Society
Melissa Hemphill has been appointed as the Food Security Coordinator with Community Connections, and is tasked with implementing recommendations from the 2014 Revelstoke Food Security Strategy.
Melissa originally hails from southern Ontario, where she earned her Honours Bachelor of Science in Biochemistry from the University of Guelph. After moving out west she earned a Diploma in Natural Nutrition from the Canadian School of Natural Nutrition, and began her career as a Holistic Nutritionist.
In 2006 Melissa moved to Revelstoke, BC and became a member of the North Columbia Environmental Society. She went on to become a board member and the Chair of the Local Food Initiative, a subcommittee of the NCES. In the fall of 2014 Melissa became the Coordinator of the Local Food Initiative and helped with the big task of incorporating the committee as a non-profit society, now the Revelstoke Local Food Initiative Society. During this time, Melissa also served as the Chair of the Revelstoke Food Security Strategy Advisory Committee.
Melissa brings a passion for healthy, seasonal food and environmental sustainability to every table she sits at. When she's not at her desk she is either in the garden, in the kitchen, on skis or playing with her family.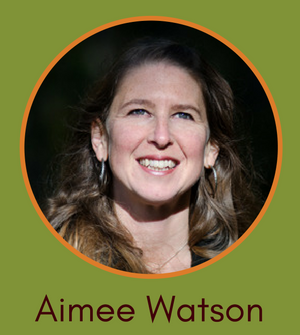 Aimee Watson
Director, Area D
Regional District Central Kootenay
Aimee grew up in a small Ontario town and moved out to British Columbia in 1997 after travelling Europe in her late teens. Aimee worked many years in retail before studying herbalism, nutrition and botany. After finishing her studies she moved onto the Fraser Common Farm Coop and became one of the field harvest managers. It did not take long before Aimee became very involved in the community, working with a variety of non-profit groups supporting the rights of small scale farmers trying to make a living in a large farm global food market. This offered opportunity for her to work with several MP's and she developed a passion for community, good food and the political system. Aimee continues to be actively involved on a variety of boards, has been learning about the political system and discovering ways to develop a consensus within large groups.
In 2004, Aimee fell in love with a beautiful little town and moved to Kaslo, BC, where for the first year she worked up to eight jobs. She established herself in the small community and was hired by North Kootenay Lake Community Services Society to implement a food forum for the region. After a year of hard work and research the Kaslo Food Security project was established and in 2009 the doors were opened for the first accredited community food center in Canada.
After the completion of a successful project Aimee was graced with the birth of her son and took a year off to enjoy motherhood and commence studies at Ryerson University in the field of Food Security.
While on maternity leave Aimee continued to work on projects concerning food security and with Director Shadrack – Electoral Area D. In 2011, Director Shadrack approached Aimee and asked if she would act as his Alternate Director for Area D. After assuming the role of Alternate Director, Aimee worked on a variety of files from highways, the West Kootenay Boundary Regional Hospital District, chair of the Advisory Planning Commission, to meat regulations and attending the national conference for municipalities (FCM).
In 2014, Aimee was elected the Electoral Area Director for Area D and currently lives in Kaslo with her son.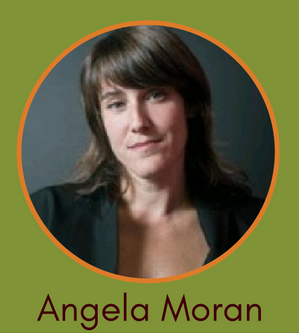 Angela Moran – Urban Farmer
Co-owner Victoria AquaPonics & The Mason Street City Farm
Angela's journey to farming and working within food security began at Brock University in Niagara Falls where she earned a degree in Environmental Policy and Sociology. It was here that Angela was first introduced to Permaculture and Sustainable Agriculture. What she craved upon graduation was a chance to get some practical experience in organic food production; which led her on a three year Wwoofing adventure through Canada, the United Kingdom, Costa Rica and Panama.
In 2005, Angela was accepted into the Linnaea Ecological Gardening Program at Linnaea Farm on Cortes Island. It was at Linnaea that Angela became attuned to the complexities of our globalized food system and issues surrounding food justice. Gaining the core skills to become a farmer, Angela arrived in Victoria upon graduation ready to seriously invest some time into urban agriculture. In 2006, Angela took over the lease of The Mason Street City Farm where she grows organic veggies and raises chickens in Northpark neighbourhood for local families and restaurants. She is a mother, a farmer, and a flamenco dancer and most days you will find her and her daughter stomping and clapping with the vegetables!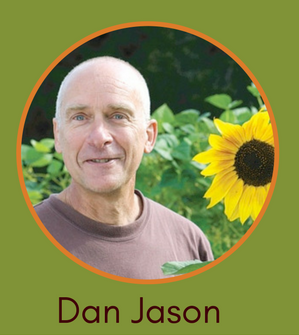 Dan Jason
Owner, Salt Spring Seeds
A passionate gardener since he planted his backyard in Montreal at age 13, Dan Jason is committed to empowering people to grow their own food and save their own seed. Since 1976 he has lived on Salt Spring Island, BC, where he created the mail order seed company Salt Spring Seeds, which specializes in heritage and heirloom open-pollinated and non-GMO seed varieties of vegetables and plants.
Dan was strongly involved in Seeds of Diversity Canada in the early years, and founded the Seed and Plant Sanctuary for Canada in 2003, which he now heads. Dan has written many books, including his most recent Saving Seeds as if Our Lives Depended on it. As an active critic of genetically modified seeds, patents on living organisms and industrial agriculture in general, he is a dedicated educator on sustainable organic gardening and farming, food politics, seed saving, and a farmer of beautiful gardens full of vegetables, grains, medicinal and culinary herbs and flowers.
Luke Kimmel, PDC
Co-owner ReGenerate Design
Luke has accumulated diverse gardening experience in a wide range of settings, studying extensively under a handful of Canada's most experienced food foresters such as Richard Walker, Gregoire Lamoureux (Kootenay Permaculture Institute), and Rob Avis (Verge Permaculture); and working on some of Western Canada's largest and most extensive food forest projects to date. He continually applies his "boots-on-the-ground" wisdom to enhance the design and installation process.
Luke believes that creating a better world is possible through helping people develop a meaningful and productive relationship with nature. He builds excitement and incites positive action by sharing this vision through workshops and public speaking.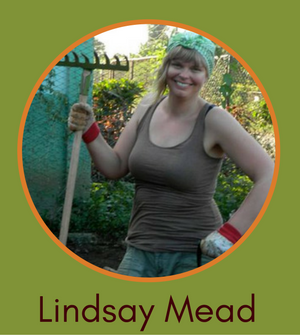 Lindsay Mead, BSC, MEDES
Co-owner reGenerate Design
Lindsay Meads has a Bachelor's of Applied and Environmental Geology and a Master's of Environmental Design in Urban Design, as well as completing a Permaculture Design Certificate and an NCI Charrette System Training Certificate. She has worked with community associations to develop sustainability plans using public engagement, facilitated design workshops and implemented placemaking projects in the public realm. Before founding reGenerate Design, she worked for the City of Calgary in Development and Building Approvals, giving her a detailed understanding of bylaws, policy, planning and urban design. Additionally, she has project management experience in the environmental consulting industry, including managing field programs with multiple contractors, project budgeting and technical report writing.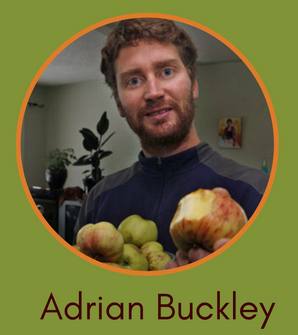 Adrian Buckley,BCD
Co-owner reGenerate Design
Adrian Buckley has a Bachelor's of Community Design and has completed a Permaculture Design Certificate in 2009. Before reGenerate Design, Adrian founded and operated Big Sky Permaculture, where he taught courses in permaculture design, has extensive experience implementing over 20 ecological design and build projects in Calgary and surrounding areas. Adrian started and directs the Calgary Harvest project, which aims at bringing people together to harvest local unused fruit from registered trees in Calgary.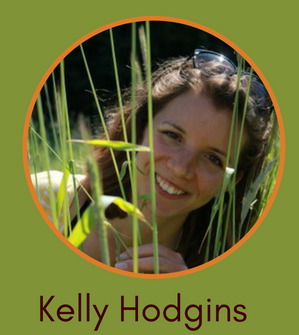 Kelly Hodgins
Program Coordinator
Feeding 9 Billion, Univ. of Guelph
Kelly is a farm-grown, small town-raised food justice and agriculture advocate from BC. This perspective has fostered in her enormous respect for the actors across the entire food chain, but also allowed her to identify the flaws in today's food system. The two largest issues to which she devotes her research are food waste and food justice, and her masters' thesis explored alternative food businesses, markets, and social enterprises in BC. As program coordinator of the "Feeding 9 Billion" initiative at the University of Guelph, she runs programming that supports undergraduate students to make positive improvements to today's food system. She is passionate about engaging the next generation of change-makers to develop real-life solutions to food security problems.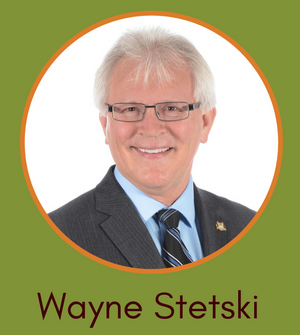 Wayne Stetski
MP Kootenay Columbia
House of Commons
Wayne has spent his entire life in public service. A former Mayor of Cranbrook and Kootenay Regional Manager for the BC Ministry of Environment, Wayne is an experienced leader who will be a strong voice for the people of Kootenay—Columbia.
As Mayor of Cranbrook, Wayne brought a collaborative approach to City Hall. As a Director on the Regional District of Easy Kootenay Board, he represented the region on the Columbia River Treaty Local Government Committee and the Ktunaxa Kinbasket Treaty Advisory Committee.
Wayne's professional life has focused on environmental leadership through a variety of positions, including his role as Manager of the East Kootenay Conservation Program following his retirement from the BC government.
While working for the ministry, Wayne oversaw the Environmental Stewardship Division for the East and West Kootenays, responsible for Fish and Wildlife, BC Parks, and Ecosystems, managing a multi-million dollar budget and a large staff with offices in Cranbrook, Nelson, Revelstoke and Invermere. He co-chaired the Columbia Basin Fish and Wildlife Compensation Program and was the Provincial Authority Member overseeing the management of the Creston Valley Wildlife Management Area.
Wayne and his wife Audrey have lived in Cranbrook for 25 years. Wayne is a tireless volunteer who has given back to his community in many positions including as Chair of the Cranbrook/Kimberley United Way, as Chair of the College of the Rockies Math and Science Advisory Committee, and as Coach/Manager with Cranbrook Minor Hockey and Cranbrook Minor Ball.


By purchasing your Audio Pack of the FOOD for THOUGHT virtual summit recordings you'll be supporting the Elk Valley Branch of Wildsight to continue our community food security projects and reach our goal of a local food system that prioritizes security.