May 12-14, 2023
Breaking News!!! Birds Canada is sending a team to our festival for amazing presentations!!! Sachi Snively is also giving a presentation on his work at the Tatlayoko Lake Bird Observatory! And
Tentative Schedule below ……
Our Mission:
"The Creston Valley Bird Festival exists to foster awareness of birds and their habitats in the Creston Valley"
Where the Birds Are:
"Celebrate the birds, art, and the agriculture of the Creston Valley"
WHERE THE BIRDS ARE!
There were three RUFFED GROUSE spotted during the Creston Christmas Bird Count on December 27th. They can be found singly in mixed woods. throughout our valley and BC.
They have a distinctive dark tail-band, crested head, and bold, dark bars on their flanks.
In the spring, you can hear the male's territorial drumming and possibly see them displaying their fanned tail and collared ruff. This time of year they are "budding" which is feeding on the buds of deciduous trees and shrubs (source from Linda Van Damme 2020).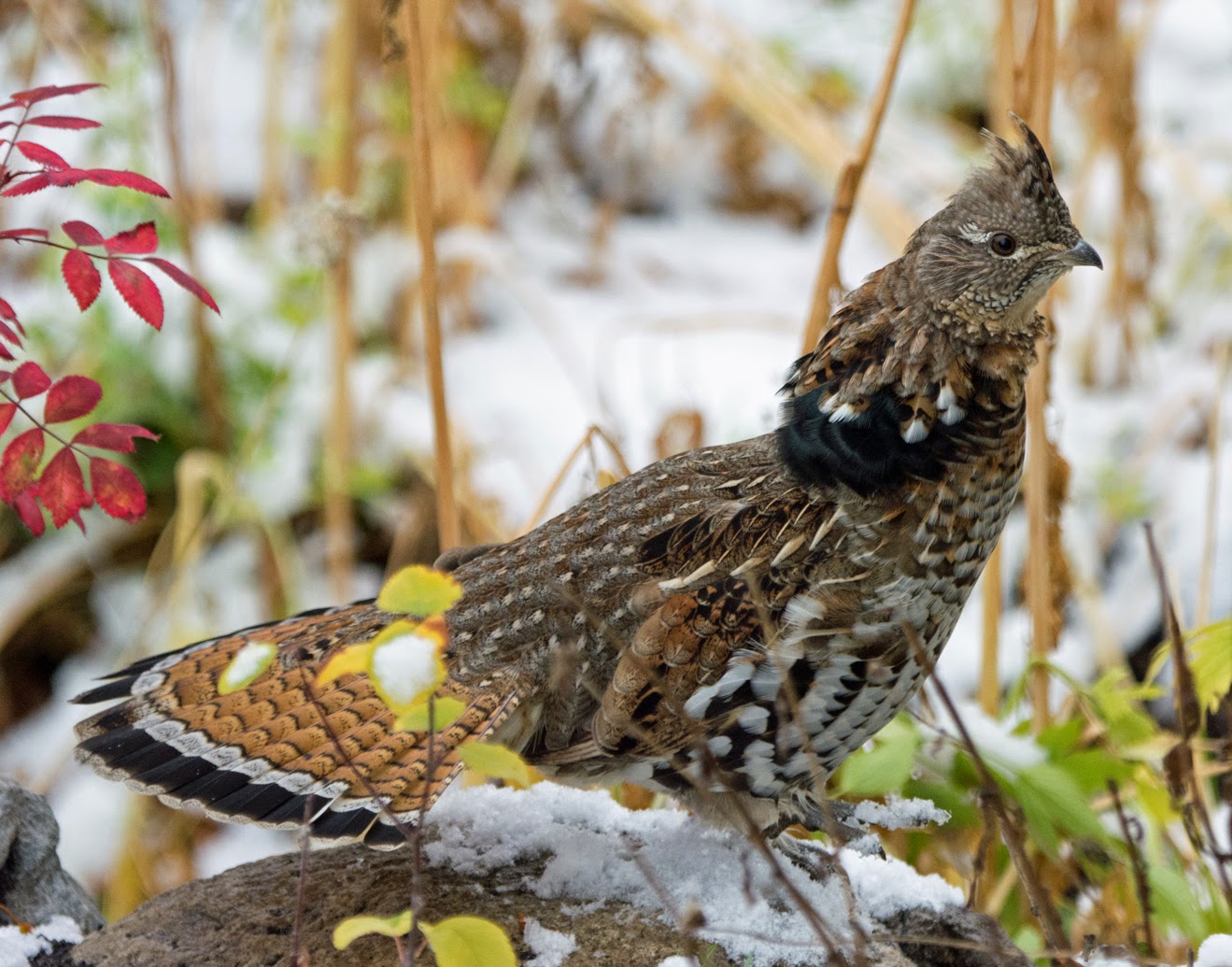 See Where the Birds Are page for more!
2023 Tentative SCHEDULE OF EVENTS

Friday, May 13
12:00-4:00 pm
Final Festival Registration
Baillie-Grohman Winery
12:30-4:30
Kayak the West Creston Channels
Daryl Calder
2:30-4:30
Native Bee and Mason Bee Condo Info Session
Gord Hutchinson
5:00-7:00

7:00-8:00

Flocking Together Food Truck Social

Indigenous Wetland at LKB Presentation

Baillie-Grohman Winery

Norm Allard

8:30-10:00
Star Gazing at Baillie-Grohman Winery
Angela Prettie

Saturday, May 14
6:00-6:30 am
Coffee and Muffins
Baillie-Grohman Winery
6:30-10:30
Kayak the West Creston Channels
Daryl Calder
6:30-10:30

6:30-10:30

Drive to Duck Lake

Birding at Duck Lake

Ed and Hazel Beynon

Tina Watters

6:30-10:30

6:30-10:30

Birding the Wildlife Area Trails

Birding the Wildlife Area Trails – Beginner

Jo Ellen and Gretchen

Carolee Coulter

6:30-10:30
Birding-by-Bus Road Tour
Brian Baxter
6:30-10:30
Fox Tree Hill, Tanal Marsh, Mawson Lk
Lyle Grisedale
6:30-10:30
Birding the Farmlands
Gaelen Schnare
6:30-10:30
Leach Lake
Gary Davidson
10:00-3:00
Bird Kite Building/Family Bird-a-thon/Bird BINGO
Discovery Centre
10:30-11:30
Guided Canoe Trip
Discovery Centre
11:30-12:30
Guided Canoe Trip
Discovery Centre
12:30-1:30 pm
Guided Canoe Trip
Discovery Centre
1:30-2:30
Guided Canoe Trip
Discovery Centre
2:30-3:30
Guided Canoe Trip
Discovery Centre
12:00-4:00
The Wobbling Warbler Bus Tour

Winery, Brewery, Craft Distillery

Creston Valley Tour Co.
12:30-2:30
Dairy Tour
Kootenay Meadows
12:30-2:30
Honey Tour
Swan Valley Honey
1:00-3:00
Merlin and eBird Workshop
Sachi Snively
3:00-5:00
Botany hike up Balancing Rock (tentative)
3:00-5:00
Botany and Birds for Kids
Carley Dunham
3:00-5:00
Weeds to the Rescue (tentative)
Tilia Botanicals
7:00-9:00
Birds Canada – BC Avian Research/Projects
KRSS
Sachi Snively – Tatlayoko Lake Bird Observatory

Sunday May 15
6:00-6:30 am
Coffee and Muffins
Baillie-Grohman Winery
6:30-10:30
Kayak the West Creston Channels
Daryl Calder
6:30-10:30

6:30-10:30

Drive to Duck Lake

Birding at Duck Lake

Ed and Hazel Beynon

Tina Watters

6:30-10:30

6:30-10:30

6:30-10:30

Birding-by-Bus Road Tour

Birding the Wildlife Area Trails

Birding the Wildlife Area Trails – Beginner

Brian Baxter

Jo Ellen and Gretchen

Carolee Coulter

6:30-10:30
Fox Tree Hill, Tanal Marsh, Mawson Lk
Lyle Grisedale
6:30-10:30
Birding the Farmlands
Gaelen Schnare
6:30-10:30
Leach Lake
Gary Davidson
12:00-1:30 pm
Winery Tour
Baillie-Grohman Winery
12:00-3:00
Mother's Day Mandela Art Workshop
Wendy Franz
1:00-5:00
Wine Down
Baillie-Grohman Winery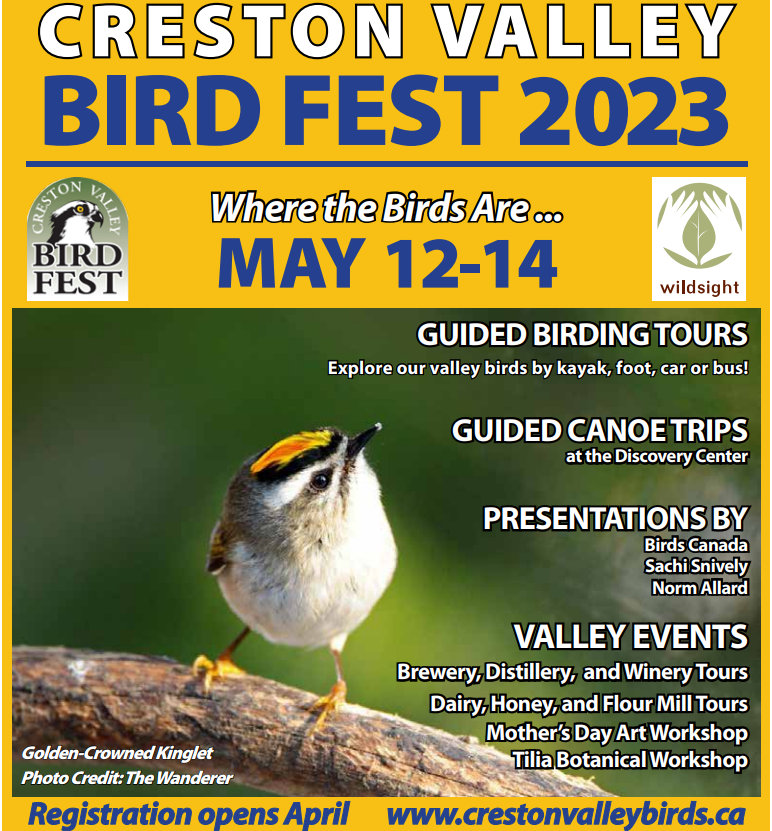 Creston Accommodations and Things To Do