May 13-15, 2022 Celebrate our 10-Year Anniversary!!!
Our Mission: "The Creston Valley Bird Festival exists to foster awareness of birds and their habitats in the Creston Valley"
Where the Birds Are: "Celebrate the birds, art, and the agriculture of the Creston Valley"
WHERE THE BIRDS ARE Latest Post:
November 21, 2021
AMERICAN DIPPERS are usually found in very cold, fast-flowing, rocky streams but this one was seen
last week walking on ice in the West Creston channels (photo credit: Darlene McDowell).
This stocky, short-tailed bird is unique as it's the only songbird that regularly goes for a swim!
It has transparent eyelids to see the aquatic insect larvae underwater (sourced from Van Damme 2020).
American Dippers are seen in Creston year-round and have been recorded in most Christmas Bird Count days.
Look for them along the ice-free shorelines of Kootenay Lake and the Kootenay River.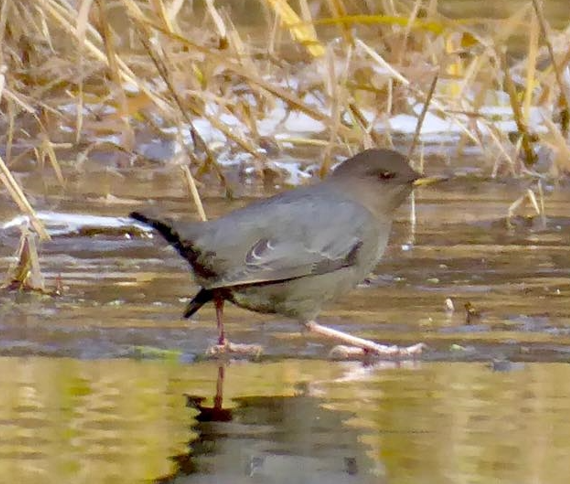 See Where the Birds Are page for more!
---
2022 TENTATIVE SCHEDULE OF EVENTS
Stay Tuned – more exciting events to come!!!
Friday, May 13

10:00-12:00 Kayak the channels
2:00-4:00 Festival Registration at Baillie-Grohman Winery
12:30-2:30 Historical Walking Tour of Downtown Creston by the Creston Museum
5:30-7:30 Sharing Social at Baillie-Grohman Winery with Food Truck and local beer/wine
7:30-9:30 Bat Condos
7:30-9:30 Star Party
Saturday, May 14

6:00-6:30 Tour Meets – Coffee and Muffins at Baillie-Grohman Winery
6:30-10:30 Breakfast with the Birds (Duck Lake) with Ulrike and hosted by Lark Coffee
6:30-10:30 Spring Mushroom Foray with Tyson Ehlers
6:30-10:30 Drive to Duck Lake with Ed and Hazel
6:30-10:30 Kayak the channels
6:30-10:30 Birding Safari by van with Brian Baxter
6:30-10:30 Fox Tree Hill, Tanal Marsh, Mawson Lake with Lyle Grisedale
6:30-10:30 Kootenay River Road with Gaelen Schnare
6:30-10:30 Leach Lake with Gary Davidson
10:00-3:00 Bird Kite Building/Family Bird-a-thon at the Discovery Centre
10:30-11:30 Guided Canoe Trip at the Discovery Centre
11:30-12:30 Guided Canoe Trip
12:30-1:30 Guided Canoe Trip
1:30-2:30 Guided Canoe Trip
2:30-3:30 Guided Canoe Trip
12:30-2:30 Honey Tour at Swan Valley Honey
12:30-2:30 Dairy Tour at Kootenay Meadows
12:30-2:00 Craft Distillery Bus Tour at Wyndell Craft Distillery
12:30-2:30 Dike Display at the Creston Museum

3:00-5:00 Botany and Birds for Kids with Carley Dunham
4:00-5:00 Plants that heal with Rachel Beck at Tilia
5:30-7:30 Entertainment Evening at Baillie-Grohman Winery
Sunday May 15

6:00-6:30 Tour Meets – Coffee and Muffins at Baillie-Grohman Winery
6:30-10:30 Kayak the channels with Ulrike
6:30-10:30 Drive to Duck Lake with Ed and Hazel
6:30-10:30 Birding Safari by van with Brian Baxter
6:30-10:30 Fox Tree Hill, Tanal Marsh, Mawson Lake with Lyle Grisedale
6:30-10:30 Kootenay River Road with Gaelen Schnare
6:30-10:30 Leach Lake with Gary Davidson
12:00-1:00 Winery Tour at Baillie-Grohman Winery
1:00-5:00 Wine-Down at Baillie-Grohman Winery
2:00-4:00 Mandela Dot Art Workshop with Wendy Franz
Creston Accommodations and Things To Do