May 13-15, 2022
Celebrate our 10-Year Anniversary!!!
Our Mission:
"The Creston Valley Bird Festival exists to foster awareness of birds and their habitats in the Creston Valley"
Where the Birds Are:
"Celebrate the birds, art, and the agriculture of the Creston Valley"
WHERE THE BIRDS ARE!
May 22, 2022
BOBOLINKS are the latest of the songbirds to return in the spring to agricultural lands, especially hayfields on the flats (sourced from Linda Van Damme 2020). A few of them were seen this week near the potato farm on Reclamation Road.
Males have a cheerful and bubbling "bob-o-link" song given in flight. During breeding, they have a straw-colored nape with a white rump and scapulars.
During nesting, males become less conspicuous. Hayfields in Creston get mowed two or three times in the season which may impact nesting attempts.
Their southern migration begins early so they are not here in the valley very long! They travel about 20,000km round trip each year from the South America wintering grounds.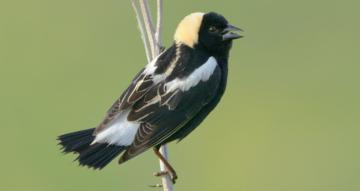 See Where the Birds Are page for more!
2022 SCHEDULE OF EVENTS
| | | |
| --- | --- | --- |
| Friday, May 13 | | |
| | | |
| 12:00-4:00 pm | Final Festival Registration | Baillie-Grohman Winery |
| 12:30-2:30 | "History goes to the Birds" Walking Tour SOLD OUT | Creston Museum |
| 5:30-8:00 | WELCOME BACK!! Social | Baillie-Grohman Winery |
| | Photo Presentations – 10 Festival Years! | Savour Food Truck |
| 8:30-10:00 | Star Gazing at Baillie-Grohman Winery – SOLD OUT | Angela Prettie |
| Saturday, May 14 | | |
| 6:00-6:30 am | Coffee and Muffins | Baillie-Grohman Winery |
| 6:30-10:30 | Breakfast with the Birds (Duck Lake) – Sold Out | Ulrike and hosted by Lark Coffee |
| 6:30-10:30 | Drive to Duck Lake – SOLD OUT | Ed and Hazel Beynon |
| 6:30-10:30 | Birding the Wildlife Area Trails – Sold Out | Paul Foth |
| 6:30-10:30 | Birding-by-Bus Road Tour – Canceled | Brian Baxter |
| 6:30-10:30 | Fox Tree Hill, Tanal Marsh, Mawson Lk – SOLD OUT | Lyle Grisedale |
| 6:30-10:30 | Kootenay River Road – 1 SPOT LEFT | Gaelen Schnare |
| 6:30-10:30 | Leach Lake – SOLD OUT | Gary Davidson |
| | | |
| 10:00-3:00 | Bird Kite Building/Family Bird-a-thon/Bird BINGO | Discovery Centre |
| 10:30-11:30 | Guided Canoe Trip – SOLD OUT | Discovery Centre |
| 11:30-12:30 | Guided Canoe Trip – 9 Spots | Discovery Centre |
| 12:30-1:30 | Guided Canoe Trip – SOLD OUT | Discovery Centre |
| 1:30-2:30 | Guided Canoe Trip – 13 Spots | Discovery Centre |
| 2:30-3:30 | Guided Canoe Trip – 19 Spots | Discovery Centre |
| 12:30-2:30 | Honey Tour – SOLD OUT | Swan Valley Honey |
| 12:30-2:30 | Dairy Tour- unlimited spots available | Kootenay Meadows |
| 1:00-3:00 | Craft Distillery Bus Tour – 2 SPOTS LEFT | Wynndel Craft Distillery |
| 12:30-2:30 | Farmlands or Wetlands? Creston's Great Duck Debate | Creston Museum |
| 12:30-2:30 | Basic of Bird Identification Workshop – SOLD OUT | Paul Foth |
| 3:00-5:00 | Botany Hike up Balancing Rock – SOLD OUT | Kim Asquith |
| 3:00-5:00 | Botany and Birds for Kids – SOLD OUT | Carley Dunham |
| 3:00-5:00 | Weeds to the Rescue – 1 Spot | Rachel Beck at Tilia Botanicals |
| 5:30-8:00 | Magpie Dinner with our "Friends of Kootenay Lake" | Baillie-Grohman Winery |
| | Osprey and Eagle Monitoring | Magpie Pasties Food Truck! |
| | | |
| Sunday May 15 | | |
| 6:00-6:30 am | Coffee and Muffins | Baillie-Grohman Winery |
| 6:30-10:30 | Kayak the West Creston Channels – SOLD OUT | Ulrike Sliworsky |
| 6:30-10:30 | Drive to Duck Lake – SOLD OUT | Ed and Hazel Beynon |
| 6:30-10:30 | Birding-by-Bus Road Tour – Canceled | Brian Baxter |
| 6:30-10:30 | Fox Tree Hill, Tanal Marsh, Mawson Lk – SOLD OUT | Lyle Grisedale |
| 6:30-10:30 | Kootenay River Road – SOLD OUT | Gaelen Schnare |
| 6:30-10:30 | Leach Lake – SOLD OUT | Gary Davidson |
| 12:00-1:30 | Winery Tour – SOLD OUT | Baillie-Grohman Winery |
| 1:00-5:00 | Wine-Down | Baillie-Grohman Winery |
| 2:00-4:00 | Mandela Dot Art Workshop – SOLD OUT | Wendy Franz |
Creston Accommodations and Things To Do