It is my honour to share with you the achievements and impact of our organization over the last year. These achievements are made possible only with your support — thank you to our members, donors, supporters, funders, Board of Directors and partners for sharing in this work.
Our race against the clock to halt and reverse the climate and biodiversity crises challenges us to be innovative in how we take action to defend wildlife, wild places and clean water, in how we inspire a love for the wild in our children and youth, and how we respond to the climate impacts in our communities — it challenges us to imagine new ways of living with the earth, instead of living from the earth, and to explore new models of conservation that support the leadership of the Indigenous nations who have stewarded these lands and waters for millennia.
Protecting old growth forests was at the heart of our work last year and we celebrated some big wins, like stopping the clearcutting of ancient forests in Argonaut Creek, home to endangered mountain caribou. Collective action and Indigenous leadership came together to halt logging on 247 hectares of Inland Temperate Rainforest. But for every hectare saved, many more are cut. Scientists issued a dire warning this year — the Inland Temperate Rainforest faces imminent ecological collapse if industrial harvesting continues apace. Our work shines the light on the need for an Indigenous-led conservation vision that protects the clean water, wildlife and carbon values of this globally unique rainforest.
Our Youth Climate Corps expanded to Kimberley-Cranbrook, connecting youth with training opportunities through community-based climate resilience work. Crew members worked on wildfire risk reduction projects, supported food recovery efforts, launched a unique agroforestry project, engaged in riparian restoration and were trained in permaculture design and water monitoring. YCC has formed many new partnerships in our communities and will continue to build bridges as we expand to our third community this year.
Inspiring kids with the magic of nature and supporting place-based inquiry learning remains a core pillar of our work. This year, we launched Teach the Columbia. Eleven unique lessons allow teachers to incorporate the past, present and future of the Columbia River into their classrooms.
And last but certainly not least, we welcomed Wildsight Revelstoke to the family as our 6th Wildsight Branch. The issues we face are complex and challenging and we are stronger when we work together to defend this place we call home.
Wildsight's model is unique and for 35 years has proven to be very effective. Thank you for being part of this community, for believing in a future with old growth forests, clean water, abundant wildlife populations, climate resilient communities and inspired citizens.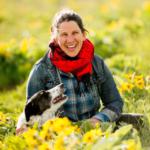 Robyn Duncan
Executive Director