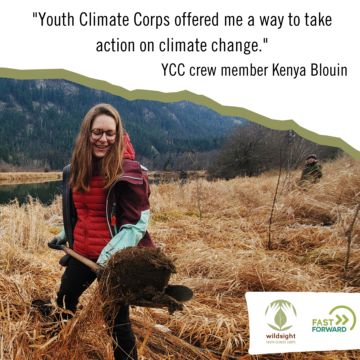 We believe you have the power to shape the future of your community and the planet.
Wildsight's Youth Climate Corps exists to connect, inspire, and empower young adults interested in making a difference for the greatest challenge of this generation: the climate crisis. We work together to minimize the impacts of climate change while building a more resilient future. Our crews address climate change at the local level, directly in their communities and the ecosystems that surround them. At the same time, our partners at the national Youth Climate Corps are working to spread our model across the country.
Wildsight's Youth Climate Corps is an opportunity to kickstart or further develop your career in climate related fields through multi-month paid contracts in BC's Columbia Basin region. Our crews receive professional certifications, mentorship, leadership development, and practical work experience. You will immediately make a difference by implementing meaningful climate solutions in your region while laying groundwork for your own future – all while having fun working with a community of peers.
If you are 17-30 and want to gain work experience, build networks and develop yourself personally and professionally, while being paid to do so, we want to hear from you. Check out our application pages for more information on the 2022 opportunities available.
To date, YCC projects have focused on:
Read all the latest Youth Climate Corps news here.
For more information, please contact Graeme Lee Rowlands.
Wildsight thanks Arjay R. and Frances F. Miller Foundation, Columbia Basin Trust, Eco Canada, Fortis BC, Get Youth Working!, Kootenay Career Development Society, Kootenay Employment Services, Kalesnikoff, Living Lakes Canada, Preston-Werner Ventures, the Province of BC, Rotary Club of Cranbrook Sunrise, SIFCo and our many community partners for making the Youth Climate Corps possible.