The Wildsight Kimberley/Cranbrook Branch empowers environmentally responsible citizenry and strives to support conscious local economy. We aim to provide consistent and ongoing leadership by engaging and listening to the concerns of the community, then responding with care, insight and innovation.
Explore our current programs, projects, events and campaigns that support ecological literacy and community action. See something missing that you want to make a reality? Reach out to Corrine by calling 250-427-2535, or emailing kimcran@wildsight.ca.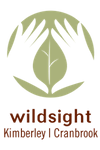 Current Volunteer Opportunities with our Branch
We are always looking for help with our local initiatives. Together, through our combined actions, we can make an enormous difference. Please contact Corrine, Interim Branch Manager, at kimcran@wildsight.ca or call 250-427-2535.

Our programs have been made possible through the generous support of our 2018 funding agencies