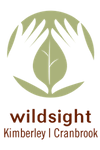 Our Mission
The Wildsight Kimberley Cranbrook Branch empowers environmentally responsible citizenry and strives to support conscious local economy. We aim to provide consistent and ongoing leadership by engaging and listening to the concerns of the community, then responding with care, insight and innovation.
Our non-profit organization focuses on initiatives that support environmental conservation, education and regeneration. Working closely with the communities of Kimberley and Cranbrook, we aim to inspire positive relationships with the environment. As a branch of Wildsight, we protect biodiversity and encourage sustainable communities.
Volunteer
We are always looking for help with our local initiatives. Together, through our combined actions, we can make an enormous difference. Visit our Volunteer With Us page today!
Request a Presentation
We offer brief presentations to local groups and organizations who wish to learn more about what we do. Email kimcran@wildsight.ca to request a presentation.
Contact Us
250-427-2535
Facebook: @kimcranwildsight
Instagram: @wildsightkimcran