10th Wild & Scenic Film Festival is coming up on November 18th! Don't miss it! It's our annual fundraiser and super fun evening.
The Invermere branch of Wildsight has been the environmental voice of the upper Columbia Valley since 1989. We are a BC-registered, non-profit organization, governed by an engaged Board of Directors and supported by an active membership and community of volunteers. We work together with Wildsight Regional and the five other Wildsight branches, as well as other local community groups.
Wildsight Invermere works towards the overall Wildsight organizational vision:
Wildsight's vision is to inspire a shared community desire to protect our natural world for future generations. We envision extensive and connected wild spaces for wildlife—from grizzly bears to woodpeckers to trout. We envision clean air and clear water running from mountain watersheds to our lakes. We see thriving and sustainable communities made up of engaged and educated citizens.
Our mission is to inspire community action and lead the way in ensuring the integrity and ecological values of our surrounding wetlands, forests, grasslands and mountains through our programs, campaigns, and grassroots initiatives.
Through our Wild Connections program, we host events that inspire, inform and engage our membership on environmental and community issues. We organize speakers (David Suzuki in 2012- WOW!), film screenings, workshops (eg. Exploring Medicinal Plants with Shushwap elder Verna Stevens) and interpretive hikes. We started Spark, rural Canada's first all-electric vehicle share program. Every November, we organize our annual fundraiser, the Wild & Scenic Film Festival, now in its 10th year. We take on large initiatives as well, such as the Rocky Mountain Bighorn Sheep project, Pesticide Free Invermere, Wilmer wetlands clean-up and the Lake Enid Restoration Project.
Join us!
Events: Click here to receive our newsletter.
Volunteer! Click here to connect with your community for the wild [be sure to choose Invermere as Your Community].
Become a member: Click here to become a member of Wildsight Invermere.
Donate to the Invermere Branch: click here.

We gratefully acknowledge 2023 funding from: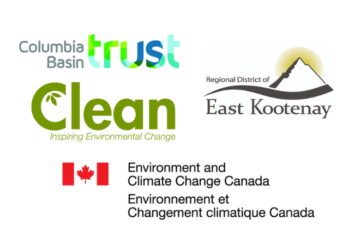 Wildsight Invermere is grateful to work, live and play on the shared, traditional unceded territory of the Ktunaxa and Secwépemc people, and the chosen home of the Métis. We acknowledge these Indigenous Nations and honour their past, present and future stewardship of these lands and waters.