"Water is our most precious resource. Everyone in the Basin should know where their water comes from, where it goes after they use it, and how to pass on high water quality. We all live downstream of someone's actions."Lee-Anne Walker, Executive Director of the Elk River Alliance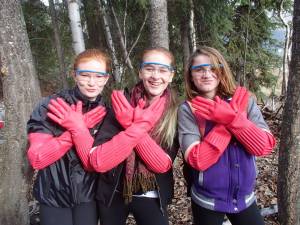 Know Your Watershed, a regionally-based watershed education program delivered throughout the Columbia Basin, is a program of the Columbia Basin Trust and is administered and delivered by Wildsight. The program is directly linked to the Grade 9 science curriculum. A skilled and passionate water education team made up of local professionals leads the program throughout the region.
Students take part in two classroom sessions and a full-day field trip that increase their knowledge and awareness of their watersheds and water-related issues in their communities. Student Action Projects connect students with community-based water groups and water stewardship opportunities in the community, providing hands-on, practical ways to look after our precious water resources.

The input and feedback from Know Your Watershed educators, classroom teachers, students, municipal water managers and community-based water groups continues to guide and refine the development of the program. Read the full details and get in touch with our KYW Coordinator.
Wildsight educators are following COVID-19 guidelines to ensure safe measures are in place for all programs.