This year marks our 35th anniversary and as I reflect on the achievements of the past year, I see the common threads of passion, commitment and tenacity that have been the foundation of Wildsight since our humble beginning. Our success is possible only with the support of our donors, funders, supporters, members and partners – thank you for sharing in this work and walking together for a better tomorrow.
The challenges we face are daunting, but together, we are facing them with creativity, resilience and hope. The heart of our work is to inspire a conservation ethic in our communities and a paradigm shift in how we view our relationship to nature, one based on reciprocity instead of hierarchy. These are not goals that happen overnight – this is long-term, generational change that is achieved through actions big and small building a groundswell.
We do this by inspiring the next generation through education programs that inspire love and awe for nature and instil a connection to place. We do this by advocating for policy reform of how our natural resources are managed. We do this through the Youth Climate Corps that provides skills training and paid opportunities for youth to take climate action in their communities. We do this by advancing new models of nature protection through Indigenous-led conservation. And we do this by making our communities more sustainable.
Last year, we made new commitments to advance diversity, equity, justice and inclusion through our work, with a special focus on supporting the Truth and Reconciliation Commission's calls to action. Our work to protect wild places, defend wildlife and clean water and create sustainable communities is intimately connected to and intertwined with reconciliation between Indigenous and non-Indigenous peoples. We are committed to learning, deepening our understanding and taking action to advance reconciliation with Indigenous people through our work.
Thank you for being a part of this community.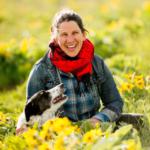 Robyn Duncan
Executive Director