As I reflect on the impacts of the past year, I see the common threads of passion, commitment and tenacity that have woven through Wildsight since our humble beginning. Our success is possible only with your support – thank you to our donors, funders, supporters, members and partners – thank you for sharing in this work and walking together for a better tomorrow.
The heart of our work is to inspire a conservation ethic in our communities and a paradigm shift in how we view our relationship to nature, one based on reciprocity instead of hierarchy. This is long-term, generational change, and together, we are making a difference.
We are inspiring the next generation through education programs that inspire love and awe for nature and instil a connection to place, supporting children and youth to develop a relationship with nature based on respect. Last year, we reached more than 3000 students through our school-based programs, bringing the total number of children and youth reached through our programs to nearly 100,000! Our immersive field programs took 25 teenagers out to learn from the land and disconnect from our digital realities.
We are empowering young adults to make a difference in the greatest challenge of this generation, the climate crisis. Through our Youth Climate Corps, we are providing skills training, leadership development and paid opportunities to take local climate action directly in our communities and the ecosystems that surround them. Last year, our two crews engaged in restoration, wildfire risk reduction, energy retrofits and more, and this year, we will be expanding to Golden, our third community.
We are advocating for policy reform to change how we manage natural resources, placing legal values on biodiversity, water and wildlife and increasing the amount of protected lands and waters. We are at an historic moment of possibility with Canada and BC committing to protecting 30% of our lands and waters by 2030 through Indigenous-led conservation and the Columbia and southern Rocky Mountains are cornerstones to achieving this vision. Our conservation team is looked to across the province – and country – as leaders in this field, leading the push for old growth protection in the globally unique Inland Temperate Rainforest, maintaining the transboundary Rocky Mountain wildlife corridor, shining the spotlight on the need for mining reform and new models to steward the transboundary Kootenay River and increasing safe passage for wildlife on our highways. We are uniquely positioned with our feet on the ground and in the field here at home, and in the halls of power in Victoria.
Wildsight is a community of people grounded in a deep connection to the lands and waters we call home, working together in hope, with creativity and resilience. Thank you for being a part of this community.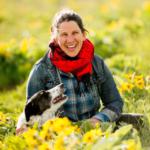 Robyn Duncan
Executive Director