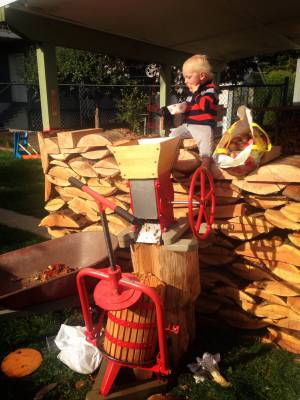 The East Kootenays is home to many fruit trees. When the fruit is left to fall off the tree and rot, it attracts local wildlife—including deer and bears. Wildsight's Apple Capture program is here to help you keep up with your fruit harvest or to share it with someone who can use it. Together, we can turn a wildlife attractant into locally sourced, nutritious food.
Here are the three ways we do it:
1. Tree Share Board
Do you have a fruit tree that you don't have the time to harvest and would rather have someone else pick? Are you looking for fruit trees to harvest?
Visit the Tree Share Board to get started.
2. Community Pick & Press Events
PICK loads of apples. Last year our volunteers managed to pick almost 2400 lbs of apples! Join us again this fall to harvest even more. Bring your gloves, hats snacks and water bottles, and something warm if it's a cool day. And if you can bring along a truck and a ladder, even better!
PRESS our apples into juice. Bring your family and friends—apples too, if you've got them—and don't forget to bring some containers to take some of that sweet nectar home with you when we're done. We'll be outside, so be sure to dress for the weather.
**Pick and press events are finished for the 2022 season.**
3. ToolShare
Sharing is caring. We lend out our apple harvest equipment for pruning, picking, pressing, and maintaining your fruit trees.
Visit the ToolShare page to learn more.
Questions?
Please email us at kimcranapples@wildsight.ca.
Sign up for updates from Wildsight Kimberley Cranbrook.

Looking to source locally-produced food?
Check out the Kimberley-Cranbrook Food Asset Map!