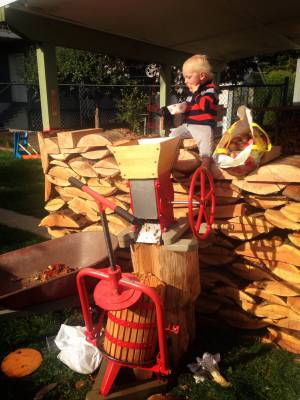 The East Kootenays is home to many fruit trees. When the fruit is left to fall off the tree and rot, it attracts local wildlife—including deer and bears. Wildsight's Apple Capture program is here to help you keep up with your fruit harvest or to share it with someone who can use it. Together, we can turn a wildlife attractant into a locally sourced, nutritious food.
Here is how we do it:
We lend out fruit picking, juicing, preserving and tree pruning equipment.
We have a tree sharing board.
We organize community picking and juice pressing events.
2021 Pick and Press Dates
PICK loads of apples. Last year our volunteers managed to pick almost 3000 lbs of apples! Join us again this fall to harvest even more. Bring your gloves, hats snacks and water bottles, and something warm if it's a cool day. And if you can bring along a truck and a ladder, even better!
PRESS our apples into juice. Bring your family and friends—apples too, if you've got them—and don't forget to bring some containers to take some of that sweet nectar home with you when we're done. We'll be outside, so be sure to dress for the weather.
Note: The Cranbrook Picking Event is now meeting at the Marysville School at 9 am on Saturd

ay, S

ept 11th
CLICK ON AN EVENT TO SIGN UP HERE….
Cranbrook Apple Pick:

September 11th (9 am-12 pm) … see note above
Harvest Party at the Community Garden on Rotary

: September 26th (1 pm-3 pm)
NOTE:
All Kimberley dates meet at the Kimberley Community Garden on Rotary Drive (just south of the Kimberley Aquatic Centre).
Cranbrook Picking Event now meeting at Marysville School at 546 309th Ave.
Cranbrook Pressing Event meets at the Cranbrook Public Produce Garden at 710 18 Ave N.
Apple Harvest Equipment
You can use Apple Capture equipment to pick, juice, sauce and dry your harvest or to prune your trees. We have juicers and grinders, dehydrators, sauce making kits, and apple peeler / slicer / corers, plus regular ladders, tall orchard ladders, special fruit picking bags, extensions and hand pickers. We also have pruning equipment to keep your trees in good shape: pole pruners and saws, hand saws, and loppers.
All you have to do is create a new account.
If you are pressing apples, the pressing leftovers can be used for animal feed. Get in touch with us to find out how. (Please don't dump them at the Community Garden compost bins….the bears LOVE them!)
Equipment Manuals
Excalibur Dehydrator Instructions
Tree Share Board
Do you have a fruit tree that you don't have the time to harvest and would rather have someone else pick? Are you looking for fruit trees to harvest?
Questions?
kimcranapples@wildsight.ca or call Chad Kile, our Sustainability Coordinator, at 250-432-5954