Have you ever seen a Rocky Mountain Bighorn Sheep in the Kicking Horse Canyon? Have you ever wondered about them? You are not alone!
The story of the Golden herd of bighorn sheep is an interesting look at survival of wildlife which coexist with a major freeway, in close proximity to a town, and which live in a relatively small and extremely rugged area. Wildsight Golden is interested in using non-invasive methods to learn as much as possible about what factors are keeping the number of sheep low while engaging locals and tourists in learning more about wildlife and in sharing locations of sighting using a smart phone.
Although one might not expect to see Rocky Mountain Bighorn Sheep in the Kicking Horse Canyon, this unique herd has resided there since at least 1986. Where they came from is not known for certain but sightings in the Blaeberry and North indicate that they came over from Alberta. Bighorn sheep prefer to eat grasses and are relatively common on the east side of the Rockies where the open spaces are larger yet access to escape is nearby. The closest other herd to Golden lives in the Radium area and are often seen from Highway 95.
Since 2016, sheep locations and group composition have been recorded frequently by observations from dedicated trips to the 5-mile Bridge and back to Golden. This has allowed for accurate knowledge of herd size which was 16 in 2016 and is 12 is 2019. With the widening of the highway, these animals could face additional stressors and decline in number.
In hopes of helping this herd of sheep survive, Wildsight Golden has begun the Golden Rocky Mountain Bighorn Sheep project.
Below are some snippets of information about this species and the project:
Growth in the number or health of a group of living things is potentially limited by many different things, called limiting factors. For the sheep these might include predation, highway mortality, poaching, inbreeding, poor diet, high stress levels, insufficient area, insufficient mineral licks, etc.
Fecal material (poop) can be used to learn about the health of bighorn sheep. The indicators we will look at are inbreeding, parasites, pregnancy, stress hormone and nutritional requirement levels.
Rocky Mountain Bighorn Sheep are known to prefer open areas with access to escape terrain. The Kicking Horse Canyon offers good escape terrain but not many open, grassy areas.
Bighorn sheep can see clearly up to 1 km away but they can't smell well.
Bighorn sheep often use the same areas all of their lives. They often have twins.
Bighorn sheep are gregarious and like to be in a group, usually divided by gender.
The Golden herd has decreased in size over the last several years despite 2 lambs in 2016 and one in 2017 and 2018.
We hope to be able to find out why this is happening and what can be done to help this herd survive.
Learn more here:
Golden Rocky Mountain Bighorn Sheep Project-Phase 1 2019 (2)
Wildsight Golden is looking for volunteers to help with this project. You can help us know where animals are and where they cross the roads by learning to recognize different ungulates (animals with hooves) and sharing locations on your smart phone.
Email goldenwildlifesightings@gmail.com for info.
Location sharing and local ungulate identification and information sessions can be offered on a personal or group basis. In addition easy-to-follow instructions and information and abbreviations are in the following files or below:
HOW TO SHARE WILDLIFE LOCATIONS (1)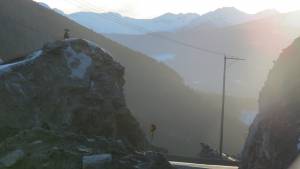 We would like to thank our supporters and funding partners: