Have you ever seen a Rocky Mountain Bighorn Sheep in the Kicking Horse Canyon? Have you ever wondered about them? You are not alone! It is not at all rare to see these sheep on or near the TransCanada Highway #1 and the most reliable wildlife sighting opportunities in the area. Their presence is also a safety hazard as cars slow down to look or avoid hitting an animal, stop, honk at, and occasionally hit the sheep. The story of the Golden herd of bighorn sheep is an interesting look at survival of wildlife which coexist with a major freeway, in close proximity to a town, and which live in a relatively small and extremely rugged area. Watch Here!
Wildsight Golden is interested in using non-invasive methods to learn as much as possible about what factors are keeping the number of sheep low while also engaging the public to learn more about wildlife and to share locations of sighting using a smart phone. To date over 40 sightings have been shared helping us understand the movements of animals relative to highways. Learn more about Rocky Mountain Bighorn Sheep in B.C here!
Although one might not expect to see Rocky Mountain Bighorn Sheep in the Kicking Horse Canyon, this unique herd has resided there since at least 1986. Where they came from is not known for certain but sightings in the Blaeberry and North led to the thought that they came over from Alberta. Our research has shown that the Golden sheep are actually most closely related to the Radium herd, based on genetic analysis. This makes sense based on their proximity.
Since 2016, sheep locations and group composition have been recorded frequently by observations from dedicated trips to the 5-mile Bridge and back to Golden. Numerous other variables have also been recorded on the 130 trips made since February 2019. This has allowed for accurate knowledge of home range and herd size and composition. Many sightings have been within the highway widening project boundary and the disturbance and alterations to their habitat could further jeopardize the herd. In hopes of helping this herd of sheep survive, Wildsight Golden began the Golden Rocky Mountain Bighorn Sheep Project in January of 2019.
The Golden herd has decreased in size over the last several years despite 2 lambs in 2016, one in 2017 and 2018, followed by 4 in 2019 and in 2020. We hope to be able to find out why this is happening and what can be done to help this herd survive. Check out the Golden Rocky Mountain Bighorn Sheep Project Proposal here.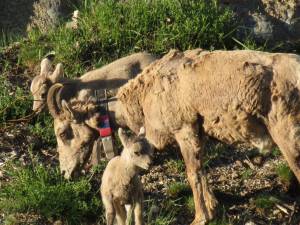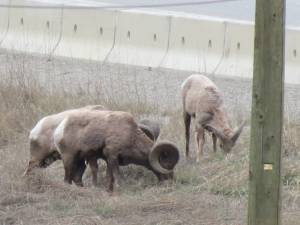 Wildsight Golden is looking for volunteers to help with this project! You can help us know where animals are and where they cross the roads by learning to recognize different ungulates (animals with hooves) and sharing locations on your smart phone. download the free app "GAIA GPS Hiking, Offroad Maps" onto your smart phone and make a folder.
Then invite goldenwildlifesightings@gmail.com to share the folder.
You can then create a titled waypoint where you see wildlife, dead or alive, from Highway #1 or Highway 95. Note when and what you saw and save it in the folder.
Please email goldenwildlifesightings@gmail.com for help getting set up, any other questions or to share a sighting verbally.
Behaviours and indicators you might see: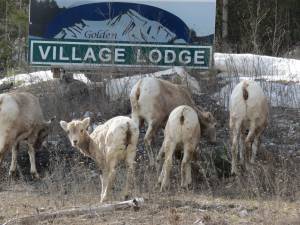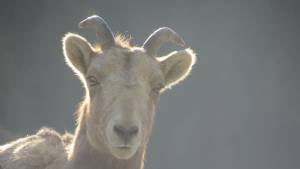 We would like to thank our supporters and funding partners: