Stop in and See the Sheep!! Before they Vanish.
Welcome to Vanishing Bighorns
This art show is a joint effort between 14 artists, the organizer and local galleries in a effort to draw attention to the bighorn sheep in our area.
In hopes of bringing attention to the plight of the local herd of bighorn sheep, we hope that art might bring people together in an effort to inform about the problems these animals face in surviving along a major highway. Among the problems are poorly placed fences equipped with gates and jump-outs that the sheep have learned to use in the wrong direction, thereby allowing them to access the TransCanada Highway where many meet their death. Public support to make necessary changes may be what is needed to make this happen such that the Golden herd can survive into the future.
Highway mortality is having a large impact on this herd and several of the individuals painted here are now gone. The family tree below depicts some of the carnage.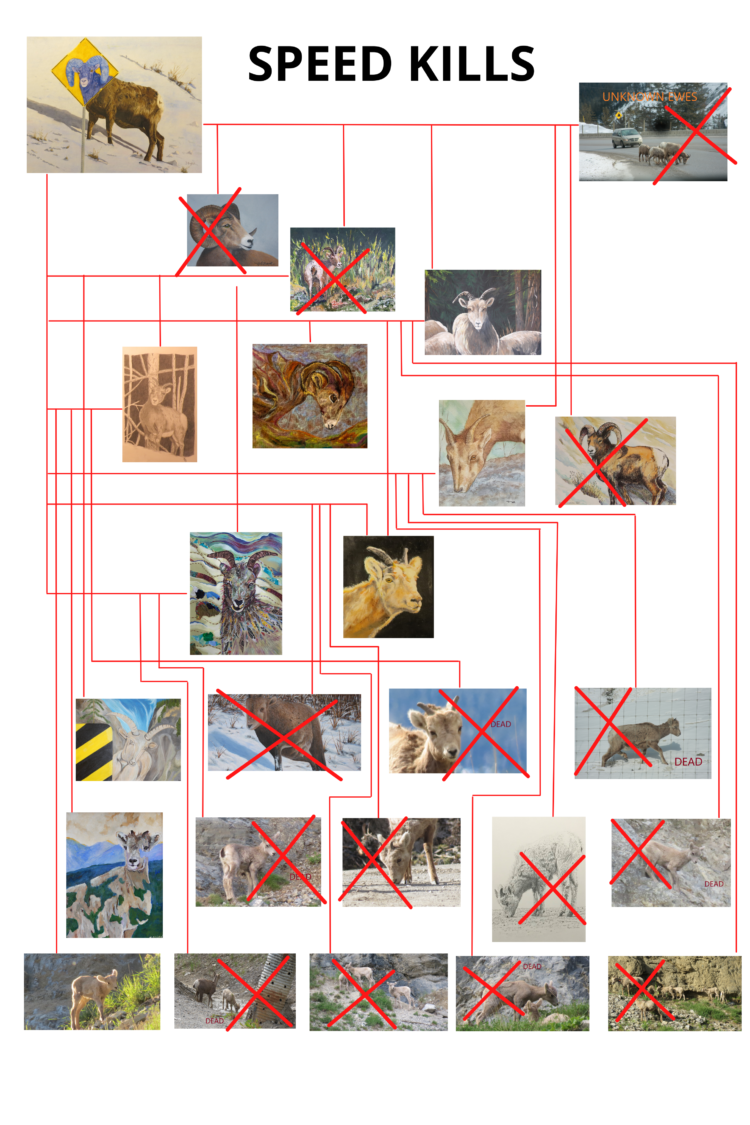 The Family Tree above shows the likely relationships between the 14 members of the Golden Rocky Mountain bighorn sheep herd based on years of observation and video analysis. The oldest Ram, at the top left, was likely born in 2011 and the lambs on the last row were born in 2021. Over the last many years, the herd has produced 4-5 lambs each year and only a few of these offspring have survived. The high rate of death amongst the lambs and, more recently, several mature adults is both tragic and preventable. Speed kills and vehicles must go more slowly in zones used by wildlife.
Learn more at www.wildsight.ca/goldensheep
Take action and become a Wildsight member
Please enjoy the works that follow.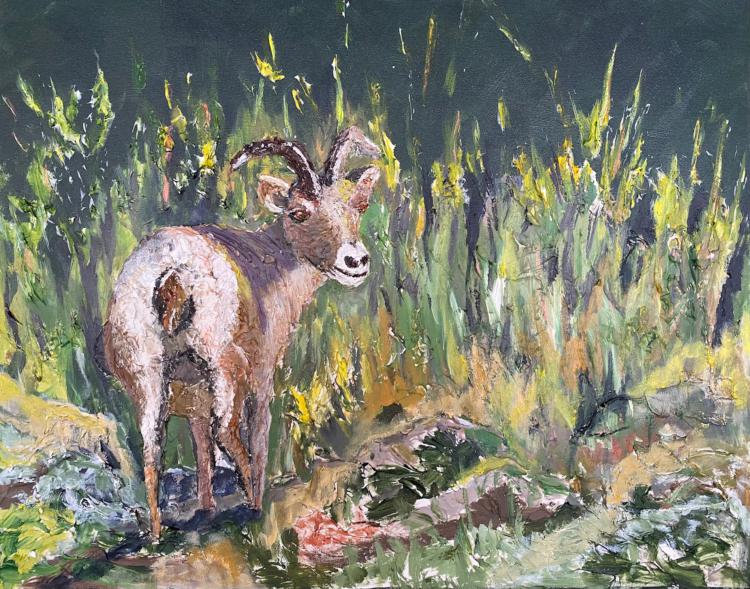 Oldest in the Bunch by Krys Sikora – Mixed Media – 24 x 30
It is all I think about! Since I restarted painting in 2011 (after a 47 year break!) everyday I look at nature with a new eye; looking at colours, composition, perspective and thinking: could this be the next painting? I wish I had more time to devote to this passion. I truly love it!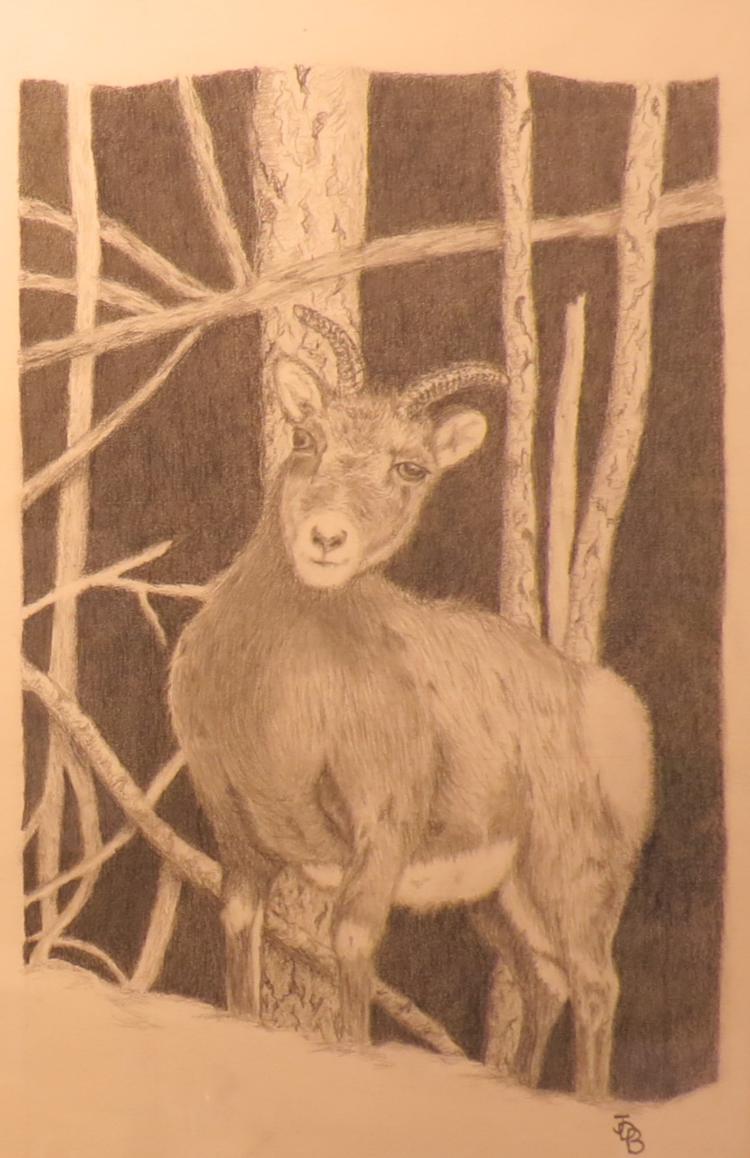 Protective Watch by Denys Bardarson – Graphite Pencil – 14 x 16
It has been 55 years since our family moved to Golden BC and because of the people and beautiful surroundings we live in, there wasn't any desire to move elsewhere. I have always enjoyed being creative and after my retirement in 2016 became enthralled with a new (for me) form of art using graphite and/or colored pencils and some dabbling into paint. When initiating a new project, I look for something that inspires and challenges me and then fall back on the following quotes:
– "Every artist was first an amateur" – Ralph Waldo Emerson
– "Creativity takes courage" – Henri Matiss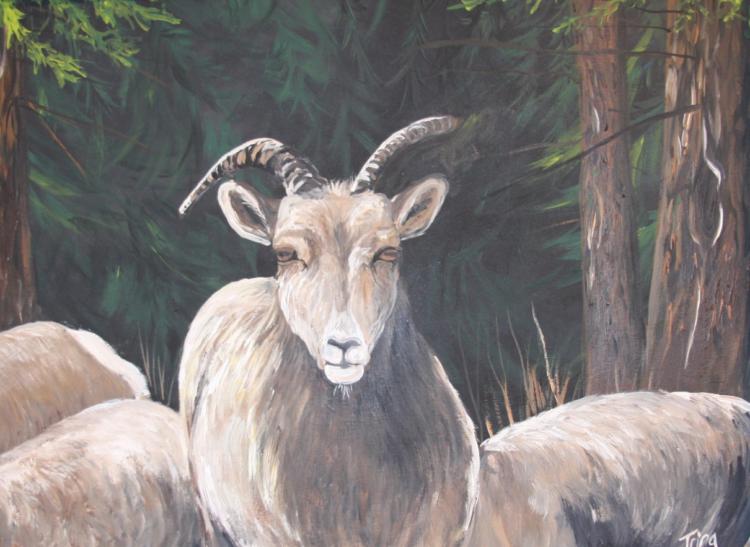 Among Friends by Trina Wolfenden – Acrylic – 16 x 20
Trina Wolfenden was born and raised in Golden and loves the valley and all the people in it. Inspiration for paintings are around every corner!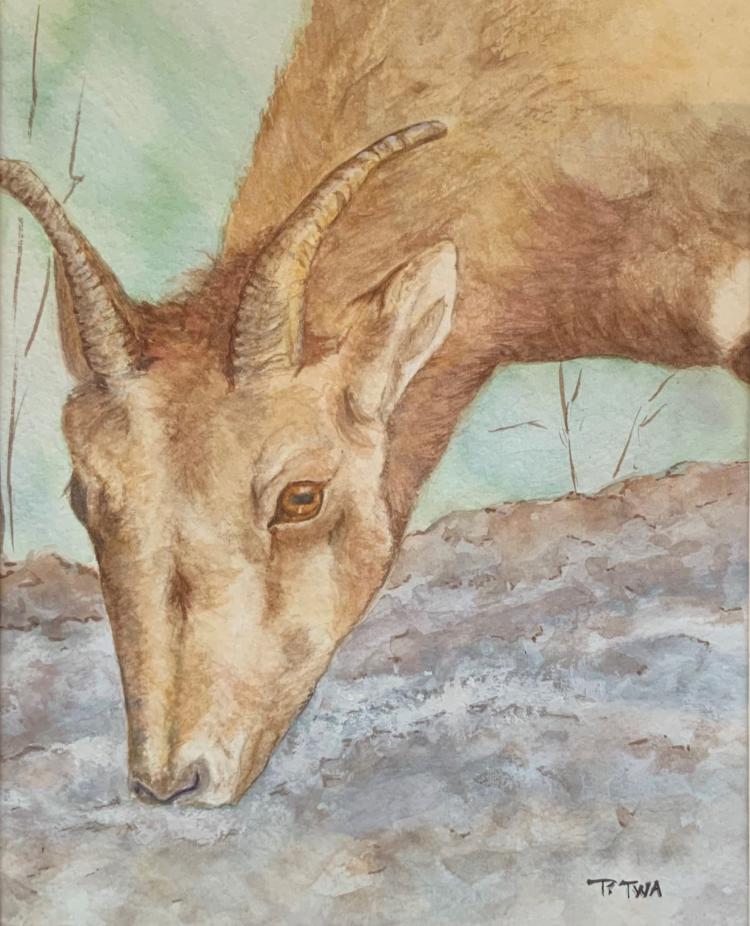 Ewe # 4 by Phyllis Twa – watercolour- 13 x 17
As a multi-disciplinary artist, there are a few mediums which Phyllis has not explored. An active member of the Golden Visual Arts Society, Phyllis shares her knowledge and enthusiasm by leading instructional workshops for other Society members. "I enjoy the process of discovery, which includes pushing myself to go places in whatever medium I'm using at the moment, and having fun with it."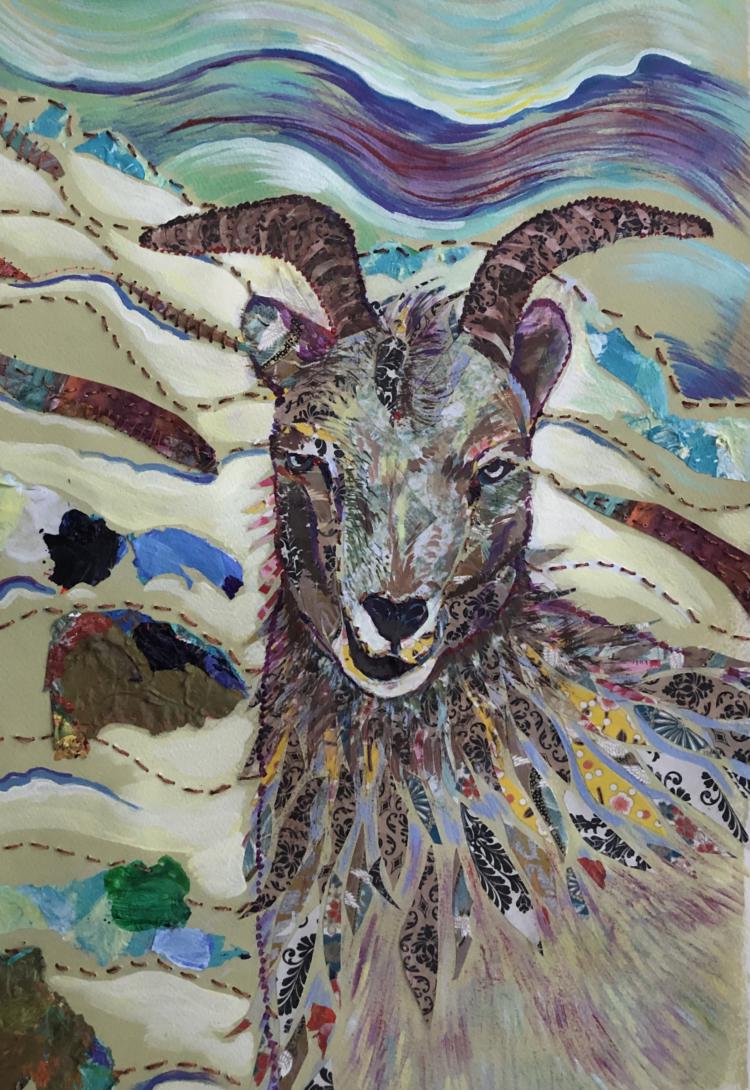 Perfect Ewe by Janis Dyck – Acrylic, Collage and Stitching on Paper- 17 x 24
I have been a maker since I can remember and was lucky to have a childhood where exploration, time in nature and creativity were encouraged. I frequently had my hands in the mud and dirt and am grateful for these early experiences and earth connections. In many ways I feel I am still doing this! To me making art is all about getting messy and crumbling down to the bones of what is trying to come forth. Themes of disintegration, unraveling, decay and connecting to the dirt emerge alongside building, stitching, growth and renewal. Intuitive, archetypal, cyclical energies fuel my creative process and reconnect me to a sense of mystery, hope and something greater than myself. Making art is a powerful, transformative force in my own life and I am honoured to share this with others. I am an art therapist, artist and yoga instructor. I live with my husband and two teenage sons outside of Golden. I enjoy the outdoors, skiing and gardening when I am not spending time with my family, making art or helping others connect to their inner truths through creating or practicing yoga.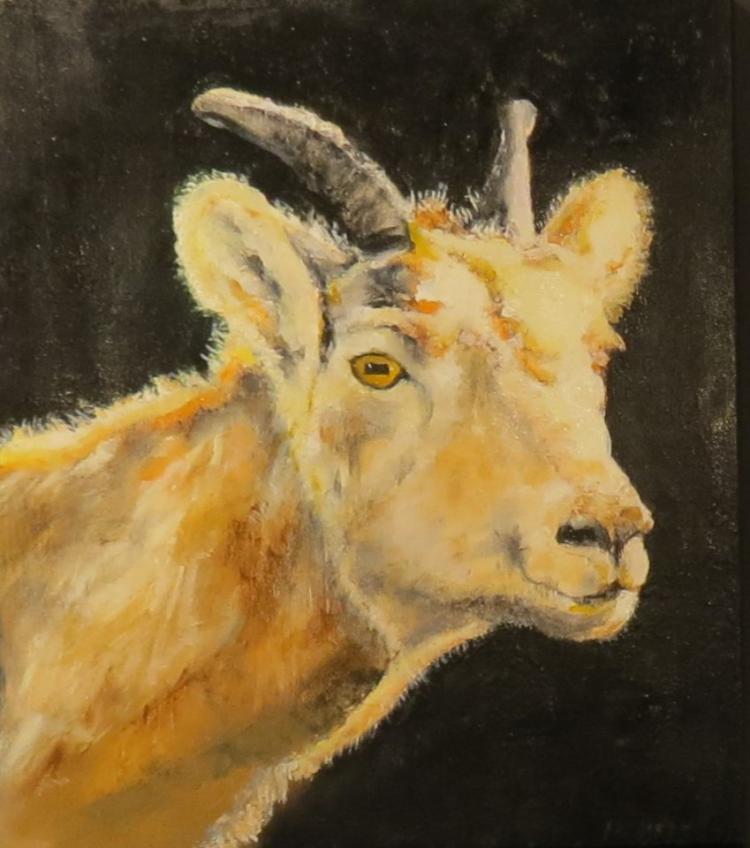 Dorthy Aging Gracefully by Marty Ryan – Water-based Oil on Black Acrylic Background- 16 x 24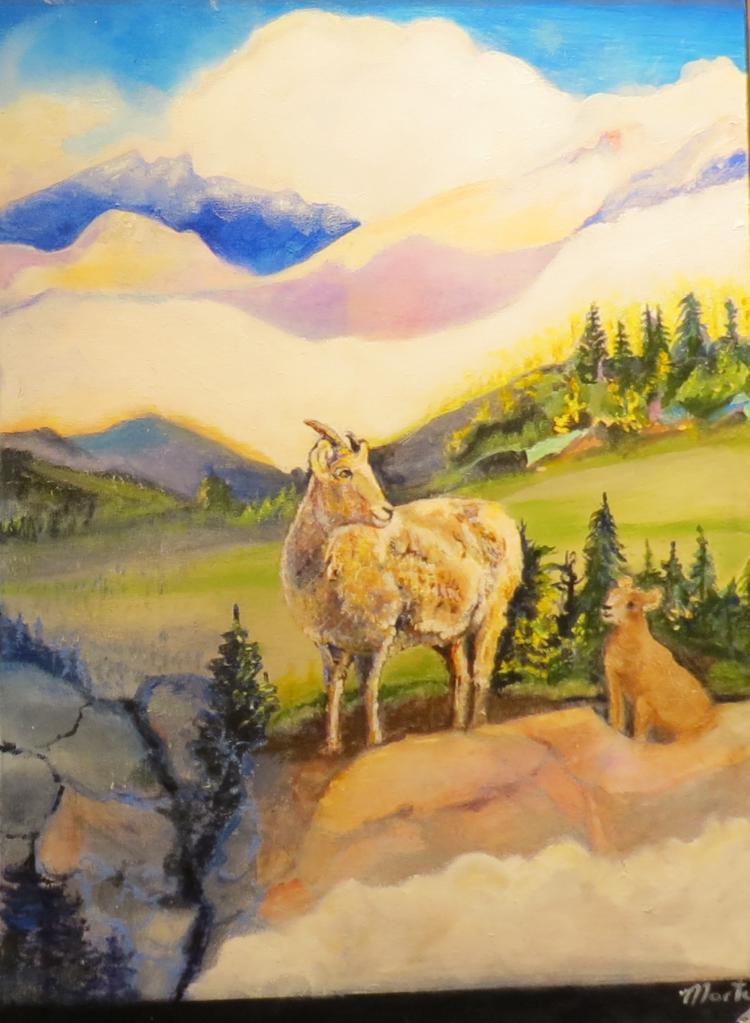 Dorthy by Marty Ryan – Water-based Oil – 18 x 24
Marty Ryan graduated from Pratt Institute of Art in Brooklyn New York with a degree in Industrial Design. She received her teaching degree from Simon Fraser University and spent many summers taking courses in bronze casting and copper etching at Red Deer College. After a degree in Industrial Design, Marty worked in the field of Medical illustration for the Animal Medical Center of New York. Marty moved to the Columbia Valley in 1972 where she was a Secondary Art Teacher and counsellor for over twenty-five years. She is currently painting in her studio along with offering copper etching workshops. Marty's website is www.parsonart.ca.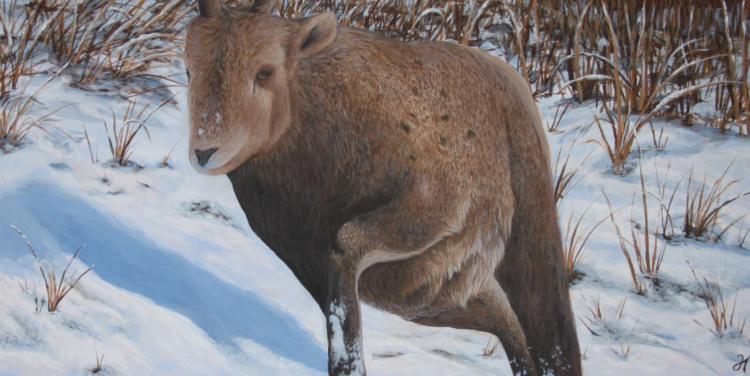 Alone by James Zimmer – Acrylic – 16 x 31
Born in Calgary, Alberta, James began his art journey at an early age, spending any moment he could putting pencil to paper. At age 15, James considers himself to be in the development stage of his career. A self-taught artists, James has spent countless hours in his home studio, where he continuously advances his painting style through experimentation with different painting mediums, dedicated study, and new experiences.
James strives to capture the beauty of the landscapes and animals from all over the world. His current works are primarily painted in acrylics. James works to be the best he can be, improving his artistic skills to become a more confident and versatile painter.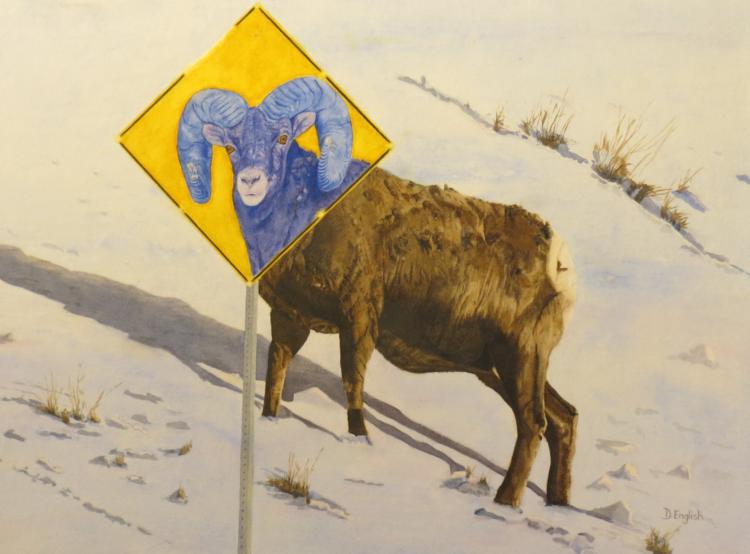 Caution "Blue Listed Species" by Denise English – Watercolour – 18 x 24
Like exercise, I enjoy and keep painting mainly to balance my life. It seems that much of my time is spent on things that benefit others and me, which I enjoy, while painting helps me to focus and build on my creativity. Art in general is something just for me, while others can enjoy it, if they choose to do so. Painting, especially with watercolours helps me to realize so much of life is out of my control and making the best of any outcome negative or positive brings the most satisfaction. For me art is the extension of what I value most in life, nature and relationships.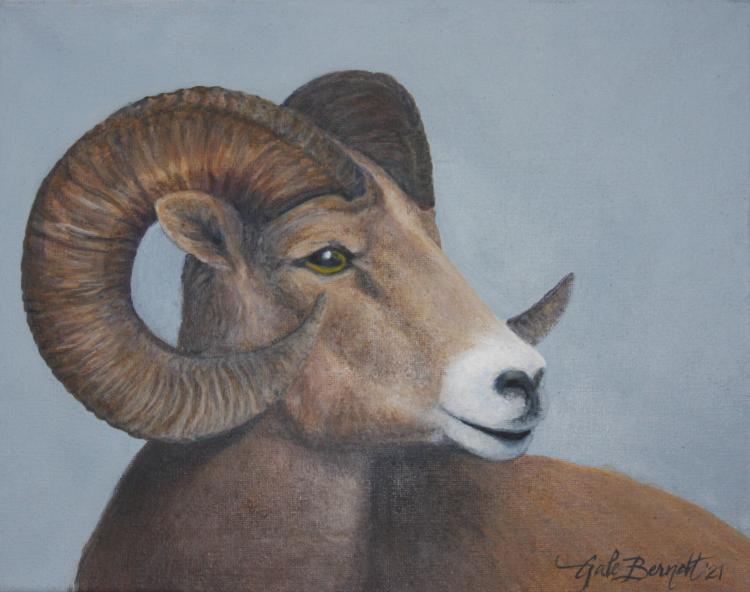 Chief by Gale Berndt – Acrylic – 11 x 14
Gale is a professional artist that is inspired by nature. She prefers to paint landscapes and has been painting in the Columbia Valley for many years, both plein-air and in studio. She likes to use different mediums for their unique qualities that create different moods and depth in her paintings.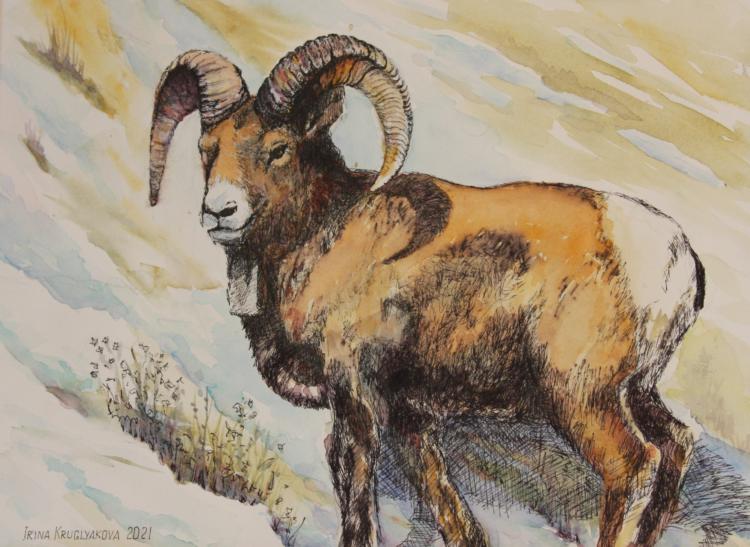 Ram # 3 by Irina Kruglyakova – Watercolour and Ink on paper- 19 x 25
Irina came to Canada in 2008 from Russia where she worked in the ecotourism and Parks system, including work as a wilderness guide for 18 years. She has been making art and sketching as long as she can remember. Her biggest loves and interests have always included nature in such activities as hiking and wildlife viewing, and much of her art is of nature-based subjects.
Although mostly a self-taught artist, she also studied graphic design at the Correspondence Popular University of Art, Vladivostok, Russia and then worked as a graphic designer in Russia. Since coming to Canada, first Waterton and Canmore and then in Edmonton, Irina has taught art classes for children and adults. She came to Columbia Valley in 2020 and fell in to the love with this country. In Summer 2021 Irina organized Valley sketch club in Invermere, which has been growing ever since.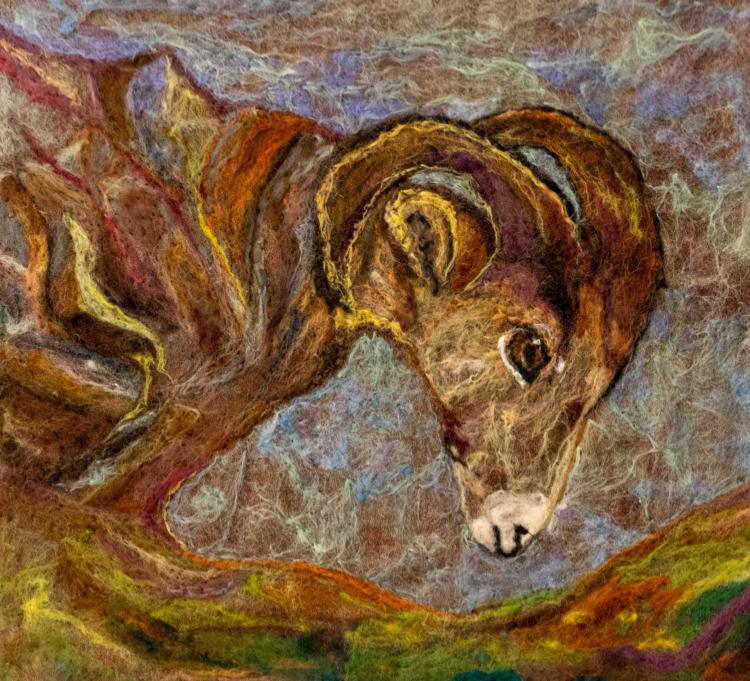 We are from and of the Earth by Brenda Bernat – Felted Wool – 17 x 20
Brenda Bernat is a self-taught artist living in the heart of the mountains, near Golden, B.C. She has enjoyed creating art for as long as she can remember. She always had an art project or two on the go. It is easy to see her great love of nature and animals reflected in her work.
Brenda has worked in a number of different mediums, acrylics, watercolors, alcohol inks and a new passion, wool felt painting. She enjoys doing new projects in different and interesting ways.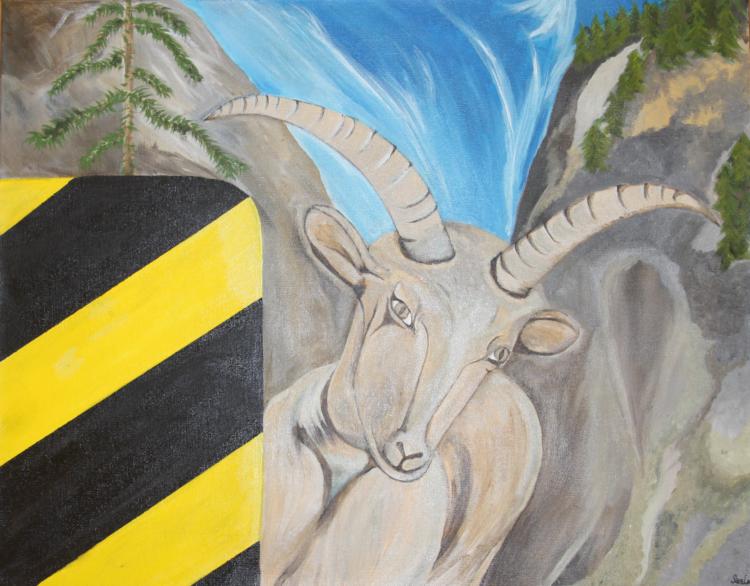 Roadside Ram by Sarah Osadetz – Acrylic – 16 x 20
As a child, I was always curious and creative. Experimenting with a variety of genres in art, my childhood gave me a broad exposure to painting, sketching and working with clay. Periodically, I've always sketched and dreamed of painting. Upon arriving in Golden in 1998, an awakening of sorts occurred for me after reading The Artists' Way. It opened many creative expressions for me. Since that time, I have committed to sketching, journaling, drawing, painting and playing music with increasing interest. I am inspired to paint and create in many different ways. I find the mountains and my explorations of them make me feel whole – and I strive for such experiences. When hiking, biking or skiing, I sketch, journal and photograph.
My style is impressionist. I follow my intuition yet also have a loose plan. For my art, my intention is to share my connection to Nature, interpreting some of the favorite places that I have visited.I am a graduate of College of the Rockies Adventure Tourism Business Management Program and Graphic Design with Sessions College for Design Professionals.
My inspirations include: creatives – all kinds, art shows, murals, small towns with nifty downtowns, big cities with grand concrete architecture, galleries, gardens, parks and the natural world. In summation, from an early age, the Group of Seven, specifically Lawren Harris captured my curiosity and passion.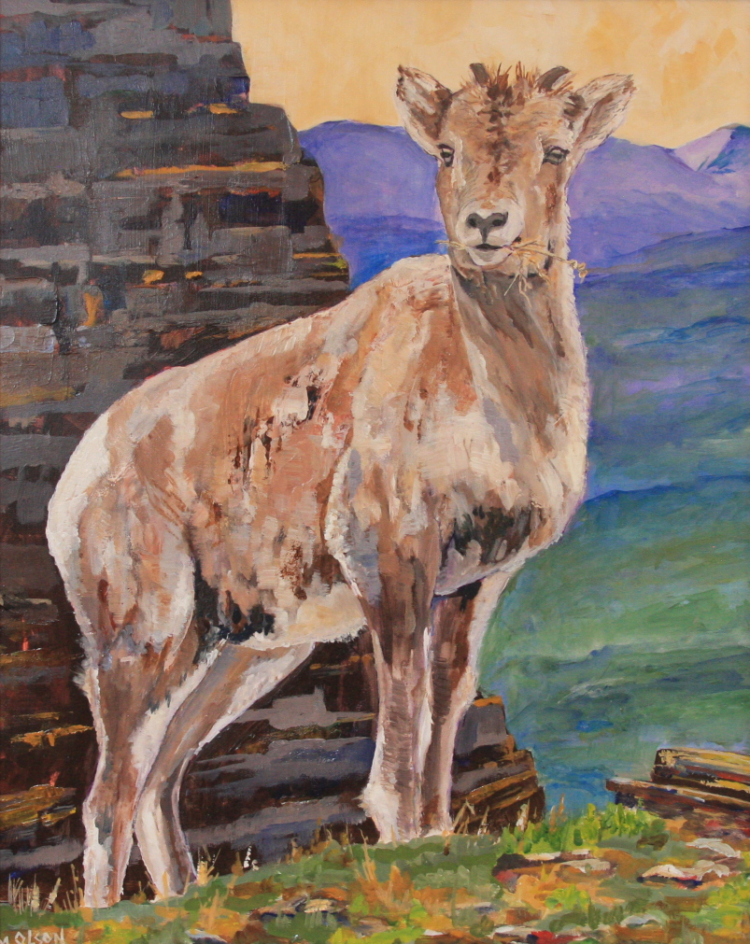 Yearling 2 by Martin Olsen – Acrylic – 18 x 22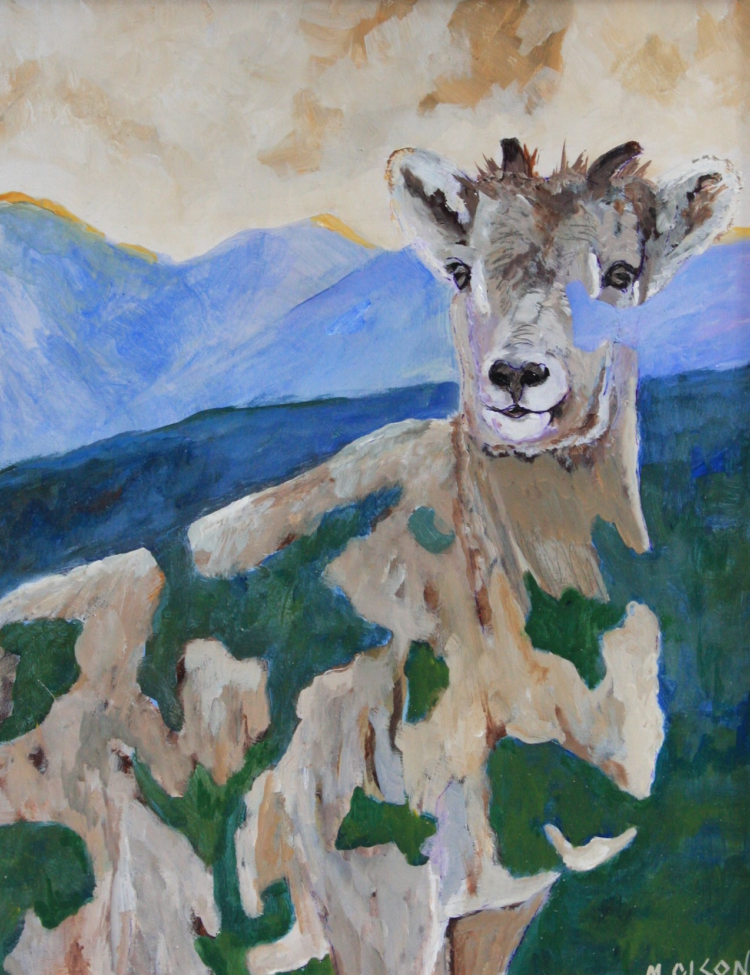 Yearling 2 Vanishing by Martin Olsen – Acrylic – 12 x 15
Martin was born in Vernon BC but moved to Golden with his family in 1957. Growing up in Golden was a perfect location to gain an appreciation for the natural world. Martin was encouraged to paint and draw at every opportunity from an early age. Despite no formal art training, Martin is not technically "self-taught." He has attended many workshops over the years with accomplished artists such as Randy Hayashi and internationally recognized artists John Poon and Kevin McPherson. Training was in representational art in the studio as well as outdoors on location and in oils and acrylics. Outdoor painting is done with oils but most studio work is completed in acrylic paint. Martin still calls Golden home and continues to paint the natural beauty of this region.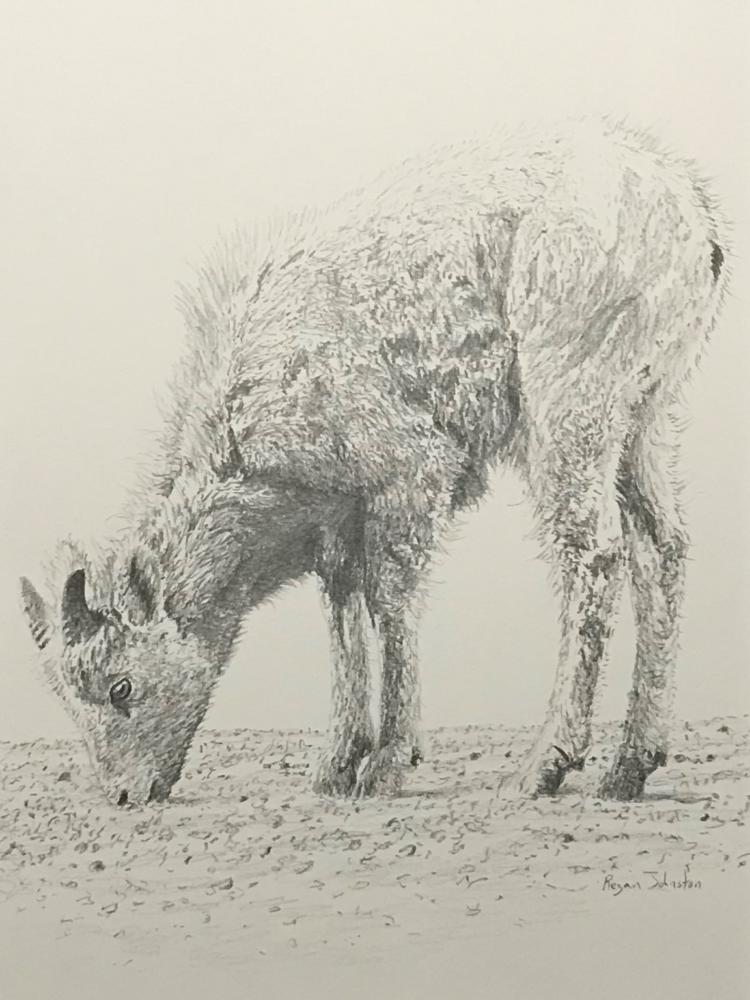 Canyon yearling by Regan Johnston – Pencil in paper – 20 x 24
We aren't just connected to nature; we are nature. We share this planet with so many different beings, and it's not only the human perspective I'm interested in. I admire wildlife, and I'm I interested in how they see the world. They have mysterious lives that we only get glimpses of, and I like exploring this with my paintings.
I often get a feeling of nostalgia when I'm in the wilderness, especially when I'm exploring mountains. I try to be aware of these feelings when they happen so I can paint the scene and attempt to capture some of that magic that is so special to me. I hope through my work I can raise awareness to protect wildlife and the places they call home.
I was born in Golden BC, Canada in 1985. When I was younger I loved drawing, and I remember making things until I finished high school. In my 20s I was pursuing other interests and stopped making art.
In 2014, while living in Milan, Italy I decided to finish the last drawing that I had started while in high school. This was a big moment for me because I realized how much I missed it. In 2016, while living back in Canada, I decided I wanted to try painting. I had painted houses for years prior to this, but this was something very new to me. I fell in love with it immediately. After making a few paintings I knew this is what I wanted to do with my life, and decided the following January to be a full time artist.
It was at the same time that I was rediscovering my passion for art that my wife Christa was going through a similar journey. We thought that eventually we would like to collaborate. One day it clicked, and we knew how we wanted to start making paintings together. Working with Christa has allowed me to explore outside of my own box, and it's opened up a new world for me. The more exploring and research I do, the more I've discovered how little I know, and that has helped me realize how magical everything really is.
Making art for me is very meditative. Being in a flow state and letting inspiration guide me is an incredible feeling. Painting has taught me to enjoy the process, and I do my best to take that into everything I do.