"Start small, grow what you like to eat, and learn as you go."
Sound advice from Chad Kile, Wildsight Kimberley/Cranbrook's sustainability coordinator. In ways big and small, this branch encourages local food sustainability from the ground up. The hope for the branch, says Chad, is to encourage a local food economy. This desire was brought into sharp focus during the COVID-19 pandemic, pushing the branch to develop their local food security programs even further over this past year.
"Our dependence on the industrial global food system has been a concern for many over the past decades, as we become more and more reliant on food grown hundreds or even thousands of kilometres away," says Chad. "Some 95% of food consumed in Kimberley is produced somewhere else. The range of shortages associated with the COVID-19 pandemic made all of us more aware of the vulnerabilities of our current food supply. With this increased dependence has come a loss of communal knowledge about growing. A vibrant local food economy addresses both these issues, by providing the knowledge and resources people need to grow their own food, as well as establishing a sustainable local food economy for commercial growers."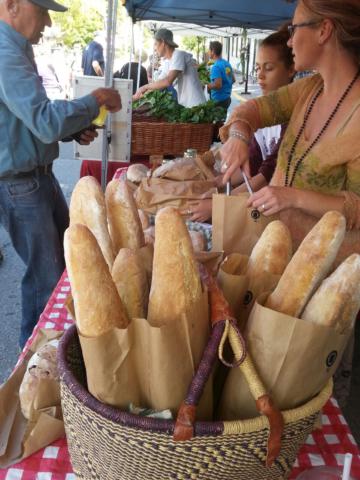 The programs
Wildsight Kimberley/Cranbrook has several initiatives to support this vision. There's the weekly Farmers' Market Thursday evenings in downtown Kimberley. Vendors sell local garlic and ripe tomatoes, farm-fresh eggs, bright-red radishes and amber-hued honey.
"The Kimberley Farmers' Market is particularly useful to new and small-scale producers who don't have connections to other avenues of sale, such as grocery stores or restaurants, and who want to build their capacity and product recognition in the area," explains Chad.
The branch also runs a popular Apple Capture program, which links fruit tree owners with people interested in picking and using the fruit. Part of this program involves annual visits to area schools where children can participate in apple juice pressing and learn about the growing cycle.
They started an initiative this summer called the Backyard Farmer Project, where interested yard owners contribute space for raised garden beds. So far, there are nine beds around Kimberley dedicated to growing extra food for the Kimberley Food Recovery Depot.
"The program is designed to grow food, educate locals in how to grow, and encourage local gardeners to produce and donate surplus food from their own gardens," lists Chad. "Our Backyard Farmer Project helps spread awareness of the possibilities for locals to get involved and of the resources available to them, as well as providing fresh, nutritious food to our residents. The hope is that we will achieve long-term results, so that residents are growing and locally sourcing as much of their food as possible."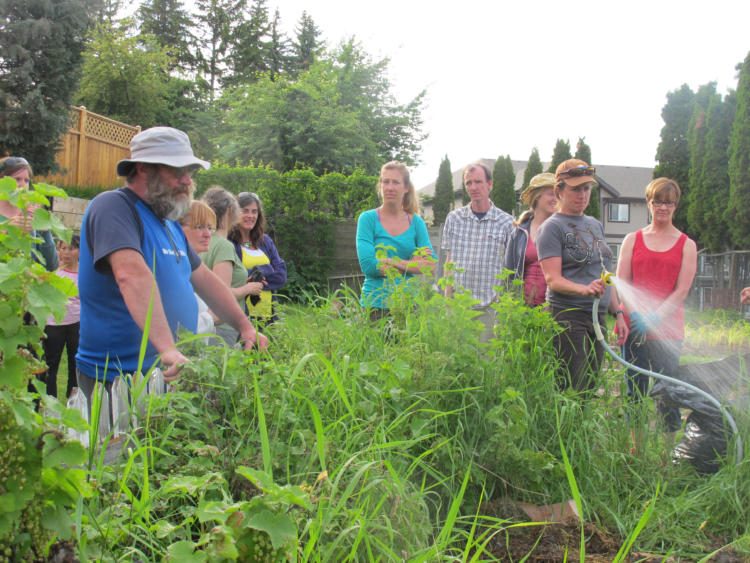 The branch runs a successful Community Garden. Designed as a demonstration garden, residents can see a range of different plant varieties and growing techniques at work here.
They have also been holding bi-weekly workshops at the garden this summer, on topics ranging from indoor plant starts, to water conservation, natural pest and weed control, vertical gardening, food preservation, and seed saving. Garden-related programs "build the knowledge, skills, resources and confidence that individuals need to successfully grow and preserve their own food," says Chad.
Beginner gardeners are encouraged to start small, and grow from there as they gain confidence.
"A herb pot in your kitchen window, a planter of greens or a few tomatoes on your deck, a patch of peas or beans along your fence. Even though all plants have different requirements, the principles of growing are the same: soil, sun, water," says Chad. "Learn as much as you can about the plants you are growing, and it will give you a framework of knowledge to work with when you expand your plant portfolio. And remember that the outcome is never really under your control, so don't get discouraged."
What's next
Wildsight Kimberley/Cranbrook has their sights set on yet another project to encourage local food security with the creation of a Local Food web page. This page will link community members with helpful gardening information, local growers, learning resources and food producers.
"The intent is partly to capitalize on interest in food growing, and partly to connect small-scale producers with customers. We also want to provide residents with useful knowledge about growing in the region, and capture some of the knowledge that long-time local growers have to offer," says Chad. "We have also begun to connect with the local immigrant population to try to address their interests in growing food, especially plant varieties that are not common to the northern hemisphere. We are hoping to begin some experiments and share the knowledge we gain to address the challenge of growing these plants."'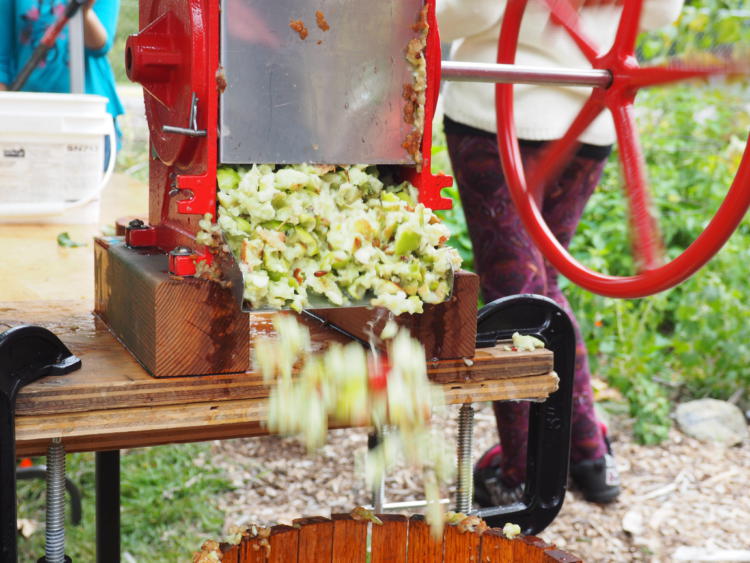 Challenges and goals
Added together, these programs and projects aim to address the challenges of food sustainability in the region. One of the big challenges is the simple fact that many people no longer have the skills to grow their own food.
"Lack of knowledge and skill, as well as the time pressures of daily life and the convenience of our food supply system, have made it impractical for people to grow their own food," surmises Chad.
Another challenge to local food sustainability has to do with the specific growing conditions of our region: high elevation and hot, dry summers with a relatively short growing season (late May to mid-September). This sets certain limits to the amount of food we are able to grow and also, down the chain, to the annual continuity of our local food economy. Grocery stores, restaurants and other consumers can only rely on locally grown food for less than half the year, which makes it hard for local producers to establish profitable long-term relationships with buyers.
But through education and continued promotion of food sustainability, the Kimberley/Cranbrook branch hopes to change the narrative. And, as Chad says, each person can be a gardener in their own backyards.
"The main message we've been giving to interested gardeners, especially the brand-new gardeners who feel intimidated or overwhelmed by gardening: start small, grow what you like to eat, and learn as you go."
For more information about any of the Kimberley/Cranbrook food sustainability initiatives, or to learn how you can get start growing, visit the Kimberley/Cranbrook branch page.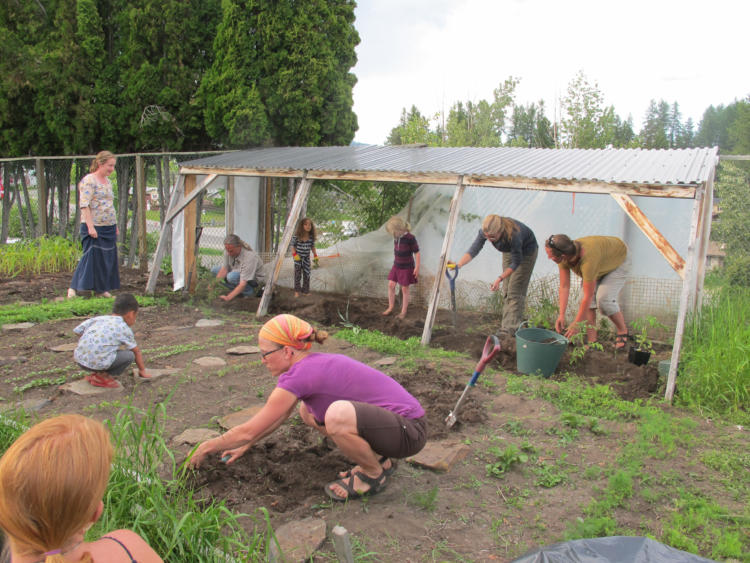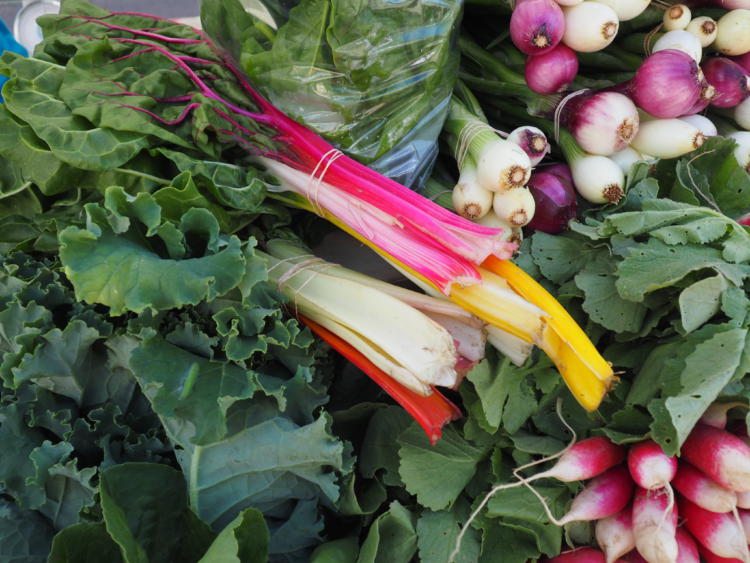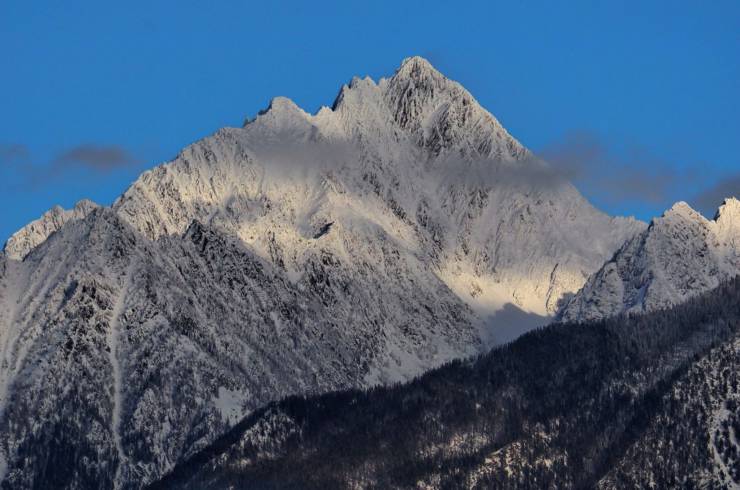 Our Mission The Wildsight Kimberley Cranbrook Branch empowers environmentally responsible citizenry and strives to support conscious local economy. We aim to provide consistent and ongoing…
Learn more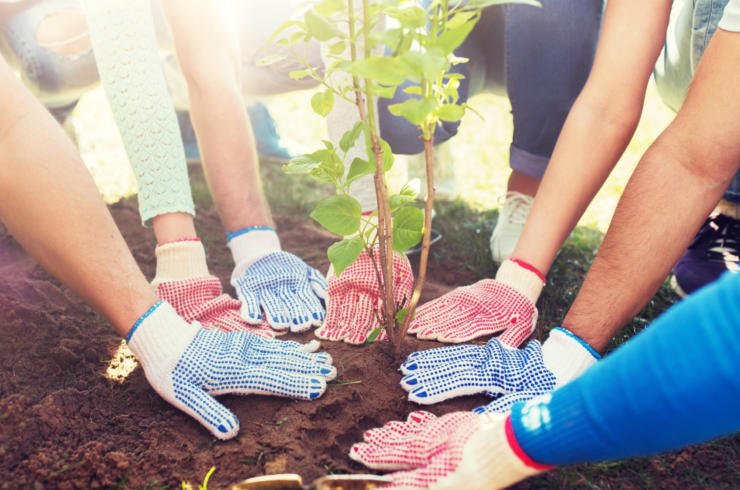 Are you searching for an opportunity to connect with your community safely, while also getting involved in local environmental initiatives? If so, you are in…
Get involved