Apple Capture season is around the corner and we're thrilled to see just how much local fruit we can divert from going to waste and becoming wildlife attractants!
Over the years, we've noticed that Kimberley and Cranbrook are home to plentiful fruit trees but as summer turns to fall, much of this fruit goes unpicked. It often falls to the ground and rots, becoming food waste as well as an animal attractant.
Apple Capture was created to divert some of this fruit into food for our community. Last season's Apple Capture efforts resulted in 2,347 lbs. of fruit picked from 34 yards. The fruit was pressed into juice or donated to the Healthy Kimberley Food Recovery Depot. Much of the picking and pressing was done by volunteers and students, who enjoyed the opportunity to learn and try some delicious fresh apple juice.
The Apple Capture program is now back for its ninth season! This year, the program will be overseen by Ali Hadikin, our new Cranbrook Coordinator. Ali has kindly answered some frequently asked questions about the Apple Capture Program.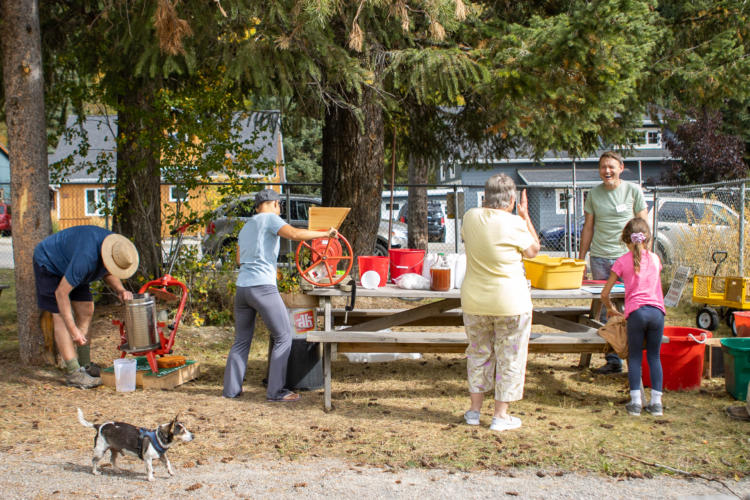 Q: What kind of Apple Capture events will be taking place this year?
A: Several community picking and pressing events will be held throughout September and October in both Kimberley and Cranbrook. Volunteers of all abilities and experience levels are welcome to join these events. All Kimberley events will begin at the Kimberley Community Garden on Rotary Drive (just south of the Kimberley Aquatic Centre) and all Cranbrook events will begin at the Cranbrook Public Produce Garden at 710 18 Ave N.
The picking and pressing event schedule depends on when the fruit is ready to be picked. Please check our website for the latest information about picking and pressing events.
Q: What do I do if I have a fruit tree that needs to be picked?
A: We invite you to register your tree on our Tree Share Board, a database of fruit trees in our community. Kindly keep in mind that this project is dependent on volunteers; we cannot guarantee that we'll be able to pick your tree, even if it's registered on the Tree Share Board.
Q: Can I pick fruit from trees on the Tree Share Board?
A: Yes, you sure can! Registered trees are available for anyone to go and harvest from. Please refer to the Tree Share Board to find out which trees are available for picking (these are denoted on our map in green). We ask pickers to be respectful while harvesting on other people's property and to make contact prior to picking if that information is listed. It's also a nice gesture to offer the tree owners some fruit in return!
Q: Do you share your equipment?
A: Certainly! We're happy to lend out fruit picking, juicing, preserving, and tree pruning equipment for any of your tree care needs for a small fee that goes right back into our Apple Capture project.
We will soon be updating our tool share system to make borrowing and returning tools easier for community members. To book out equipment, you will soon need to make a ToolShare account. We ask that anyone borrowing equipment takes the time to read the equipment manuals before use and make sure it is clean before returning. Kindly pick up and return the equipment on schedule to ensure everyone gets a turn.
Q: What do you do with pressing leftovers?
A: Leftovers from pressing can be used for animal feed. We donate pressing leftovers to local farms after pressing events. If you're pressing apples in bulk, please do not add these to the Community Garden compost bins as the bears love them! Let us know before you press and we'd be happy to help connect your apple pressing leftovers to a local farm – where they will use it for animal feed.
Q: How can I support this project?
A: Our goal for 2022 is to raise more awareness about this program so that we can conduct more well-attended picking and pressing events. Here are a few ways to get involved or support the program:
Sign up for our newsletter or follow us on social media to hear about upcoming picking and pressing events—and join us!.
Know someone in the community with a fruit-bearing tree? Tell them to Share A Tree and check out our Tree Share Board.
Know someone who wants to prune their trees, harvest, or preserve fruit? Make sure they know we share our Apple Harvest Equipment!

Visit our website for full information on the Apple Capture program and upcoming event dates.