From her early efforts as president of Wildsight's Invermere Branch in the 1990's to her internationally-recognized conservation leadership today, Kat Hartwig has been recognized as this year's Ellen Zimmerman Award recipient.
Ellen spent a lifetime dedicated to protecting the natural beauty of this valley. Her memory lives on as we celebrate other environmental leaders in the upper Columbia region. The Ellen Zimmerman Award committee made the unanimous decision to honour Kat after a call for submissions drew an impressive list of candidates from across the region.
"Kat is the perfect candidate for the award because of her unwavering commitment to protecting high environmental standards in this place she has called home for most of her life," says Baiba Morrow, current president of Wildsight Invermere.
"She has always been a passionate defender of wildlife, biodiversity, wild places and water stewardship." – Baiba Morrow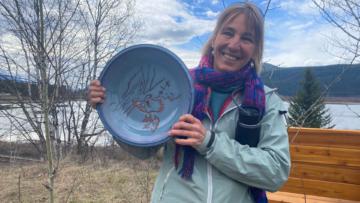 Kat has deep roots in the upper Columbia Valley where she grew up and continues to call home. She was heavily involved in the East Kootenay Environmental Society (the precursor to Wildsight) and the land use and forestry battles of the 1990s, wearing many different hats during that time. In 2005, she began the Lake Windermere Project. Kat went on to found Living Lakes Canada, using the Lake Windermere Project as a model for successful community based lake stewardship. Living Lakes Canada facilitates collaboration in monitoring, restoration, and policy development initiatives for the long-term protection of Canada's lakes, rivers, wetlands and watersheds impacted by climate risk.
Kat's work continues today locally, regionally, nationally and internationally. She is an advisor on the Panel for Global Water Futures, Canada's First Research Excellence Fund, for the Lake Windermere Ambassadors, and the BC Water Leaders Consortium. Her current board positions include: the Columbia Basin Water Stewardship Network, and German-based Global Nature Fund.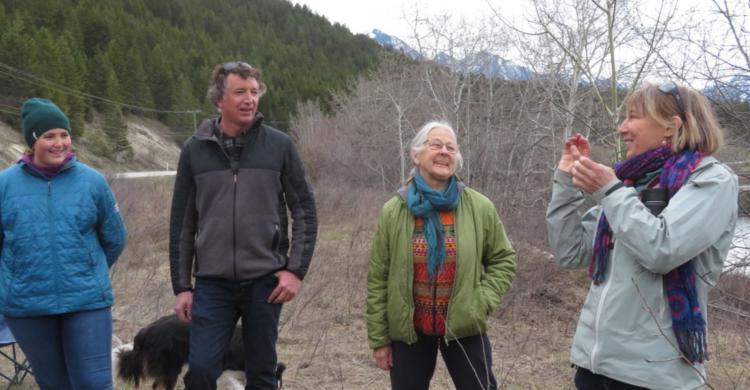 In a small ceremony at the Castledale rest stop on Thursday, April 21st, where a newly-erected memorial bench to Ellen Zimmerman sits, Kat was honoured for her advocacy in the environmental field.
"You made things happen. And that's what we're here to celebrate," Baiba reflected at the ceremony. "To me, you're a tireless trailblazer with a strong connection to this mountain place."
Congratulatory messages poured in for Kat, including one from Paul Bell, past Wildsight Board Chairperson.
"As her close friend and confidante, I have been very impressed, pleased and at times filled with admiration at the way Kat sets out her very expansive vision for environmental protection and then uses a bright intelligence, knowledge, understanding and ridiculous amounts of hard work to achieve her goals. She has often outlined her five year expansive vision to me and then with that unique Kat talent, I have been impressed and grateful to see it take a fine shape. She certainly deserves this award."
John Bergenske, WIldsight Conservation Director, also shared.
"Ellen and Kat have both consistently exhibited a deep love of nature and of their home place in the Columbia Valley. Their passion, strength and persistence to defend the natural world has made all of our lives better. I feel so fortunate and honoured to have had them as close friends and colleagues," says John.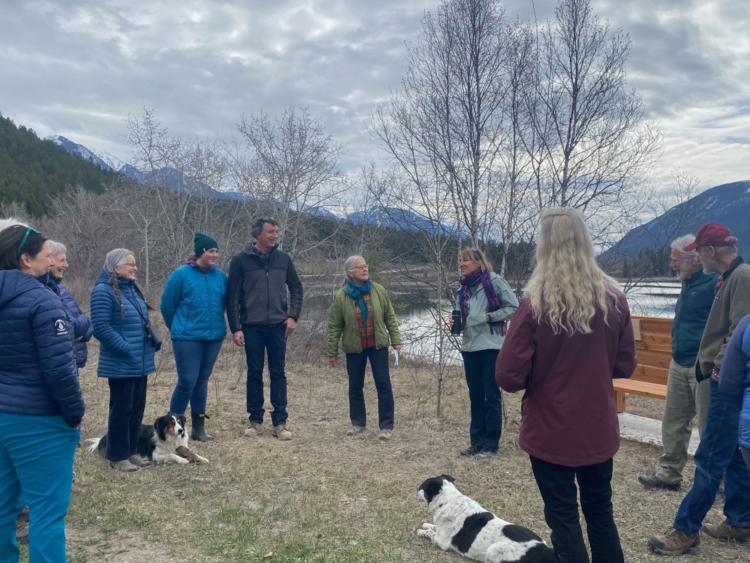 In receiving the award, Kat told her favourite story about Ellen, whom she worked alongside for many years. Ellen was taking part in an interview, sitting outside at Invermere's Pynelogs building with views of Lake Windermere.
"We're are in a formal interview process, asking a candidate serious questions, and Ellen interrupts the process with great gusto, 'oh just a minute, just a minute', and she pulls out her binoculars and starts birding right in the middle of the interview," Kat says with a laugh. "I thought, if Ellen could do that, then we can all have a little bit of unconventionality in following our passion!"
Kat was honoured to be the 2022 recipient of this award.
"It's a privilege, because I knew Ellen and worked with her for years, and Ellen was a rock," she says.
Kat's vision is always looking forward to what's next. While she is starting to see some positive changes in Canada, much more needs to be done.
"For me, climate change is the most important issue facing our species that we need to address, not only for our sake but for the sake of all sentient beings," says Kat, adding that the most important thing is to give the next generation a chance to succeed in addressing climate change impacts for their collective well being.
"It is important to support young people by empowering them not to disparage and to feel hopeless."
If the causes that Ellen held near and dear also matter to you, would you consider donating to the award fund today? Thank you for your support.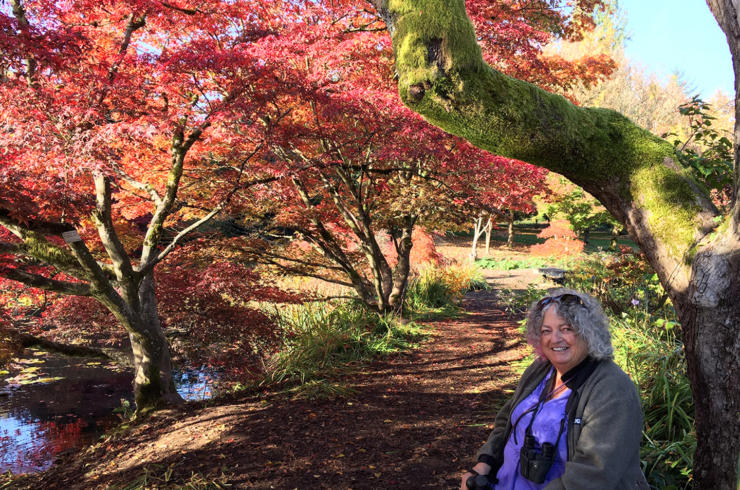 "Inspiration: For me, the start was the connection with the planet, with nature, with wildlife on the one hand and on the other hand, the…
Award page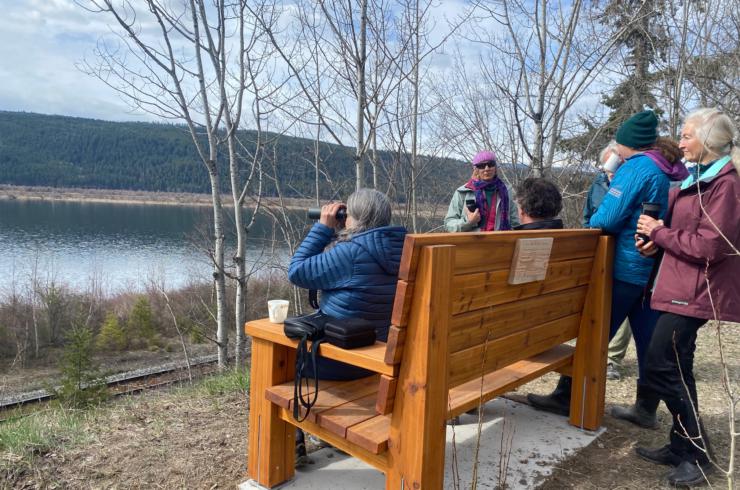 Racing down the highway between Golden and Invermere on Highway 95, the rest stop at Castledale would look like hardly much at all. Just a…
Memorial bench