"Well done is better than well said," quipped Benjamin Franklin.
Perhaps a no more fitting quote can be found that sums up Wildsight Invermere's bold experiment.
Franklin is often depicted holding a kite in a lightning storm, building on the understanding of electricity – a new phenomenon in the 1740s. Now, nearly 300 years later, we are transforming our understanding of electricity into a cleaner, more sustainable mode of transportation. The rise of electric vehicles (EVs) has been meteoric; sales increased globally 42% in 2020, with experts anticipating we are close to the tipping point of rapid mass adoption.
"We expect EVs are going to take over the world soon. We're just trying to move that process forward," remarks Cam Gillies, Wildsight Invermere Vice President.
Working to inspire residents, as well as enact real change on the ground, Wildsight Invermere began exploring the possibility of launching an electric car share program. They didn't just want to just tell people to buy an electric vehicle. They wanted to actively encourage fewer emissions on Kootenay roads.
The idea was floated to launch an electric car share program in 2018. After enthusiastic approval from membership, in short order a committee had outlined a plan and fundraised to cover many of the costs associated with the startup of Spark: Columbia Valley Electric Vehicle Car Share Program.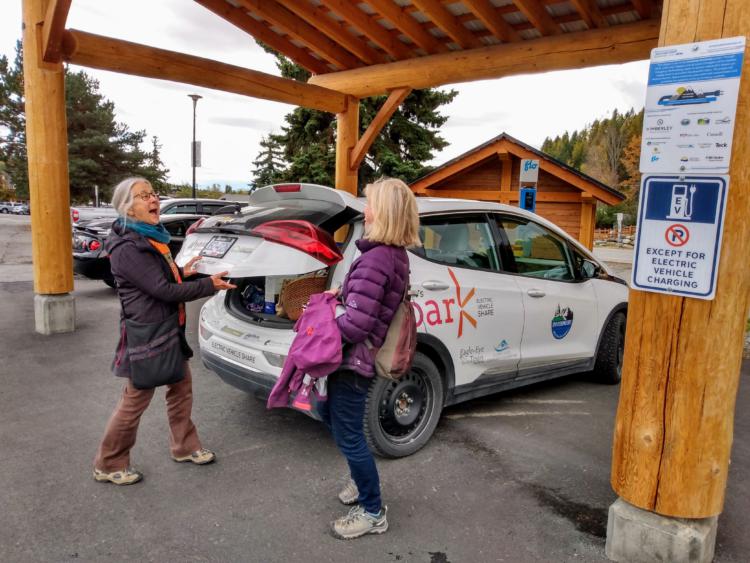 Wildsight bought a Chevrolet Bolt (affectionally nicknamed Sparky), noting its significant range, its availability for purchase (an important factor given the high demand of electric vehicles in B.C.), and the five seats, making it a practical car for broader use, explains Gillies.
The District of Invermere partnered with Wildsight to provide dedicated downtown parking and a charging station was installed. After working out kinks in the booking system, launching the website, and offering trial runs to Board members, Spark was ready to go by early 2020.
The branch identified potential users to include business professionals traveling for meetings, individuals who do not have access to reliable transportation for medical appointments, grocery shopping and other purposes, and others who simply wish to use a cleaner, greener alternative to get around.
While there have been early adopters, there are also obstacles Wildsight Invermere has faced in encouraging new users. Like any new technology, it takes time to be taken up by the masses. The branch created educational materials to help ease the transition for potential users. They hosted an EV car show this past summer, inviting local owners to bring their electric cars out and answer questions from interested attendees.The event was a great success; requests have been made and plans are in place for something similar this year. The branch has also received funding from Plug In BC to put together a series of short videos to help take the mystery out of EVs.
"The unknowns are still a big barrier for people: how long the battery charge lasts, the vehicle's range, how you charge. The gas stations of the world are so ubiquitous and so familiar. This is a completely different technology," says Gillies. "There's a learning curve … getting people in there, getting them comfortable."
But it doesn't take much to get comfortable in Sparky. Take the tale of Jean Alexander as an example. Ms. Alexander, a spritely 74 year old, is a resident of Radium Hot Springs. Her old gas guzzler broke down in November 2020. Without a large grocery store in Radium, she began making regular trips via bus to Invermere (a 16 km journey each way). But a few problems quickly became apparent. Ms. Alexander could only carry a couple bags of groceries, necessitating multiple trips into Invermere each week. The bus schedule meant she was tied to a time frame, often having to kill extra hours in Invermere awaiting the bus ride home. And most problematic for the senior citizen was the lack of social distancing protocols being enforced on the bus during this ongoing pandemic.
Ms. Alexander had heard about Spark, thought this might be the solution to her needs, and signed up for a membership (for the token sum of $2). Her first time renting the car was a little daunting – how to turn the vehicle on, turn off the radio, back up, and open the hatch. But now that she's driven it a couple times, she has no complaints.
"It was a big learning curve for someone used to driving an older car," she recalls. "I thought 'maybe I shouldn't even attempt this'. But once I got it going, I loved driving it."
She can now rent Sparky for a full day and complete all her errands. She takes the morning bus into Invermere, picks up the car, does all her shopping, delivers her bags to Radium, heads back to Invermere to drop off the vehicle then takes the afternoon bus back home. The last time she rented, she even had time to squeeze in a snowshoe excursion around Lake Lillian. Spark saves her multiple bus trips each month and provides her peace of mind as she travels alone in the vehicle.
The booking calendar makes it easy to see when the car is available. Affordable introductory rates have been on offer to encourage more drivers to take the car out for a spin.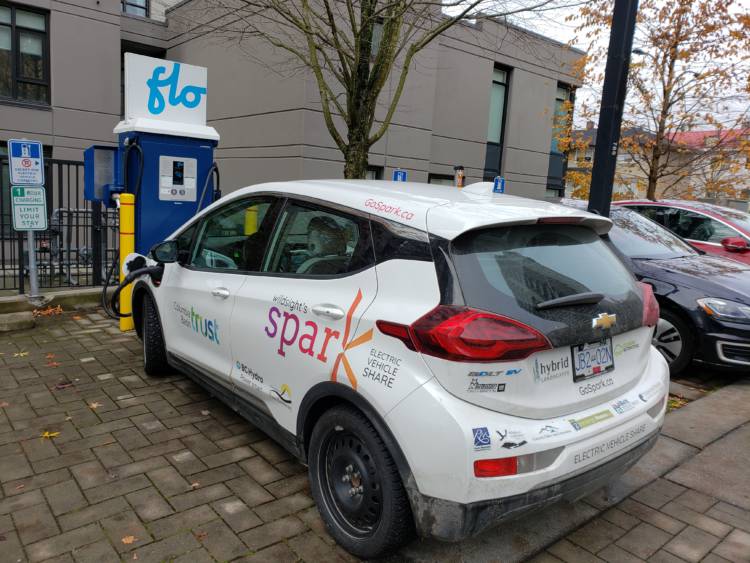 COVID-19 derailed Spark's momentum somewhat, especially as the program launch coincided with the rise in COVID-19 numbers.
"COVID has provided a distinct headwind to our plans," sums up Gillies. "Much of our user target market would normally be zipping up and down the valley to go to Golden, Cranbrook, Kimberley – those people are not traveling right now."
And the sharing economy has screeched to a standstill while fears over the virus remain. But the program is well-poised to turn from a spark into a wildfire.
"The model is there. And the potential for success is there in a post-COVID world," says Gillies.
As a sustainable alternative to gas-powered vehicles, Spark offers an affordable, easy alternative, and opens up the world of EV ownership to people hesitant to take the plunge.
Wildsight Invermere is hosting an Electric Vehicle webinar on Wednesday, March 3, 7 pm. This free online presentation will answer all your burning questions about EV ownership, charging, range, rebates, the economics and, of course, the fun of owning an EV! Register now.
Want to learn more? Visit Go Spark.