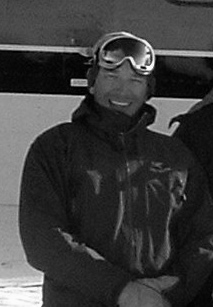 Mike Demuth, P.Eng., P.Geo, originally hails from Calgary Alberta, and at the start of his snow and ice career made his home in Revelstoke, B.C. An experienced alpinist and backcountry skier, Mike's involvement in snow and ice research was cemented by his participation in the 1981 Environment Canada retrieval of an ice core from the summit plateau of Yukon's Mount Logan with Gerry Holdsworth — Mike's long-time mentor.
Mike's research science and observational science activities concerning the Earth's cold regions have evolved to include four major areas of activity :i) geophysical measurement at appropriate scales; ii) understanding error and managing variance; iii) cryosphere hydro-climatic processes; and iv) evolving improved methods and measures.
Mike brings four decades of service with the NRCC's Geotechnical Section, Environment Canada's National Hydrology Research Institute and the Geological Survey of Canada's Terrain Sciences Division where, as a Cold Region's Specialist and Glaciology Research Scientist, he pursued studies of glacier mass change, snow and firm stratigraphy, climate change and variability, glacier hydrology and water resources, satellite and intermediate-scale remote sensing, and the material science and hydraulic aspects of river ice.
His extensive remote fieldwork, mountaineering and expedition leadership experience in Canada's western and Arctic Cordilleras has led to interests in human factor analysis as it concerns safety and decision making in the absence of complete information — a theme that has expanded to include societal behaviour in the face of climate heating.
After retiring from the GSC in 2016, Mike and Margaret Demuth now reside in Lund B.C. They have two daughters, three granddaughters and a grandson, all of whom currently live in the Ottawa Valley, Ontario. Find more info about Mike here.
Mike will present about climate change and how it affects our weather and water. He states: "There is lots of talk about the new normal. I believe and fear that this is almost subduing us into thinking that the worst impacts of climate heating are inevitable. I would counter … The new normal? It's anything but normal!"
There will be a presentation for approximately 30-45 minutes and then a chance for questions and answers.
Join Mike Demuth and Wildsight Golden on January 13, 2022 at 7 pm. (Mountain Time)
All presentations will be held on virtually on zoom. Registration is required, please register here.
For more exciting presentations in this series, check them out here.
For more information, email Golden@wildsight.ca.
Thank you to the Town of Golden for your sponsorship of this series!