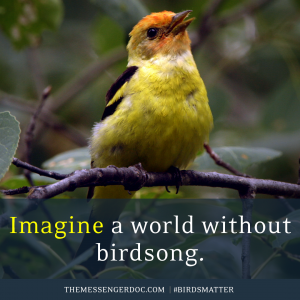 Join us on Saturday, April 14 at 7pm  for Wildsight Invermere's AGM, followed by the award-winning documentary THE MESSENGER at 7:30pm.
The brief AGM is a chance for you to connect with your community and get an update on our programs: Connecting With Nature, Radon Awareness, Wild & Scenic Film Festival.
If you are interested in joining our dynamic team as a Board or Committee member, please email baiba@wildsight.ca
THE MESSENGER features stunning footage of songbirds and chronicles their worldwide struggle to survive the turbulent environmental conditions brought about by humans.  Akin to the disappearance of the honeybee or the melting of glaciers, the film argues that the global demise of songbirds signals an uncertain shift in an already fragile ecosystem and explores our deep-seated connection to birds, while warning that the uncertain fate of songbirds might mirror our own. View the trailer here.
Everyone is welcome, as always. Admission to the film is by donation.
Refreshments and Goodies served. Bring your own cup. Bring a friend.
Need a ride out to Wilmer or more info? mandi@wildsight.ca
Below are the background materials for the 2018 AGM:
Wildsight Invermere AGM Agenda 2018
Wildsight Invermere AGM Minutes 2017
Wildsight Invermere Branch Bylaws- Proposed changes 14/04/2018