A Nelson group home is a more comfortable, energy-efficient place to live thanks to a hardworking team of altruistic young adults.
A partnership between Wildsight, FortisBC and Kootenay Society for Community Living (KSCL) led to the retrofit project on a group home managed by KSCL, which offers support for individuals with developmental disabilities throughout the West Kootenay. While maintenance work is done regularly, major upgrades can be a challenge for the nonprofit society to undertake.
The home is dated, with vinyl siding, 2×4 wall construction and a lack of good insulation all contributing to higher energy costs and minimal airflow for the five residents who live here. After consulting with the residents, plans were made for upgrades that will help make their lives more comfortable.
"The home was so hot and stuffy," says Sheri Sadowick, KSCL program manager. "This project is certainly going to enhance the quality of life for the residents."
The crew removed the siding, then installed 'outsulation': insulation on the outside of the house, with proper air gaps and then re-used and re-attached the original siding.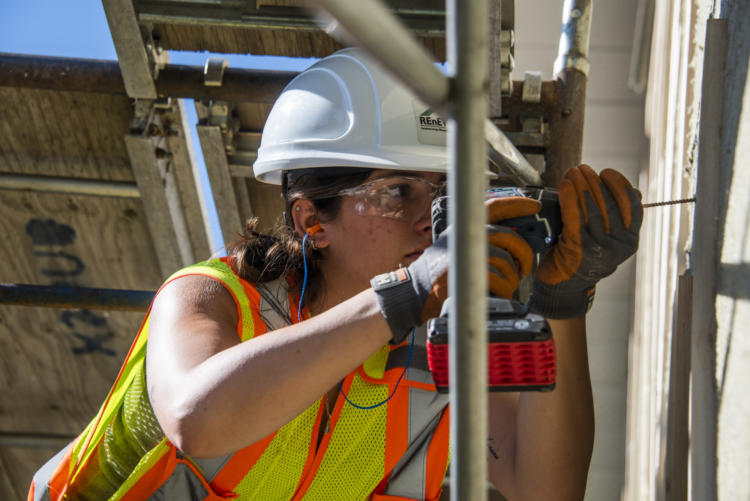 "Like a gortex jacket, this will let the house breathe, but also be airtight," explains Cedar deTrey, who mentored the youth team through the project. The home is also getting new windows and an energy-efficient heat pump thanks to funding from FortisBC.
The young adults who took on the project are part of this season's Wildsight Youth Climate Corps (YCC) West Kootenay crew. After a few days of classroom learning on sustainable building practices and retrofit work and obtaining industry-standard construction safety training, the team suited up in hard hats and bright orange construction vests, tools in hand and got right to work. They spent 10 days (with fine detailing and subcontractor installation completed after the crew finished with the main outsulation project) working on the home together, alongside deTrey and other local mentors Tanin Shunter, Alexis St-Jean and Stefan Kreuzer.
"We're extremely pleased with the outcome of this project," says Mel Lavery, YCC West Kootenay Coordinator. "It was an exciting approach to a retrofit; throughout the project our crew learned a lot. Our mentorship available on-site created an atmosphere of learning during the entire project. Together, we successfully completed all the work we set out to do. We were appreciative of the opportunity to work alongside our valuable partners to make this project a reality, and hope the residents of the home enjoy a cool and comfortable living space now during these hot summer days!"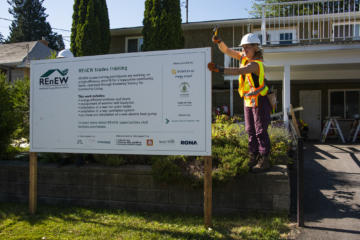 This project was generously supported by FortisBC's Residential Energy Efficiency Works (REnEW) program. This program works in cooperation with community groups to provide hands-on training to participants, helping them gain valuable experience and help prepare them for a job in the energy efficiency industry.
"FortisBC is proud to collaborate with Wildsight to deliver this energy efficiency retrofit training as part of the Youth Climate Corps initiative," says Carol Suhan, manager of FortisBC's Community Programs. "Through this training, students learn first-hand how to improve a home's energy efficiency, which helps reduce greenhouse gas emissions, lowers energy costs and makes the space more comfortable. The students this year were so engaged in the project and they appreciated the opportunity to support Kootenay Society for Community Living."
Katheleen Dixon, Marketing Coordinator, Community Programs Conservation & Energy Management at FortisBC, says they were excited to work alongside the YCC team on this project through the REnEW program.
"The REnEW program is only possible when we work together with local organizations and it's been great to see everyone come together this year," says Katheleen. "This really shows how smaller energy efficient changes in older buildings can have a big impact, especially for those living in the spaces."
The YCC project wrapped up with a graduation from the REnEW program and ribbon cutting at the home. Mel says while it was a hot day, they had great attendance for the celebration, including Brittny Anderson, Nelson-Creston MLA and Premier's special advisor on youth, Nelson City Councillors Nicole Charlwood and Rik Logtenberg, Cecilia Jaques, Nelson climate & energy advisor and Emily Mark, organic waste diversion coordinator. Representatives from KSCL and FortisBC also attended, as well as residents of the home and the Youth Climate Corps team.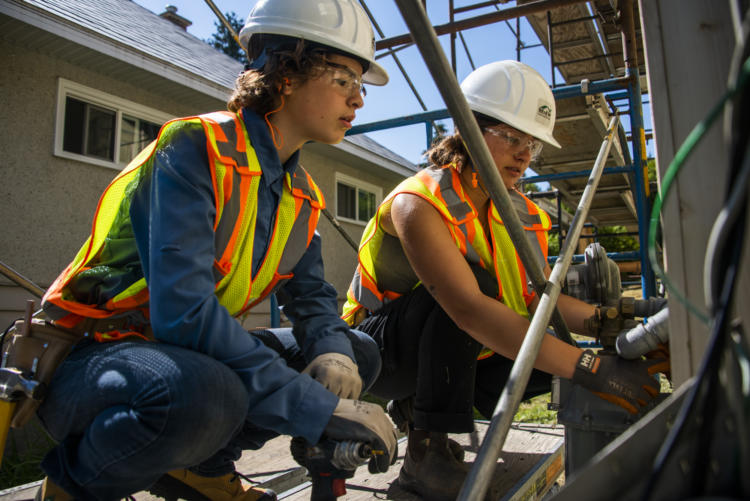 YCC crew member Andrew Donaldson says the team really enjoyed working on this project.
"When working on the retrofit project, we had a better opportunity to see how work directly within the community can have a positive impact on the greater good or bigger picture of climate change action and resilience nationwide or even worldwide," says Andrew.
Andrew says this type of project gets him thinking about possible interventions that can be made in the future of planning to ensure more homes are energy efficient, adding that it really doesn't take much to bring homes up to a better standard for energy efficiency and comfort.
"We as a team were able to completely retrofit and make this home more comfortable, affordable in terms of energy billing, and energy efficient in a matter of 10 days. Making your home more energy efficient does not require a complete teardown and rebuild," he says. "The comfortability of your home will increase in both the summer and winter, your pockets will thank you, and your home will become more eco-friendly and energy efficient!"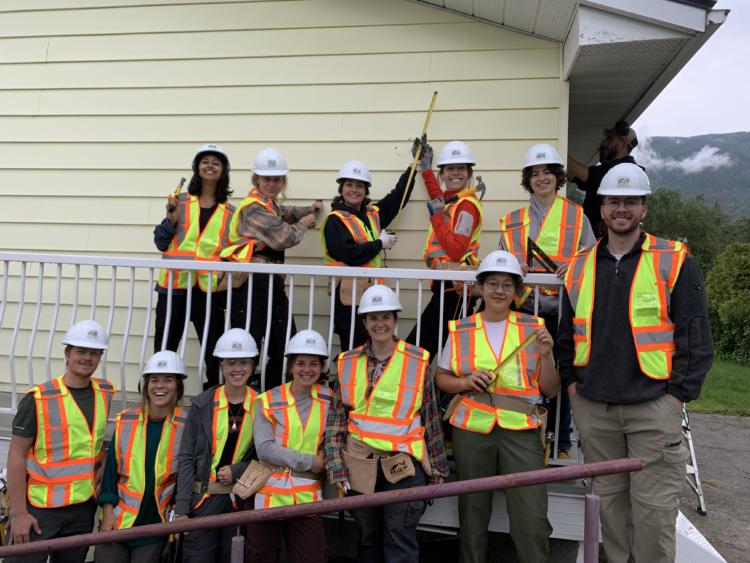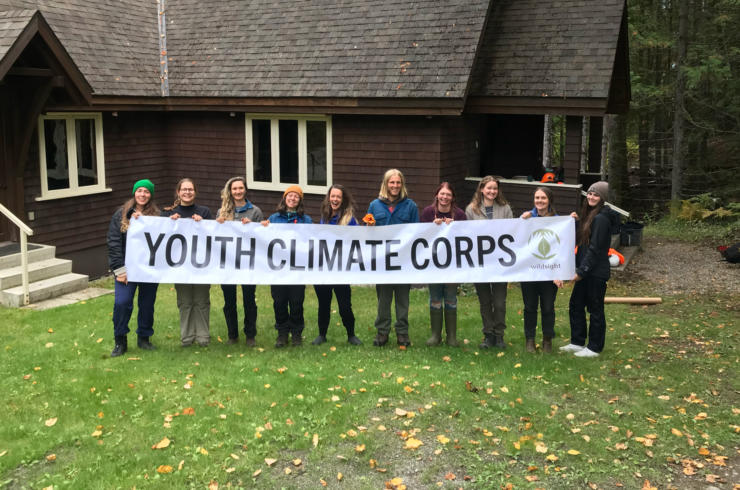 Wildsight's Youth Climate Corps exists to connect, inspire and empower young adults interested in making a difference for the greatest challenge of this generation: the climate crisis.
Learn more