From a successful inaugural program in 2020, Youth Climate Corps (YCC) has expanded to include a crew based in Kimberley-Cranbrook, and hiring has begun for a second iteration in the West Kootenay.
We'd like to introduce you to Tim Chapman, the coordinator for Kimberley-Cranbrook Youth Climate Corps. Born and raised in Guelph, Ontario, Tim grew up camping and road tripping with his parents, and at a young age developed an appreciation for nature and wild places.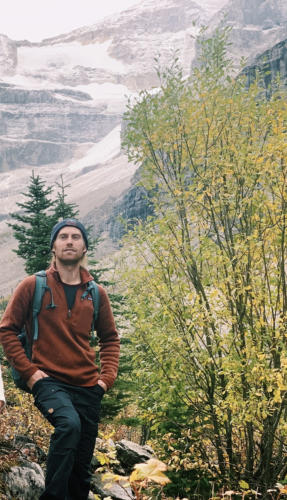 Tim is well-versed in environmental work, having taken an Undergraduate Degree in Environmental Studies from Wilfrid Laurier University, followed by a Masters Degree in Sustainable Forest Management from University of British Columbia.
On a constant search for new adventures, Tim has worked in various capacities for Provincial Parks, Conservation Authorities, and a Forestry Consulting Firm. He was also lucky enough to briefly live in Hawai'i, working on an organic avocado and tropical fruit orchard where he learned valuable orchard care skills and worked at markets and in gardens.
He moved to Kimberley in 2020, attracted to the mountain lifestyle. After searching for volunteer opportunities with Wildsight, Tim discovered the YCC job posting and couldn't pass up the opportunity.
As coordinator, Tim leads our current crew of six, oversees day to day operations, organizes the team's wildfire research anchor project, arranges additional projects for the crew and works to make our inaugural East Kootenay program a success on all fronts.
"The biggest message I want to share is that young people can and should find a way to make the changes they want to steer their lives in the direction they choose. Not some path that is laid out before them – i.e. school, school, more school, then a job that you may not enjoy," says Tim. "If they are successful in this, then they will inherently be happier and more likely to have a positive influence on those around them."
While the task is daunting, Tim is up for the challenge.
"I hope I can have a positive impact on the team and teach them valuable skills, both hard and soft, that will stick with them as they progress into their careers. This is a goal of mine because the work they are doing is inherently important," says Tim.
He reflects that it's tough for young people to break into a new field without experience because you need experience to break into a field. The YCC program creates that opportunity to gain experience through hands-on work, and Tim is happy to help make it happen for these six young adults.
"I cannot wait to share my skills, knowledge and experience with these people, but also take in new perspectives that they bring from their backgrounds ,which are very different from mine," Tim shares.
We'll be sharing more about the Kimberley-Cranbrook and West Kootenay Youth Climate Corps teams as work progresses. Stay up-to-date with Youth Climate corps news.