In the Columbia Valley, a lucky herd of mountain goats have found themselves an advocate in local rancher John Zehnder.
His interest in the local herd began as a boy growing up on a ranch that borders the Toby Canyon. He recalls his dad taking him to see the goat lick and watch the wild animals attracted to it. The goats descend from the steep alpine slopes of Mount Taynton above and travel through forested stretches below to the Zehnder ranch to the naturally occurring mineral licks each season.
"I always felt this was a very special area, and felt we are so lucky to have this goat herd that lives in the canyon and on our ranch," reflects Zehnder.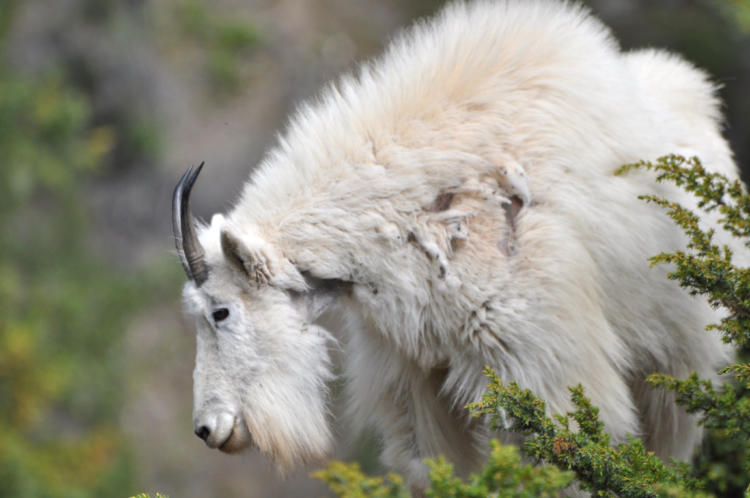 Mountain goats are drawn to salt, seeking it in spite of their strong desire to remain safely ensconced up high in their mountain kingdoms. Their need for salt is so strong, mountain goats have even been known to frequent popular hiking trails in search of human urine. Males exhibit dominant behaviour to females around the licks (something they don't often do otherwise, proving their strong desire for the salt), and while the herds show signs of stress when traveling to licks, they persist in returning to these low elevation mineral caches.
Zehnder's interest in the mountain goats grew over the years as he watched the herd return year after year. From May to October, the Toby Canyon herd marches up and down to the lick, hanging out with their young ones nearby.
Zehnder set up video cameras to start monitoring the herd, and grew concerned as, over the last 15 years, it appeared the herd was dwindling. He began to research and what he found only made his concern grow. In 1988, the Toby Canyon herd was 80-head strong. Today, he estimates that total to be 16.
Some of the decline is attributed to a steady relocation over 24 years of mountain goats (47 in total) in an effort to bolster reduced numbers elsewhere. However, back home, the situation is not not looking good for the remainder of the herd.
"These goats have been facing increasing pressure from recreationalists, not just in the canyon, but also in the nearby area of Mt Brewer, Brewer Lake, Mt Goldie and Mt. Taynton," says Zehnder. "More and more bike trails, motorized recreation, including a skidoo area in the Brewer basin, and the continuing extension of our ski hill footprint are likely contributing to the goats' decline and lack of recovery."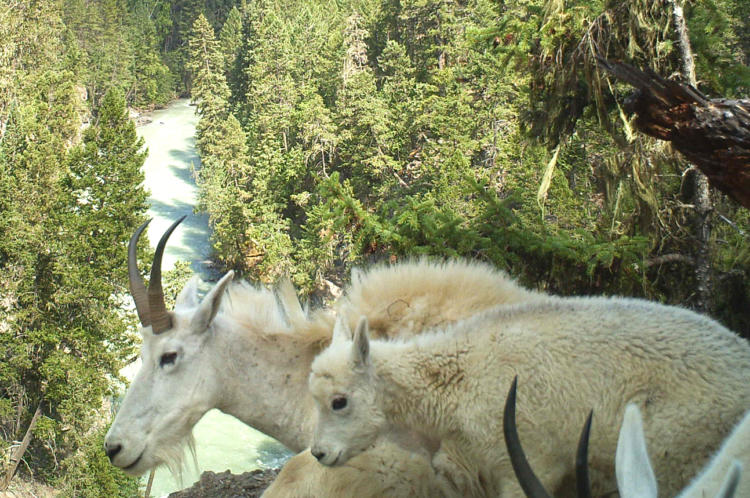 Approximately nine kilometres of the goat's canyon habitat is on private land, which has recently been divided into numerous parcels. Roads have been built and for-sale signs are up, including a three-parcel development across from the main goat lick.
"With all these parcels now, there's no doubt that housing is likely to follow shortly here. As these sections continue to sell, they may be subdivided further by future owners," says Zehnder, noting there are actual licks on some of these properties.
And now, on top of the pressures already outlined, there is a proposal by a logging company to clear forests on the northern bench of Mount Taynton that overlooks important mountain goat habitat directly above the mineral lick.
"This area seems to be kind of a staging area that the goats use before they come down to the lick," Zehnder describes.
Not only will the disturbance from the logging company be concerning to the local herd, but the new roads and bridges are sure to make way for even more recreational use that will be hard, if not impossible, to stop. The old adage of 'if you build it, they will come' applies to much of our outdoor recreation. Once there's a road, recreationalists are sure to follow.
Douglas Chadwick speaking. Video by Pat Morrow:
The Toby Creek herd isn't alone in this downward trend. Half of the world population of mountain goats live in BC, and, while data has not been collected regularly, what has been recorded shows declining numbers in the majority of herds.
"While goats are easily visible to those who roam the mountains in the Kootenays, they are easily disturbed by human encounters if they feel threatened. Access, and more people on the landscape, are game changers," says John Bergenske, Wildsight Conservation Director. "Our footprint has increased enormously over the last couple of decades in these areas."
Pressures on mountain goats are numerous, including hunting, logging, wildfires, development, climate change and recreation.
Recently, in Thunder Creek, Wildsight worked successfully with industry and ministry staff and to have a planned area in the top of the drainage removed for wildlife connectivity and protection of goat habitat, but the logging and access in that watershed is already threatening significant impacts in an area that draws goats from long distances to its multiple lick locations.
Mountain goats, unlike many other ungulates, are very tied to place.
"Goats are very poor colonizers. It's one of the reasons they keep dwindling," says Douglas Chadwick, wildlife biologist, author and National Geographic journalist. "They use the same beds, they use the same lookout areas, they use the same trails. They have a very specific home range and they know that intimately. And that's the survival value. They know where the escape cover is. They know where the safest or most snow free areas are, and passed on from generation to generation."
If we keep altering and impacting their terrain, it is no wonder that the herds keep dwindling.
"I know it's the hardest thing in the world to get the local community to discuss the multiple impacts going on and see what might be resolved, but this is the future," says Chadwick. "The human footprint extends now across something like 83% of the planet. And every big animal out there is under increasing disturbance levels."
Zehnder says while he is very concerned about the dwindling mountain goat herd living in his midst, there is hope.
"I know our community cares a lot about these goats," he remarks. He relates a story from about a decade ago, when there was a proposal by BC Hydro to double the power lines that would have removed important tree cover for the goats around the lick. Local organizations and government worked together to put a stop to the plan.
"It shows that people can get together and work together to create a plan."
Zehnder was joined by Chadwick and Bergenske, for a panel discussion on mountain goats this past spring, with a focus on the Toby Creek herd.
Trail cam footage, courtesy of John Zhender: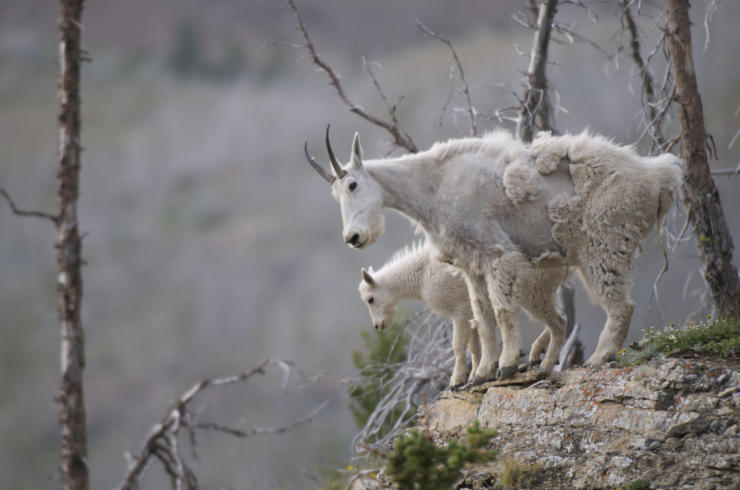 Their scientific classification is Oreamnos americanus. To the Ktunaxa Nation living in the valleys below them, they are known as kyanukxu. While we call them…
Read more
In this webinar, we bring together panelists Douglas Chadwick – biologist, photographer and author of A Beast the Color of Winter and The Wolverine Way – John Bergenske and John Zehnder to understand the threats to mountain goats.
Watch webinar