Bring on the binoculars and cue the bird songs; spring is here!
We live in a birder's paradise, with hundreds of species of birds hearkening to the call of migration and descending to our ponds, rivers, lakes, creeks, wetlands, grasslands, mountains and more.
It's no wonder, then, that the avian haven found in the Kootenays would hatch several incredible bird festivals for birding enthusiasts. Whether a newbie to the activity or a long-time birder, there's sure to be an event suited to your interests. And in this age of Zoom, you can attend some great events, regardless of where you roost. You can join a combined 10 days of festivals running back-to-back between Creston and the Columbia Valley this May!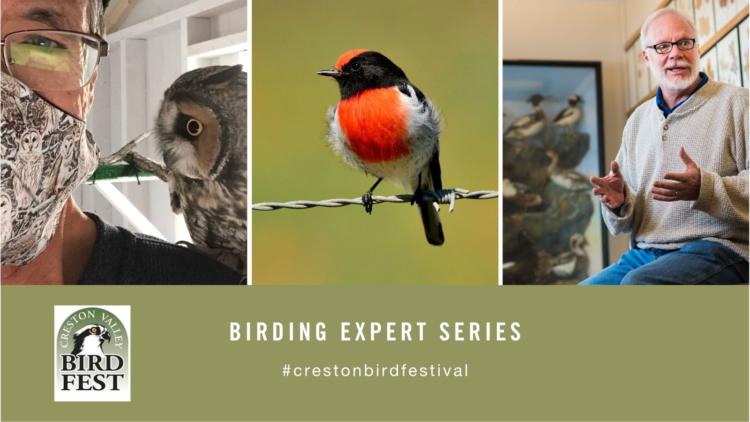 Creston Valley Bird Festival
The 2021 Creston Valley Bird Festival runs from Friday, May 7th to Sunday, May 9th. According to Ulrike Sliworsky, one of the organizers of the annual event coordinated through Wildsight Creston, this area is one of BC's premiere destinations for bird research and birdwatching.
"It is a staging area for migratory birds with over 300 species of birds recorded. The wetlands support over 100,000 waterbirds during these seasonal migrations," says Ulrike. "Just last week I saw over a thousand pintails and wigeons on our Duck Lake!"
This year's festival is a 'choose-your-own-adventure' of outdoor birding, contests, and online bird webinars. You can register for as few, or as many, of the events as you wish.
Webinars at the Creston Valley Bird Festival include peering into the life of a migratory owl as viewed from a backyard nest camera, with special appearance by Rusty the long-eared owl; a virtual excursion to Queensland, Australia through the lens of Nakusp photographer Gary Davisdon; a birds' eye view of our feathered friends and how we can help them; and a keynote presentation by John Acorn, an entertaining and engaging speaker and TV host who will share his personal journey as a birder. There will also be 'how to' series on bird watching as well as a special presentation for children on the basics of birding.
For local participants in the Creston Valley, there are several in-person events taking place as well, including a bird photography competition and a one-day blitz to observe and record as many bird species as possible.
Learn more about the Creston Valley Bird Festival, and register, today.
Wings Over the Rockies
In the Columbia Valley, the 2021 Wings over the Rockies Festival runs from May 10 – 16th. While many of the events will happen in-person, this year there is also an on-demand online suite of presentations sure to interest birders near and far. You can buy a bundle package and watch any of the recorded presentations, including: a photographic tour of the night sky; a journey of exploration on the rich history of birds and nature in wisdom traditions; and a look at the complex relationship bison have with species they share the land with, amongst others. One online presentation you won't want to miss is from Pat Morrow, world-renowned photographer, who will present on the Heart and Soul of Adventure Photography.
For those that can attend in-person, there are dozens of events to you can join, from learning to identify birds and visiting a cliff swallow colony in the Columbia Wetlands with biologist Rachel Darvill, to searching a local hotspot for a variety of great birds returning to the Columbia Valley with Cam Gillies. Be sure to check out Kids in Nature: Backyard Biome with Wildsight Educator Jessie King, on Saturday, May 15. Geared for children in Grades 4-7, Jessie will bring participants in for a closer look at the biodiversity of your backyard by exploring the diversity and interconnections of plants and animals found within walking distance of Dorothy Pond.
Learn more about the Wings over the Rockies, and register, today.