The Creston Valley Bird festival is back to celebrate birds and nature. This year, choose your own adventure of outdoor birding, contests, and online bird webinars! Register for one, some or all of the events. Tickets are now on sale! The full festival program and descriptions are available here.
Live Webinars from Bird Experts:
Long Ears, Short Tale: Dr. Jim Duncan will be joined by Education Ambassador "Rusty" the Long-eared Owl to peer into the secret life of this migratory owl as viewed from a backyard nest camera.
Birds of Northeast Queensland: Armchair travelling to Queensland, Australia? Join photographer Gary Davidson, from Nakusp, to see the magnificent birds from Down Under.
Why Birds Matter: Dr. David Bird gives a bird's eye-view of the value of our feathered friends, what is befalling them, who is out there to help them, and what you can do about it.
Half the History of Birding: Keynote speaker John Acorn, from Edmonton, has been entertaining and educating for decades with his "Nature Nut" TV series. His presentation "Half the History of Birding" is his personal journey as a birder.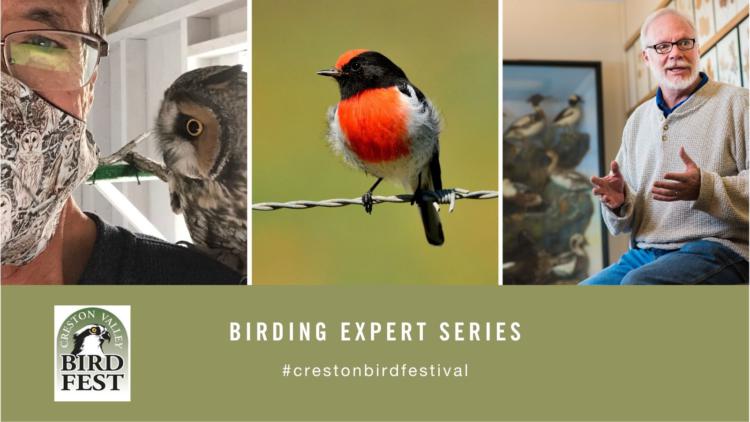 Learn to Birdwatch Series:
Navigating eBird, Bird Identification, Bird Finding: From 100-Mile House, Paul Foth, will help you navigate the wonderful world of e-bird. He will also give clues on Bird Identification: where and how to find birds in the Creston Valley. Paul's workshops can help with completing your Bird Bingo Card.
Festival Feathers: Gaelen Schnare, a 15-year-old expert birder from Nelson, will share his best photos taken during the last four years of the festival.
Birds 101 for Kids: Carla Ahern from the Discovery Centre will do a special presentation for kids! Find out why birds are so special.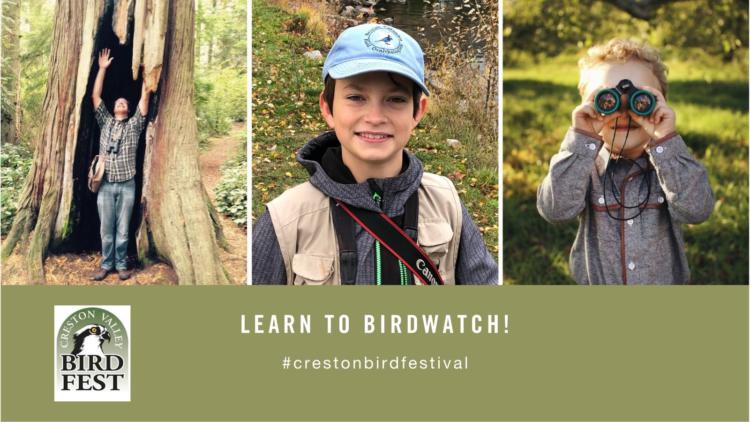 Outdoor Events and Contests:
Fabulous Prizes donated by valley merchants can be won three ways:
On Saturday, May 8, participate in "Creston's Big Day". Observe & record as many bird species as possible. Download your checklist here. Submit the completed checklist to info@crestonvalleybirds.ca or drop it off at Red Barn (1513 Canyon St.)
On Saturday and Sunday, try out Bird Bingo! Bird Bingo cards can be found here or at the Red Barn. Each completed Bingo row gives you an entry into the draw. Your chance to try for a black-out!
On Saturday and Sunday go out and take your best photos of birds in the Creston valley. Send your Birding Photographs to info@crestonvalleybirds.ca. Prizes for top 3 photos of the festival weekend.
All submissions must be made before noon, Sunday, May 9, for a chance to win. Pick up your prizes and auction items after 1pm at Baillie-Grohman Estate Winery.
Fundraiser
The festival opens with an on-line auction of special avian gifts on May 1-7. Proceeds from the auction help fund the festival. Check out all the items up for auction!
More information also available on www.crestonvalleybirds.ca