Young adults are getting their hands dirty and their minds filled as they learn about and take action on local projects to mitigate and adapt to the effects of climate change.
The Youth Climate Corps, a Wildsight initiative, launched at the start of October with training, then jumped right into the work.
In West Arm Park, just outside the City of Nelson and the source of the city's drinking water, one of two YCC crews began learning how to clear forest fuels to reduce wildfire risk. Jake Roos, a YCC program partner and industry expert from Loki Tree Service, says historic forest management practices and aggressive wildfire suppression have created forests that light up like a match when wildfires rip through. Clearing undergrowth lessens that risk.
"This work attempts to be restorative," explains Roos. "The goal is to reduce the chances of catastrophic, high intensity wildfire that's damaging to forest soils, dangerous to human life and property, and significantly bad news for immediate atmospheric emissions."
The work in West Arm Park will wrap up by the end of October, with the YCC moving on to another wildfire project right after.
Another YCC crew has launched into permaculture and ecological restoration projects.
Food systems and riparian ecosystems both have significant bearing on our society's contribution to climate change and the Earth's ability to mitigate/adapt to it. Permaculture and ecological thinking may be key to re-shaping our cultural response to climate change, so that we can work effectively towards a more resilient, balanced, connected, and sustainable world.
At a Nelson area organic farm, the crew learned from Kootenay Permaculture Institute Director Gregoire Lamoureux as they prepared garden beds, mulched trees and tackled other garden projects. Time split with the Slocan River Streamkeepers (SRS) involved riparian clean up and restoration. In the first week alone, this YCC crew hauled away dozens of abandoned tires and replaced them with 148 native trees including willow, cottonwood, red osier dogwood, mountain alder, red cedar, and spruce!
"It was great to have a dedicated group of young people interested and willing to help," comments Lamoureux. "The YCC group was able to see the positive benefit to the environment and local ecosystems, and why it is important work."
He explains the partnership with YCC has allowed the farm and SRS to undertake a number of projects they might otherwise not have the capacity to do, noting it all adds up to create a positive ecosystem change.
"A combination of many small projects can add up to a bigger positive impact," he says.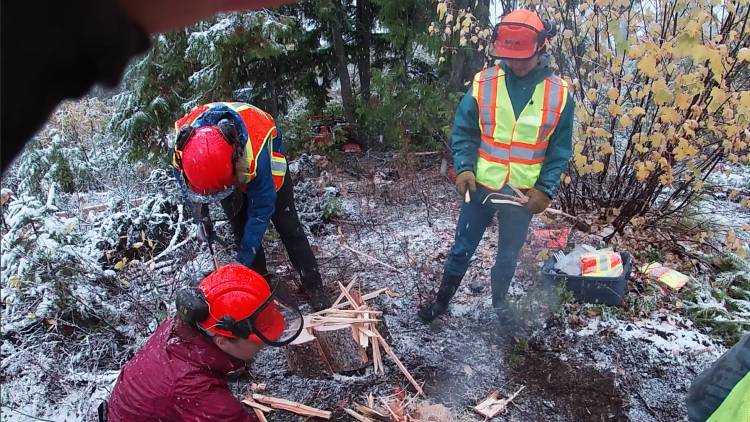 Both YCC crews were handpicked this fall from a batch of qualified applicants, ranging from 19-29 years old.
"We were looking for people that are passionate about learning, that are concerned about climate change and motivated to lean into that challenge," explains program coordinator Graeme Lee Rowlands.
Prior to work in the field, these inaugural crews met together for five days of training. Team members assert they've already learned a lot.
"I was struck by how community projects like properly managing forests, building food security, and greening our systems are going to become vital to sustaining our communities," reflects Linn Murray.
And the team is optimistic that the lessons and work done by this program will inspire others to take action.
"Hopefully, we can create a ripple effect on many other areas around us," says crew member April Gariepy. "Some don't realize that it is our differences that make us stronger, but this program really shows me what we can do if we all choose to work together."
The Youth Climate Corps anticipates engaging in new projects and expanding to other areas in the region during 2021.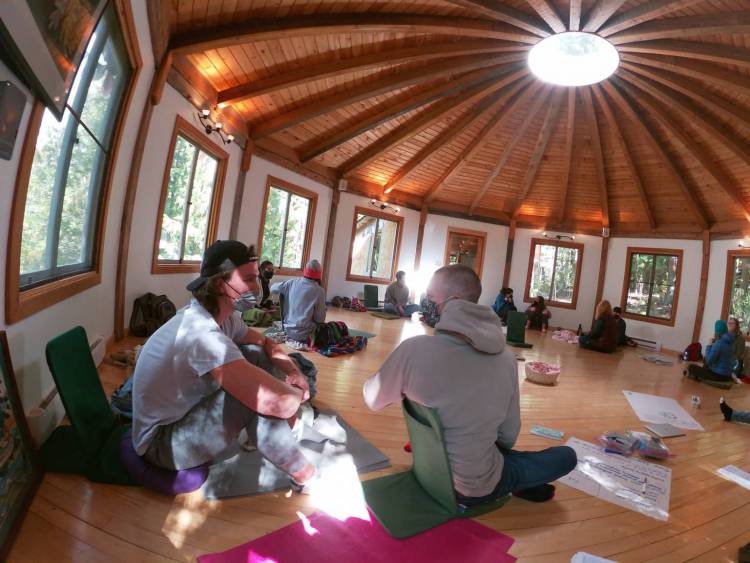 To learn more about Youth Climate Corps, see the program page.