Logging threatens the Columbia Wetlands Wildlife Management Area. Join us to take meaningful action and defend this internationally recognized wetland complex.
The Columbia Wetlands are the largest intact wetlands in southern BC and are internationally recognized as a RAMSAR wetland of importance by the United Nations. Rich in plant and animal life, this 180 km-long wetland, stretching from Columbia Lake to Donald, is home to more than 300 species of animals, 65 of which are designated species at risk, and forms the headwaters of the Columbia River. The Columbia Wetlands Wildlife Management Area includes ~17,000 ha of the wetland complex.
The Columbia Wetlands are a haven for birds – part of the Pacific Flyway, this is a key stopover for migratory birds and breeding ground for migratory birds. It is also a key connection for species like grizzly bears moving across the landscape.
WMAs are provincially-designated areas designed to protect fish and wildlife species or their habitats. Proposed logging west of Castledale, 50 km south of Golden, is within the Columbia Wetlands WMA.
Wildlife populations are in serious decline across the province. If we can't prioritize wildlife in a WMA, where can we give wildlife priority over resource extraction?
In the one-hour workshop, Conservation Specialist Eddie Petryshen and Invermere Branch Director Tracy Flynn will overview the proposed logging, why logging should not be approved in a WMA, and the incredible biodiversity of the Columbia Wetlands, with the goal of writing effective, targeted letters to decision makers. Your voice does make a difference – join us to take collective action to defend the Columbia Wetlands.
About the presenter: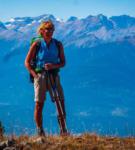 Tracy Flynn came to the Columbia Valley from northern Alberta 12 years ago. She appreciates intact, healthy ecosystems but it was Columbia Lake that drew her here. Having spent most of her life in the unspoiled lake environments that northern life offered, she was pleased to find Columbia Lake. Tracy has always preferred to be outside, doing everything and anything outdoors related, including hiking, skiing and biking.