Mark your calendars and tell your friends! It's Seedy Saturday on Feb 25th. Want local seeds? Don't miss it! This FREE event is co-hosted by the Community EcoGarden and the Fernie Family Garden.
SEED SWAP
Seeds are available for sale or to swap. Bring seeds you have grown and take seeds from other local gardeners OR purchase seeds with a cash donation. Plants adapt to the region they grow in. Locally grown seeds thrive in Fernie's unique, cold climate growing conditions.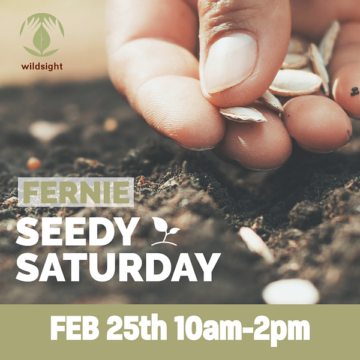 ALSO FEATURED AT THE EVENT:
Info on composting, vermicomposting, sprouting, microgreens, seed cleaning, & more.
East Kootenay Invasive Species Council
Seed Library
Keeping Food Real cold climate gardening education
Seeds of Diversity Canada
Community Energy Association
Wildsight Elk Valley
AMAZING SEED VENDORS
Wildrose Heritage Seeds
Three Sisters Greenhouse
SHARING SEEDS: If you have surplus seeds we can that you have collected from your garden, please consider sharing them! Drop off your seeds, cleaned and labeled (include as much info about the plant as you can) to the Local store, 632 2nd Avenue in Fernie (store hours 2-6pm, Tuesday through Saturday). Or bring to the event.
SEED LIBRARY: Get involved by helping grow out seeds for our Library. Become a member to access seeds for the project. Training included!
Also including KIDS' ACTIVITIES, BAKE SALE, RAFFLE, CAFE, FRESH POPCORN, USED NATURE & GARDENING BOOKS
Date: February 25th
Location: Fernie Family Centre, 521 4th Avenue.
Time: 10am-2pm
WANT TO HELP? Sign up to volunteer at https://volunteersignup.org/CEFKC
QUESTIONS? Email: garden.fernie@gmail.com