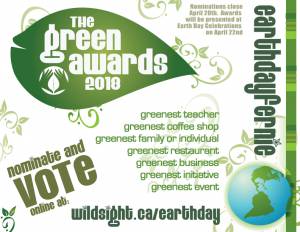 Mark Sunday, April 22 from 3:00-5:00pm on your calendars!
Earth Day Fernie celebrations are back and with this amazing day comes an awesome line-up of environmental and conservation activities for all ages! Join us at the Fernie Arts Station as we share earth friendly ideas and create fun crafts and more to take home.
Piles of fun heading your way….
#TRASHBASHCHALLENGE
Kick off your day with the "Trash Bash Challenge". Find an outdoor area that you love and take initiative to clean up your neighbourhood. Grab your friends and family and get outside to make a difference. Take a photo and post it to the Earth Day Fernie Facebook page,
www.facebook.com/earthdayfernie
with hashtag #TrashBashChallenge. With your post, include how many bags, how many people and how much time you spend cleaning up your neighbourhood.
#GETWILDCHALLENGE
Grab your camera or cell phone and become part of the 'Get Wild Challenge'. Get outside, take some deep breaths, see the beauty and take some photos. Share your great photo-ops on
www.facebook.com/earthdayfernie
hashtag #GetWild Challenge. Let us know why you love spending time in nature on Earth Day. Tell us how much time you spent outside and what you did. At the end of the day, visit our Facebook page to discover what others have done! You might get some great ideas – it's all good clean FUN!
#EATLOCALCHALLENGE
Gather, Forage &/or Prepare a glimpse of what's left from your 2017 Harvest. Create a beautiful offering…in a basket, a meal, a glass jar, or otherwise to showcase how you extend the bounty of your harvest into the next growing season.
Post pics here
of your nutritious and delicious food to show us what can be produced in the beautiful Elk Valley!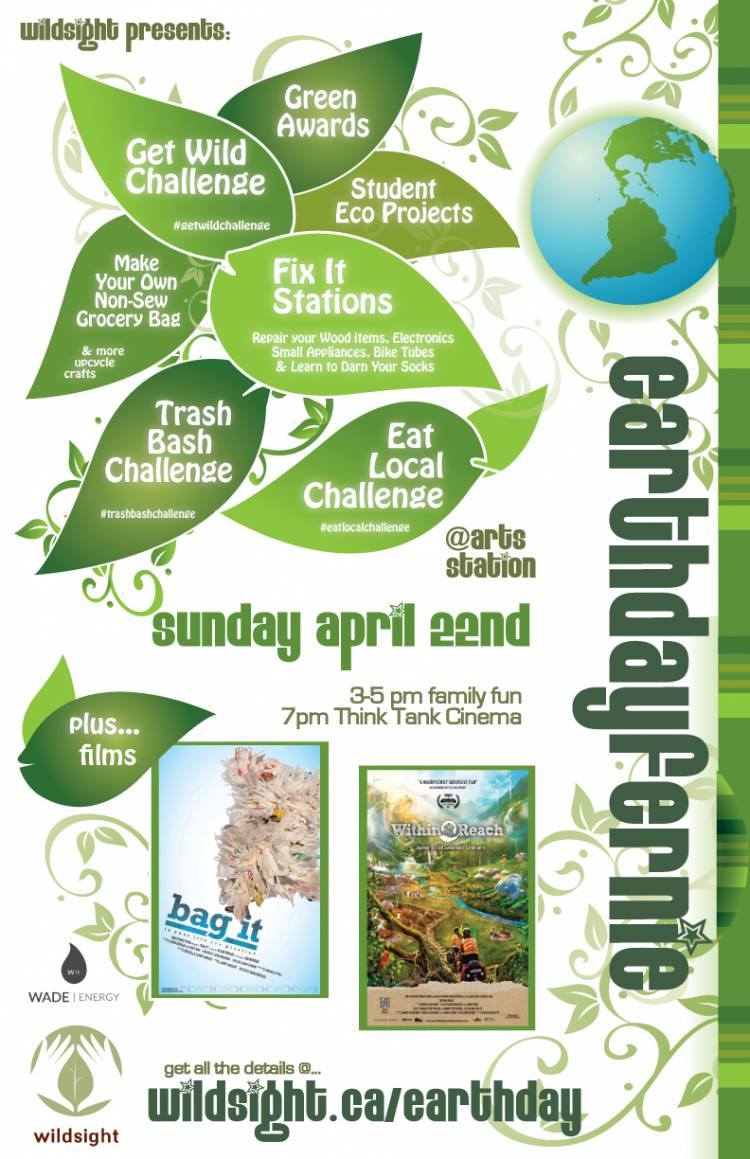 FIX-IT STATIONS
Cardboard, bubble wrap, mesh, paper, plastic, wood, sticks, felts, glue and so much more! Whatever artful creation your mind can think of we have the supplies to create it! Let your imagination go wild at the Makers Station where you can make art from hidden treasures! Upcycle a plethora of discarded items to design and build your own one-of-a-kind recycled sculpture.
GREEN AWARDS
Fernie is home to some pretty amazing people and businesses who go out of their way to help the environment. Now is the time to nominate them and make sure they get the recognition they deserve! Categories include: greenest classroom, greenest family/individual, greenest coffee shop, greenest restaurant, greenest initiative, greenest event and greenest business. SO get thinking, download your
Green Awards Nomination Form
and get nominating! Deadline for nomination is April 20 with awards presented at Earth Day Fernie at 7pm right before the film screenings.
FILM SCREENINGS
Also happening on Earth Day are two enlightening film screenings at 7pm (also at the Arts Station).
Bag It
and
Within Reach
are sure to leave you wondering what you can do lead a more eco responsible life and how to encourage others to do their part for the planet.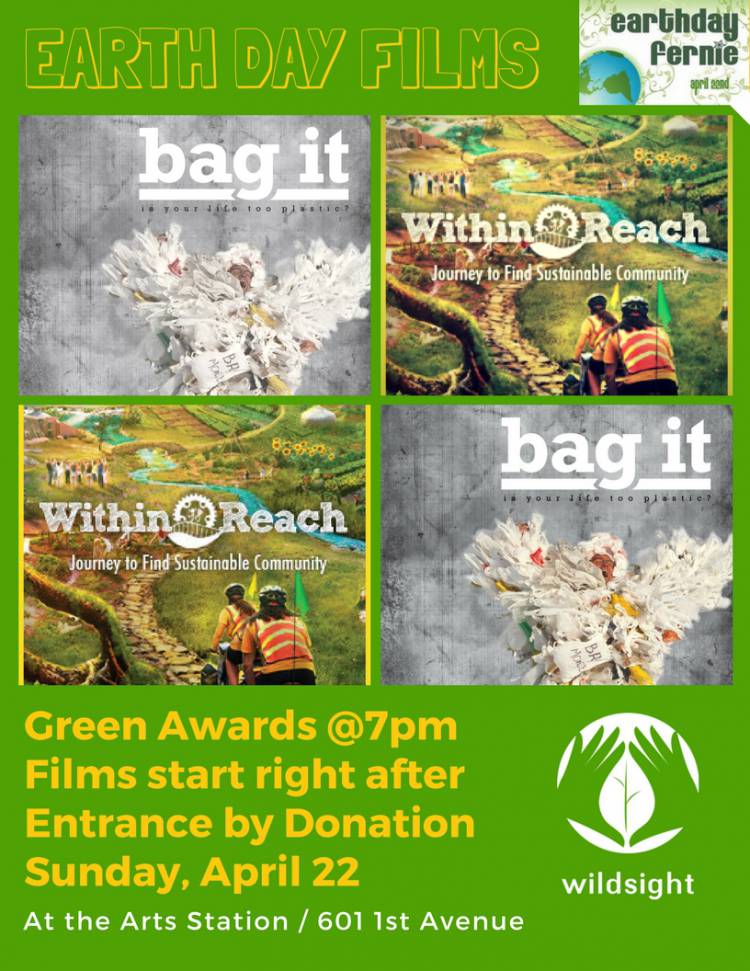 Earth Day 2018 fun is not limited to what is listed above so keep your eyes open for a full listing of activities! For more info about these or any other Wildsight activities please contact Courtney at
elkvalley@wildsight.ca
or call (250) 423-3322.