It all started with a turtle nesting on the driveway and now we're trimming trees and pulling weeds.
In late October, members of the newly formed Turtle Conservation Revelstoke (TCR) group organized a field day with Golden's Youth Climate Corps (YCC) crew to improve known nesting sites of Western Painted Turtles in the Revelstoke wetlands.
Turtles have been dying on Revelstoke roads for years, despite many valuable efforts from people and organizations in the past to reduce mortality rates. Recently, there's been a resurgence of interest in helping the turtles in Revelstoke. Now, thanks to years of research, new folks are carrying the torch.
Western Painted Turtles rely on sunlight to warm their nests, which they make in fine gravel. If trees and bushes shade their nesting sites, or grasses make the gravel harder to dig in, females will look elsewhere for a suitable place to lay their eggs. In the wetlands south of Revelstoke, many areas are no longer suitable for nesting due to unnatural water fluctuations on the Columbia River, weeds, and increased roads and development. As a result, female turtles are marching several hundred metres up steep slopes and crossing busy streets looking for a place that is just right to lay their eggs. Not only does this result in road deaths, it also increases the chances of predation on young.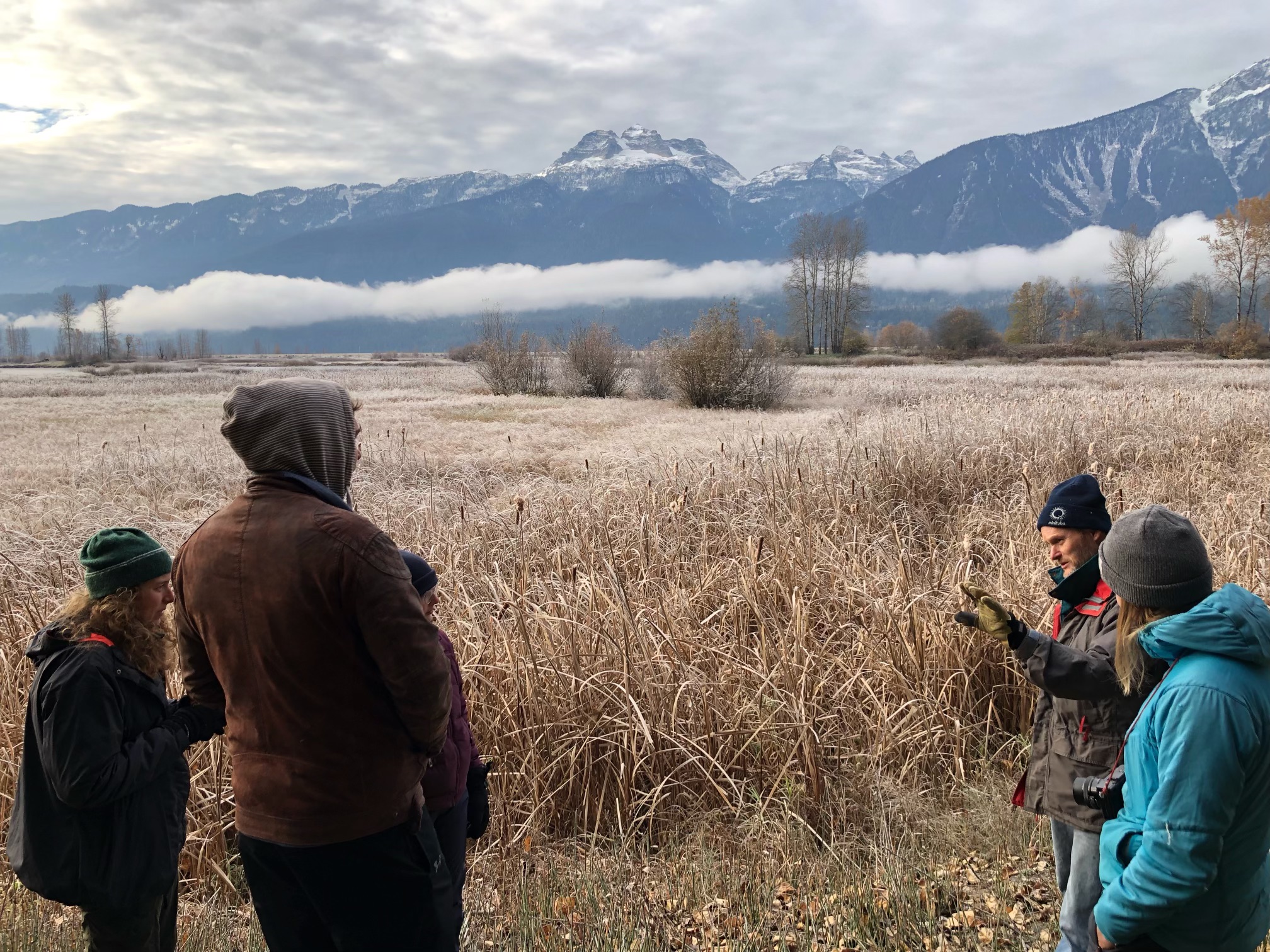 Western Painted Turtles are blue listed in British Columbia and listed as a species of special concern by COSEWIC (2017, 2016) which means they are vulnerable to greater declines. The main threats to their survival in Revelstoke, and B.C. more broadly, are habitat fragmentation and destruction, and road mortality.
Back in May, Wildsight held a Turtle and Toad Open House to address the plight of the Revelstoke turtles. We discussed all sorts of solutions ranging from turtle bridges to underpasses, but realized the more obvious solution was to eliminate the need for the turtles to cross the road in the first place by improving known nesting sites on the 'right' side of the road.
One such site is down near the Revelstoke Fire Centre. This area was prime turtle habitat before the airport and fire centre were put in. A new nesting site was reconstructed nearby to replace the lost habitat, but it has since become overgrown with weeds and trees.
This October, the Youth Climate Corps crew cut down small poplars and bushes to prepare the site for a delivery of perfect turtle nesting gravel. They also pulled weeds and grasses on the 'safe side' of Red Devil Hill on Airport Way so the turtles will be able to find the clean gravel. With the refresh of the area and regular maintenance, the site will soon be ready to welcome nesting turtles back once again.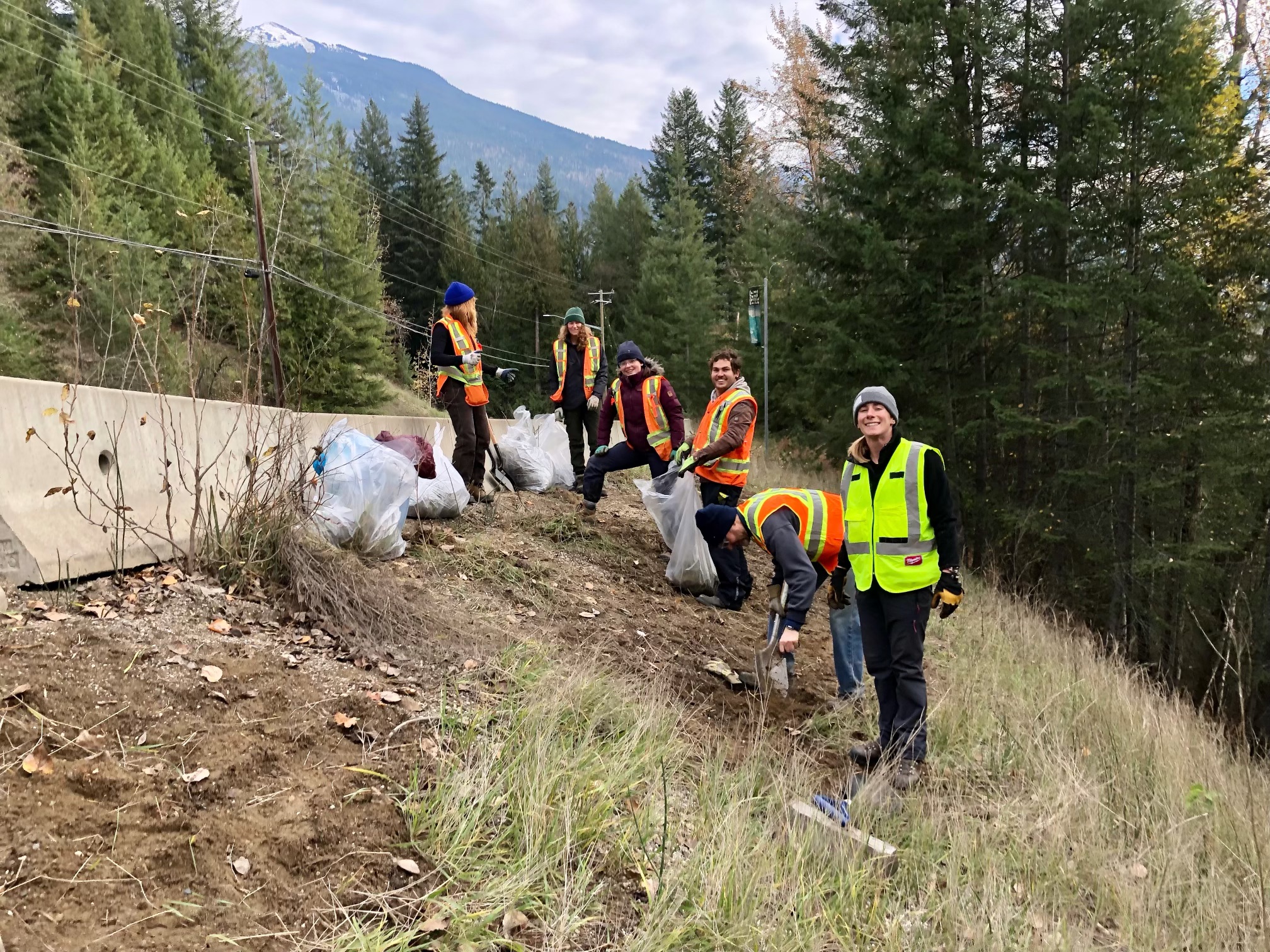 This field day is an example of how a group of curious and dedicated people can make a positive impact one small step at a time. The Turtle Conservation Revelstoke group is a community partnership working to develop and implement comprehensive strategies to protect and conserve Revelstoke's Western Painted Turtle population. Members will continue working with experts and local groups such as Wildsight to identify priority actions to improve the turtles' odds of survival. Next year, they are considering building nest sites closer to the water, which would reduce the distance the turtles need to travel and hopefully decrease predation on the young. Simple actions like removing weeds that can penetrate and kill hatchlings and eggs will make a difference too.
If you're interested in learning more about Turtle Conservation Revelstoke, contact Wildsight Revelstoke at revelstoke@wildsight.ca or find them on Facebook.