Wildsight's own Jill Jennings has been awarded an Environmental Education Award of Excellence from the Columbia Basin Environmental Education Network (CBEEN)!
Jill was one of seven outstanding educators recognized for their efforts in educating students and the public on environmental stewardship and sustainability.
"There are so many amazing educators out there doing such fantastic work. So to be picked amongst such a rich cohort of knowledgeable and inspiring people was very humbling. It means the world to me," Jill says.
Jill credits her mom for igniting her love of the outdoors from an early age. Growing up, she went camping, participated in Girl Guides and spent time learning in and from nature.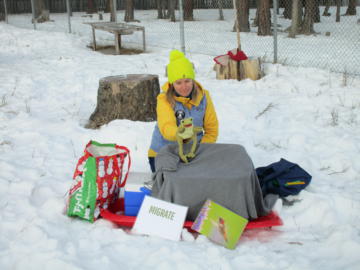 Jill graduated from Lakeland College with a diploma in Adventure Tourism and Outdoor recreation and found a job with Alberta Parks in Kananaskis country. She shared this special place with the thousands of people who visit each year, educating the public through creative interpretive shows (complete with costumes, singing and dancing!), informational booths, wetland education programs, and even roaming educational opportunities. She would hike a popular trail, pull an artifact such as a hummingbird skull out of her pocket and invite hikers to learn about that animal and its environment. Through these interactions, she saw visitors become more excited about nature.
"That really shone a light on the magic of being able to educate the public through these fun ways," shares Jill. "My heart was captured by this method of teaching. Being able to gently use the landscape, and seeing that awe and wonder happen in real time sparked a passion for this work."
Following that long-standing job, she took on a unique role with Alberta Parks as an accessibility and inclusion coordinator. She studied the provincial parks through the lens of accessibility, helping to identify obstacles and opportunities to reduce barriers and help make nature more accessible to all.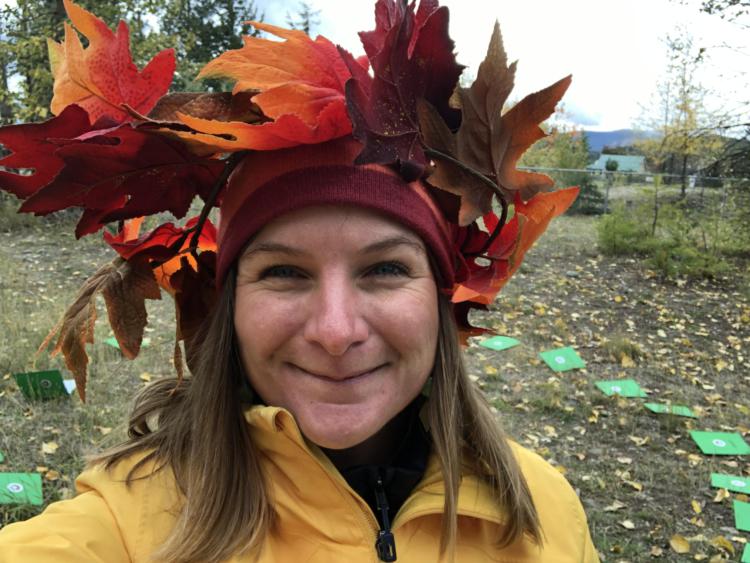 Jill joins the Wildsight team
In 2018, Jill and her husband moved to Kimberley, seeking a small-town life surrounded by nature in which to raise their daughter. She was hired soon after as Wildsight's Education Coordinator.
Jill now supports our team of educators to bring Wildsight programs to students across the Columbia Basin and also runs some environmental education programs in Kimberley and Cranbrook. Jill's role has expanded through the years as she has taken on more learning and leadership opportunities. She participates in Wildsight's philanthropy efforts, builds resources and relationships, supports Wildsight branches with education opportunities and even brings environmental education programs to the local library.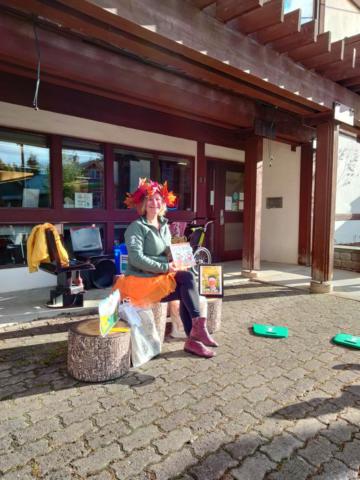 "When Jill walks through the door of the Kimberley Library with her contagious smile, a head full of creativity and crowned with leaves, flowers or other nature inspired finery, something special happens. The effect is magical for everyone, but especially for children. And this is the important thing — the little people trust her and want to listen to her," says Jean Miller, Kimberley Library outreach coordinator. "Her story time sessions are popular at the library because they are always fun in an immersive and original way. Jill shares her wisdom and knowledge with the same warmth and meaning as she shares her smiles. I'm enormously grateful for Jill's help at the library and I know her efforts benefit numerous members of our community."
Jill is a director on the CBEEN board, a non-profit that works to connect and engage with environmental educators across the region. She seeks out learning to expand her own sphere of knowledge, and passes that learning onto her team. She also sits on Wildsight's Diversity, Equity, Justice and Inclusion committee which aims to create a work environment based on these powerful tenets.
"It's nice to work for such a forward-thinking organization. That openness for diversification has been amazing," Jill says. "And I'm never bored; there's always something that keeps the role interesting!"
Monica Nissen, Wildsight Education Director, says Jill is dedicated to her work and inspiring to watch.
"Jill brings this whole creative, thoughtful and dedicated set of skills and values. And she is so, so passionate about getting kids outside and connected to nature," says Monica.
Jill also brings skilled management to the role that enables Wildsight Education programs to reach thousands of students each year. She is organized and efficient while also being compassionate to the needs and desires of classroom teachers and educators.
Her award was well-deserved, says Monica.
"Jill leads with her heart and is committed to seeing as much access for kids to environmental education in the basin as possible. She strives to see people and organizations working together to remove barriers and improve the reach of environmental education throughout the region."
Fellow recipients were:
Indigenous Educator – Alfred Joseph (ʔakisq̓nuk)
Indigenous Educator – Bonnie Harvey (ʔaq'am)
Primary Teacher – Rosalind Chalmers (Castlegar)
Early Years Educator – Jodi Eskelin (Kimberley)
Early Years Educator – Madeleine Arsenault (Nelson)
Community Educator – Shonna Murphy (Cranbrook/Kimberley)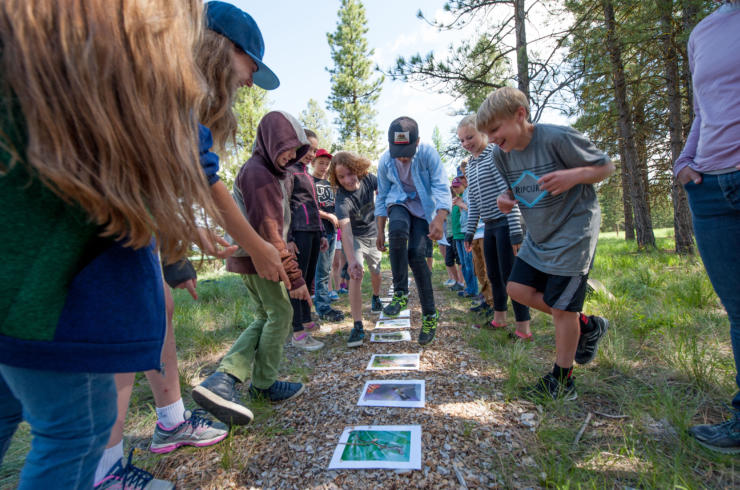 Support Wildsight Education
This year, we've had to cut the number of education programs we offer, meaning we'll only be able to support about half as many kids. Our education coordinator, Jill Jennings, reflects on the importance of environmental education for facing the climate crisis to come.
Support Wildsight Education