(submitted by Annette Lutterman)
Clean air and water are essential for the health and well-being of our human communities as well as for wildlife and their habitats. Wildsight Golden is responding to the concerns of many residents in the Town of Golden and Columbia Shuswap Regional District Area A about local and regional air pollution and exploring ways to improve the quality of the air we breathe. In partnership with the Golden and District Air Quality Committee, residents, industry and all levels of government, we are working towards a better understanding the sources of air contaminants in the Golden area and investigating feasible opportunities to reduce the pollutants released into the airshed.
Local emissions of many air contaminants also contribute to climate change at a global scale. Climate change is already increasing the incidence and intensity of wildfires in our region, which in turn contribute to serious regional air pollution. Although there are many challenges involved in changing the activities and habits humans have developed that cause air pollution, there is no excuse not to make more effort to reduce emissions wherever possible.
There are several ways that Wildsight members and other concerned citizens can help to raise awareness of the effects of air pollution, advocate for more sensible policies and regulation, and help one another reduce our individual emissions. Please contact us if you are interested in becoming involved in helping to clear the air!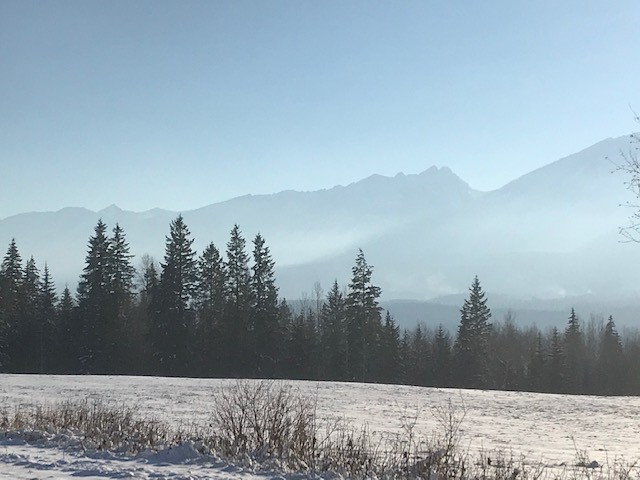 Slash burning on the west bench in November 2022 created serious air pollution throughout the Columbia Valley near Golden.
After a summer of regional wildfire smoke exposure, the cumulative effects on health are a significant concern. This
type of unnecessary pollution needs to be stopped. (Photo: Denise English)
Multiple sources contribute to air pollution in the Golden region. Home heating using wood stoves and fossil fuels can create bad indoor and outdoor air quality. All types of open burning including slash burning from commercial forestry operations tends to produce a lot of smoke from incomplete combustion. Fossil fueled transportation especially idling vehicles including railroad locomotives all contribute to significant local air pollution and greenhouse gas emissions. Industrial activity such as wood products manufacture and silica mining for frac sand production also require careful regulation and monitoring. Road dust is another source of fine particulate air pollution in communities that people often don't realize can be very harmful to breathe. Clean air is becoming hard to come by!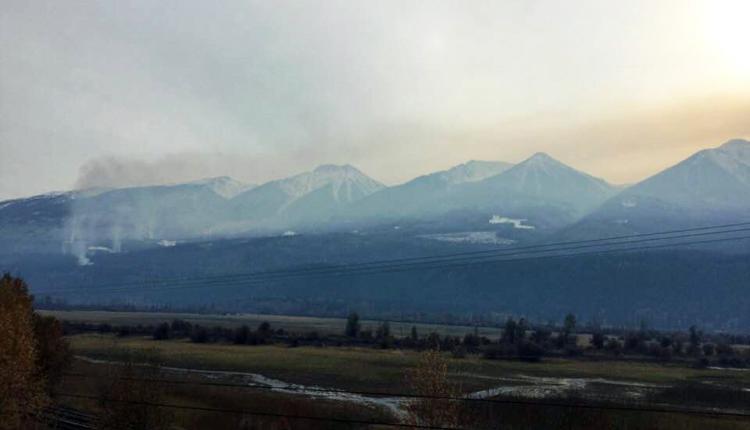 Slash burning on the west bench conducted after the new Open Burning Smoke Control Regulation was introduced
by the Province of BC.The regulation is not adequately protective of air quality.
Our mountain topography frequently concentrates air pollution in the valley bottoms, especially during temperature inversions. People living close to any point sources including their own wood stoves if burned incorrectly are also exposed to poor air that can lead to numerous adverse health effects including heart and lung disease and cancer. Older people, children, pregnant women and those people with pre-existing health conditions are more vulnerable to the harmful effects of air pollution. Wildlife are susceptible to similar effects and wildlife habitats are degraded by airborne contaminants. For example, the long-range transport of heavy metals such as mercury from industrial combustion is a concern for the health of wildlife and of humans who consume fish contaminated with mercury.
When air quality advisories are issued by the provincial meteorologists due to poor air, we are instructed to stay indoors to protect our health. What a tragedy to be told not to go outside for our own good! Imagine telling our children not to go outside to play because it is hazardous to breathe, especially if you are actively having too much fun? We have to do better than this for our communities.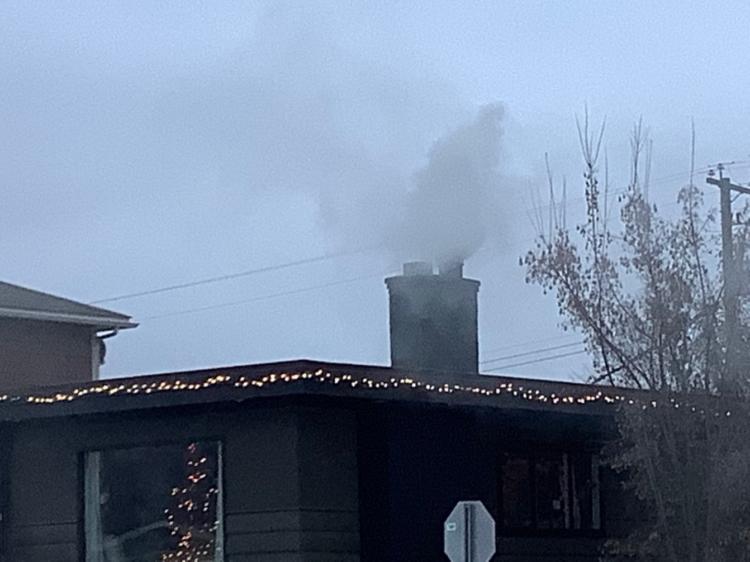 Many people in the Columbia Valley do not burn their woodstoves correctly producing
excessive smoke that harms indoor and outdoor air quality for the resident and the whole neighbourhood.
Golden 2022 (Photo: Annette Luttermann)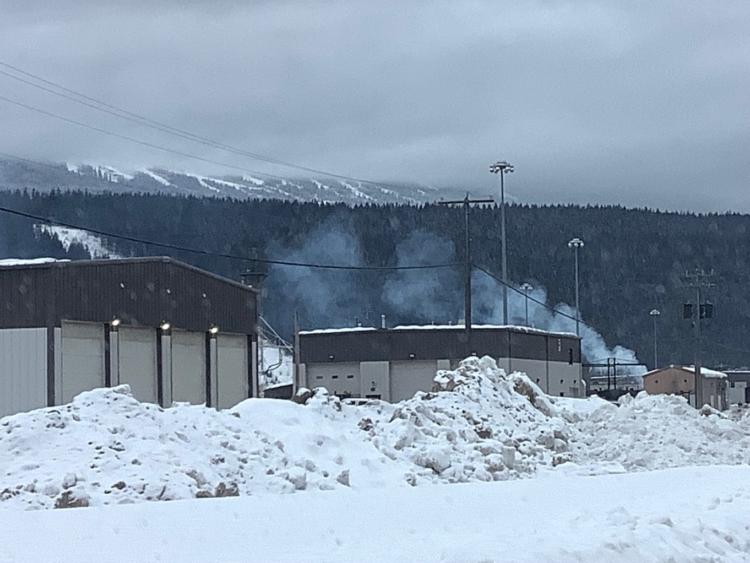 Idling locomotives and locomotive maintenance activities are a significant source of air pollution
in Golden. January 2022 (Photo: Annette Luttermann)
There is much work to be done to clean up our air, but with strong collaboration and concerted effort, we can all begin to breathe easier!