No-one will protect what they don't care about and no-one will care about what they have never experienced.David Attenborough
If you ask my daughter what trees need, she'll tell you confidently, it's hugs. And she'll follow up with a not so gentle reminder that if you take too much from trees, they won't be able to give anything back — "and mom, they give a lot back!" She's four.
Our love for the wild may start in books, tracing pictures of giant mammals with our tiny fingers. The basics of language learned in ecological form: A for alder, B for black bear. If we are lucky, it begins in our backyards. But for many, it begins in an environmental education program.
Each year, Wildsight environmental educators like me reach nearly 5000 kids, taking them outside to connect with their wild backyards, instilling curiosity, awe and wonder. But every year there are so many kids who don't get any environmental education outside at all. Can you help us take every class outside?
One single moment of wild wonder can lead to a lifetime spent cherishing and protecting it. Standing under a tree and feeling it sway in the wind. Turning over a rock and uncovering a new-to-you bug world. Seeing the intricate design of a snowflake through a microscope. Each moment a possible spark to ignite a connection and life-long love for the wild.
You can help give children or even a whole class the chance to start learning from nature today.
This fall, all of our programs are waitlisted. Teachers want us to take their classes outside to learn from nature, but we just don't have the resources. We have 1440 kids on the waitlist, but every $20 you give will take one more child outside into their wild backyard. Can you help make sure no child is left on a waiting list?
We protect what we love and know. Instilling curiosity, wonder and knowledge now helps to build a generation of lifelong stewards who will care for our lands and waters. I can see a sense of wonder and respect for the wild grow in the kids I teach.
After my daughter finishes telling me about what trees need — and don't need — she will excitedly tell me about the superpowers of pollinators and how, without them, we wouldn't be here. Imagine our world if we all loved trees and pollinators as much as my young daughter does. Imagine a world where every child has a chance to develop a deep connection to nature.
Thank you for helping to get kids outside and connecting them to the magic of nature.
For the wild,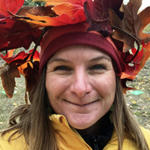 Jill Jennings
Education Coordinator and Educator
p.s. Has an experience in nature been important in your life? Did the wild teach you something? Please give today to give kids a chance to learn from the wild too.