In 2018, I was a student in the inaugural year of Wildsight's Columbia River Field School. Going into the trip, I had little to no knowledge about the Columbia watershed or the Columbia River Treaty. I had also never been canoeing and camping for so long before, and I knew none of the students or leaders on the trip. So, I was very nervous.
Little did I know how much this two-week adventure was going to change my life.
Throughout the trip, I built a strong connection to the Columbia River. Paddling several different sections (free flowing and dammed) really helped me to form a well-rounded understanding of why the Columbia is such an important river. I had the privilege to witness its beauty in many forms, such as the wildlife and aquatic life, its geography, human connections with the watershed, and special locations like the headwaters and its confluence with the Kootenay River.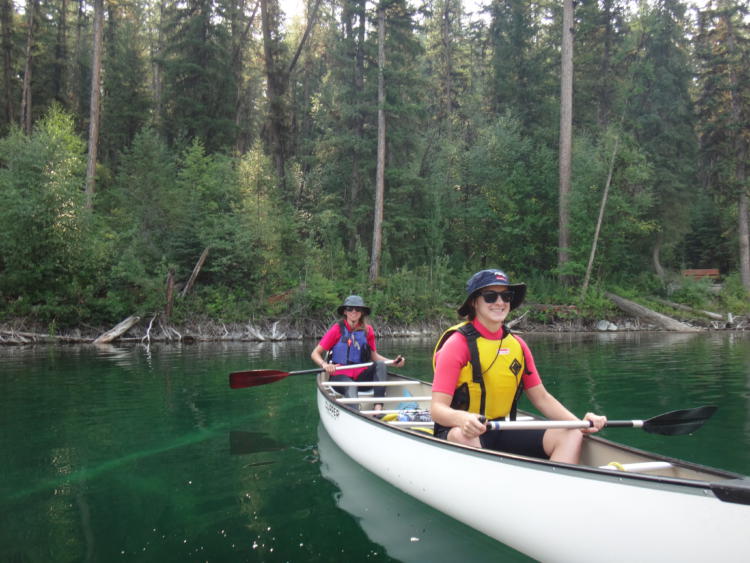 I really enjoyed the sense of community and teamwork throughout the trip. As the trip went on, it felt like we were a little family! I enjoyed developing closer friendships with some of the other students and improving my trust in my canoe partner. I found that many of the lessons learned when canoeing can be applied to other aspects of life, such as trust, teamwork, and communication. I now love canoeing in the summer and fall months with my friends, and the CRFS leaders when I can!
I also really enjoyed talking to biologists, artists, dam employees, Indigenous leaders, government officials, and many other Basin residents along the way (to name just a few). It helped me form a well-rounded opinion of the Columbia River Treaty and how it has shaped this region. The end of the Field School also featured a mini-conference with many guest speakers that focused on the importance of youth voices like mine.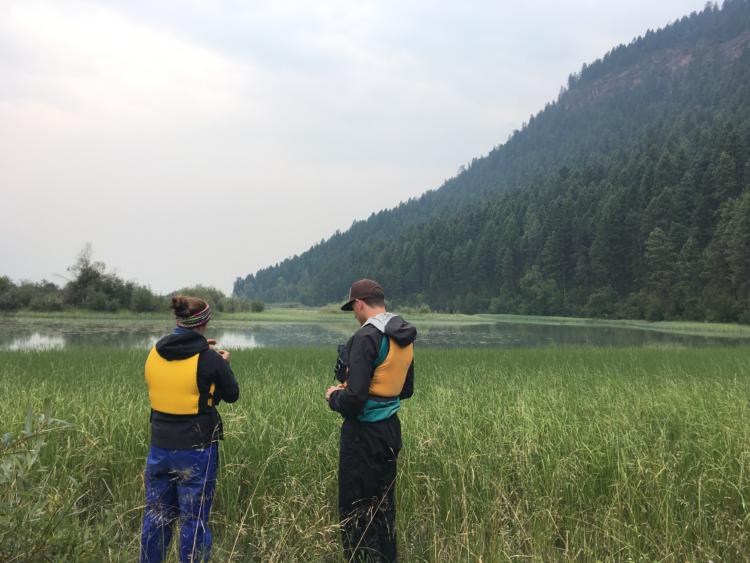 In 2019, I returned to the Field School as Assistant Trip Leader to help mentor the next cohort of students. As an assistant leader, I really enjoyed improving my leadership qualities, canoe skills, and having fun in the outdoors with an awesome group of leaders. As much as possible, the Field School leaders try to provide students with opportunities to go further and stay engaged. Along with other program alumni, I have been able to participate in numerous Columbia River-focused events. I have also presented at conferences about education and climate change. These opportunities have allowed me to keep learning about my home watershed and to make my voice heard in processes that are shaping its future.
Participating in the Field School also helped me to choose my educational/career path in Environmental Science, which I am currently pursuing through the College of the Rockies and the University of Lethbridge. In the future I hope to become a biologist that studies topics like hydrology, aquatic and terrestrial life, and the possibility of bringing salmon back to the Upper Columbia.
This year, I started working for Wildsight as a Communications and Education intern. I still get to be involved with CRFS and I now get to help Wildsight with their projects. Wildsight and the CRFS program have helped me to make important life decisions around schooling and career path.
I would highly recommend any basin youth applying to CRFS when it returns. This program promotes awesome summer adventure, lasting friendships, canoe skills, and backcountry experience while still learning about your local watershed.
A version of this essay also appeared as the first ever Youth Spotlight in the Province of B.C.'s Columbia River Treaty Newsletter alongside other updates about local, provincial, federal, and Indigenous efforts to shape the future of the Basin.