Coats zipped up, brightly-coloured toques secured over ears. Mittens more or less on, snow pants bunched on tops of boots. These kids are ready to explore outdoors.
Following 'Jessie Frost' (Wildsight educator Jessie Caza), the Kindergarten / Grade 1 students at Edgewater Elementary burst forth from the warm, fluorescent-lit hallway into a blue sky day, the snow a white canvas for the afternoon's activities.
Tiny boots crunch through snow, snow pants swish swooshing as students leave the confines of the school grounds and into the forest out back. It feels a bit like magic, this transformation from manufactured, open field, to limbs and needles scattered, shadows cast by sunlight gleaming through towering trees. There is much to do, and much to explore.
Today is a Winter Wonder afternoon for the tiniest of learners at this rural school. Setting aside ABCs and 123s, the students instead learn the rhythms of winter life for local animals through this Wildsight Education program.
Jessie draws the students in, captivating them with charades to get them thinking about what different things they like to do in the winter, and how animals might react in different ways to snowy conditions too.
The tiny chickadee is used as an example of how animals manage through the winter months, using activities to educate students about this bird. The Ktunaxa word word for chickadee is mi¢̕qaqas, Jessie shares. Kids are captivated as she dons a costume of the black capped chickadee, talking about the winter survival tools a mi¢̕qaqas has to help it survive cold conditions. Questions are asked; excitable hands shoot up, ready to guess why the chickadee has a big brain, or how it stays warm in winter. Learning is happening here. Huge scientific concepts, like bone density in birds, are made easy to grasp through object lessons: Lift up your water bottles, Jessie urges. 'Are they heavier when they're full, or when they're empty'? – 'Empty!' they little ones eagerly reply. It's a relatable lesson for these young students, who now understand why these birds' bones are hollow.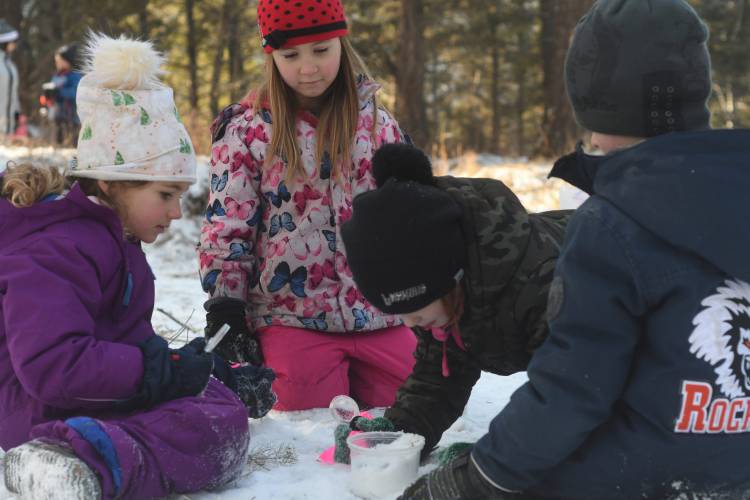 Students listen to the recorded sound of a chickadee heartbeat, and try to mimic its pace. They create mi¢̕qaqas 'sundaes', with a snowy ice cream base and toppings found throughout the forest, from tiny seeds and bits of needles to larger branches and even some berries. These small scientists clutch brightly-ribboned magnifying glasses in mittened hands to study their findings. They toss their sundaes in the air, giggling as the glittering mass falls.
The children learn about the amazing memories of these unpretentious birds, who hide food stashes all summer long in preparation for their winter survival. Chickadees will store, and remember, thousands of caches. To experience the brain power needed, kids are put into teams and asked to hide 14 coloured ice cubes in a confined space. When tasked with uncovering the ice cubes a short while later, no one succeeds in finding them all, though it isn't for lack of trying. Students clamber in the snow, scrape back tree branches, look up high and peer down low in search of the brightly coloured ice cubes they themselves had hidden.
To grasp the concepts of migration, hibernation and staying in place, students play an interactive game that has them running in the school field – early decision makers running ahead to the category in which they think an animal belongs, herd mentality drawing others into order.
Rosy-cheeked, red nosed, and perhaps a little tired after an afternoon's energetic lesson, students trample back to the school as the bell rings. Chimes of thanks rise up from the disorderly line to 'Jessie Frost', her Elsa-like dress with its shimmering ribbons adding to the day's wonder.
"I had so much fun," pipes up one little learner as she makes her way back. "I hope we can see you again," says another.
Winter Wonder is a half-day, curriculum connected program geared towards primary students, allowing children to experience the magic and mystery of winter in a fun and engaging way. Across the Columbia Basin this winter, more than 1,775 students will take part in a Winter Wonder program.
Tomorrow, the students in Ms. Gillies' K/1 class will be tucked back inside school walls. But today, they learned a little of the magic of winter, and the wonder of animals who thrive in our snowy season.
Thank you to our generous funders and donors who make programs like Winter Wonder possible; you are making an enormous impact! We gratefully recognize the support of Columbia Basin Trust, Consecon Foundation, the Government of Canada, Kimberley & District Community Foundation, Teck Trail Operations, and the Province of BC.