A step in the right direction
In January, we asked you to take action to support proposed changes to hunting and trapping in BC. The provincial government recently posted new hunting and trapping regulations for 2020-2022 for the Kootenay region and the province. The regulations are a small step in the right direction towards helping to rebuild wildlife populations in the Kootenay and Columbia regions.
Wolverine trapping has ceased for the entire Kootenay region
Wolverine trapping will no longer be allowed across the Kootenay and Columbia regions. Wolverine populations in the South Purcells, Southern Selkirks, and Southern Rockies have fallen because of habitat fragmentation, human pressure, and trapping. By instituting this regulation change, the Province is giving wolverines a fighting chance to rebuild. Thank you for speaking up for the future of wolverines.
E-bikes are not allowed in places where motor vehicles are prohibited under the Wildlife Act across the province
Motor vehicle restrictions under the Wildlife Act are in place to protect sensitive wildlife and waterways. Electric bikes allow people to cover a lot more ground and travel further into the mountains, disturbing and displacing wildlife and making it easier to hunt vulnerable wildlife. Electric bikes can be a great way to get around, but they have no place in areas that are closed to quads, dirtbikes and trucks. The provincial government has made the right decision to prohibit e-bikes in all areas that are closed to motorized vehicles under the Wildlife Act.

It is now illegal to feed or bait ungulates in the Kootenays
The feeding or baiting of ungulates is now illegal in the Kootenay region. This means it will be illegal to feed or leave bait for all moose, goats, deer, sheep, and elk. This includes placing or hunting in areas with human-made salt or mineral bait stations where ungulates are drawn in to lick up the minerals. Feeding or baiting ungulates can greatly increase the chances of disease transmission by bringing ungulates together to eat and defecate in one place. This is especially the case with Chronic Wasting Disease, a problem just over the borders in the US and Alberta. Ungulates also have specific food requirements that vary seasonally. It takes them weeks to adapt to changes in diet. A sudden shift from natural forage to hay can make them sick and sometimes even kill them. The Province is supporting science-based regulations by banning the feeding and baiting of ungulates across the region.
The Province has ended the Limited Entry hunting of antlerless (female and young) elk in the Kootenays
Elk populations are down significantly in recent years, so limiting hunting to bulls (older males) will give populations a better chance to recover.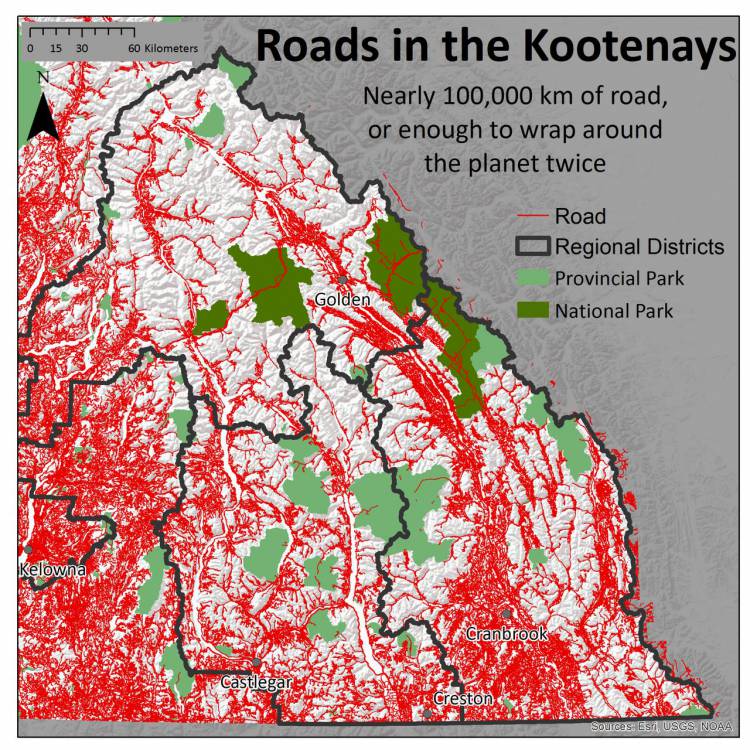 Motor vehicle closures
Twenty-one new changes in the Kootenays will increase the amount of secure habitat for wildlife by closing certain areas to motor vehicles. More and more evidence shows that backcountry roads and their traffic are stressing fish and wildlife and pushing them away from important habitat. These proposed vehicle restricted areas protect important habitats for sensitive species that can't handle the ever-increasing backcountry traffic, especially in combination with logging, mining, recreation, and hunting pressure. In BC, there are enough resource roads to drive from Vancouver to Halifax and back – 60 times. A growing body of scientific evidence suggests that the expansive network of backcountry roads creates some of the largest impacts to BC's ecosystems and many of British Columbia's iconic species such as grizzly bears and bull trout. While access management is a tool we can use to manage for sensitive species, we must start reclaiming and deactivating more resource roads than we build.
A revised start date for trapping marten in the Kootenay region
Unfortunately the Province did not act to revise the start date for marten trapping in the Kootenay region. In recent years, grizzly bears have been severely injured while trying to remove the bait from small box traps used to trap marten. The proposed scientific recommendation was to revise the start date of the trapping season until bears are hibernating, but it was not acted upon. The BC government and trappers are working together to modify traps that could reduce the likelihood of grizzly bears being injured. It remains to be seen whether this will be an effective measure to reduce injuries.
Now what?
Hunting and trapping regulations are only one small tool in the toolkit to manage for wildlife and ecosystem health. We need standalone legislation that puts wildlife and ecosystem health in the forefront when making decisions on forestry, mining, agriculture, and recreation.
Thank you for taking the time to speak up for better hunting regulations to maintain and enhance habitat for wildlife in the Kootenays!