Longtime Jumbo Wild supporter Doug Anakin passed away April 25th, leaving behind a trail of happy memories with friends and loved ones.
Doug was a valued member of the Jumbo Creek Conservation Society (JCCS), the nonprofit organization dedicated to saving the Jumbo Valley from the proposed ski resort. His wife Mary Jean reports that Doug got involved in the Jumbo Wild campaign because he cared about the wild and wanted to protect places like the Jumbo valley from development.
"He felt that everybody should be able to access the land, as long as they were on their own two feet," Mary Jean recalls, adding that he had quipped: "Why would anybody want to build a resort way up there, when they can't even fill the beds down here!"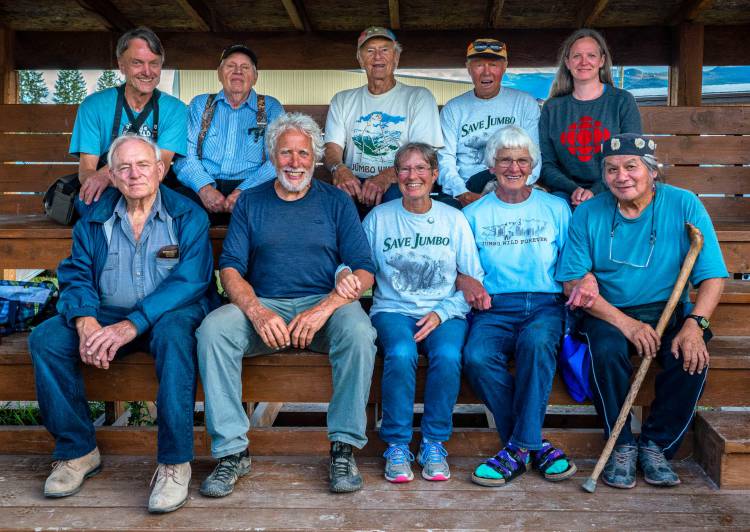 Fellow JCCS members shared their thoughts about Doug to commemorate their friend.
"His energy was contagious. He was always smiling, full of energy, had a clear voice, and moved energetically," reminisces Bob Campsall. "He was always positive and supportive."
Doug showed up to all the JCCS meetings and public events, and was willing to put himself out there as a leader and a participant, but was never bossy, Bob describes.
"He was a very committed and a welcome member of our Jumbo Wild movement," says Bob. "He was a likeable guy and willing to stand up for what he believed in."
Jim Galloway also worked alongside Doug on the Jumbo Wild campaign for many, many years and had nothing but praise for Doug and what he brought to the team.
"Doug was a real half-glass full type person, an optimist, and he had a smile for everybody. He was a real environmentalist and he was very community-minded," describes Jim. "He'd show up at the rallies, out there with his placard. His energy just seemed to know no bounds."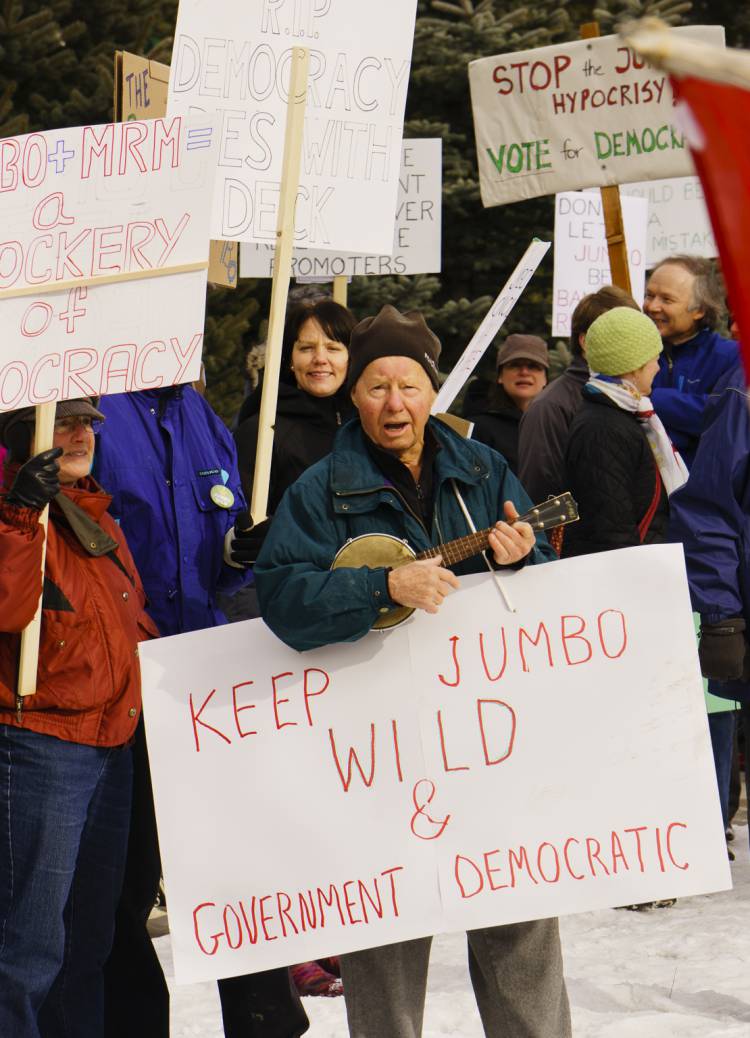 Jim says that perpetual twinkle in Doug's eye, the ready smile whenever he spotted a friend, and that positive attitude, will be missed by all in the Columbia Valley.
The JCCS worked closely with Wildsight in our efforts to stop the building of Glacier Resort's project.
"Whenever there was a rally, a march anywhere, he would always be up front there with his ukulele leading with When the Bears Come Marching In," recalls John Bergenske, Wildsight Conservation Director.
The Jumbo Wild campaign was serious work, but Doug brought a lighthearted approach to the table, raising everyone's spirits through some tough times, John adds.
"He always had a smile, but it wasn't because he took it lightly. It was his personality – he was really a positive person," John recalls. "He brought a positive energy to the campaign."
Doug will be missed by everyone who was privileged to know him, and we raise a glass today in honour of this friend of Jumbo Wild.