Written By: Kim Urbaniak
Twenty-Two kids wiggle and giggle and spin around, transforming into mayfly nymphs right before my eyes. The grade two class has just walked through the forest pretending to be mayfly eggs, quiet and unassuming. Well, as quiet as you can expect 6 and 7-year-olds to be on a field trip! The class is embodying the life cycle of mayflies, as an attempt to learn about the important ecosystem functions of diverse places like McGinty Lake. Today, they will learn mayflies are macro-invertebrates (insects without backbones that are big enough to see with the naked eye) often found in healthy wetlands, then go on a search to see who's living in the water. Who are their macro-invertebrate "neighbours"?
This fall, students from Meadowbrook to Wycliffe have embarked on similar adventures, putting on their deer ears, owl eyes, and fox feet, or becoming water molecules and biodiversity detectives. This school year, ten classes with over 200 students from Lindsay Park, McKim, Kimberley Independent School, and Marysville schools wiggled and giggled their way to McGinty Lake with environmental educator Kim Urbaniak for fun filled wetland adventures.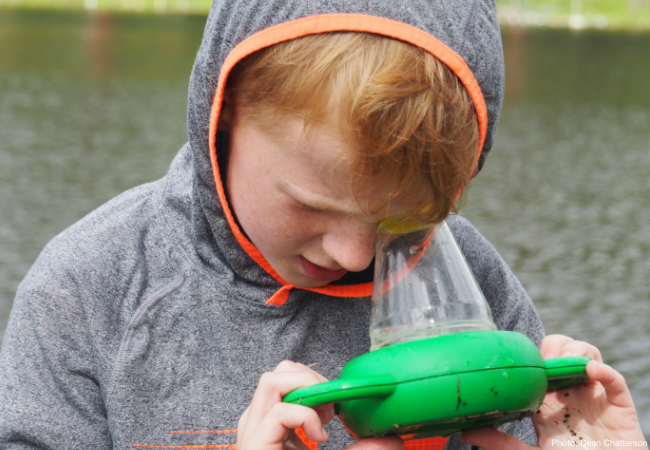 Students had a blast, teachers left happy, and requests for spring programs are already coming in. While funding for 2019 is still uncertain, the Meadowbrook Community Association and Wildsight Kimberley/Cranbrook are discussing plans to turn the McGinty Lake Education Program into a long-term endeavour.
The grade two's have wiggled and giggled and spun around enough times to grow up into adult mayflies. Since adult mayflies don't live long enough to eat, the students quickly "lay" their eggs containing the next generation and transform back into students just in time to get back to school for lunch.
The McGinty Lake Education Program is a partnership between the Meadowbrook Community Association and Wildsight Kimberley/Cranbrook. Funding is graciously provided by the Columbia Basin Trust and the Fish and Wildlife Compensation Program.