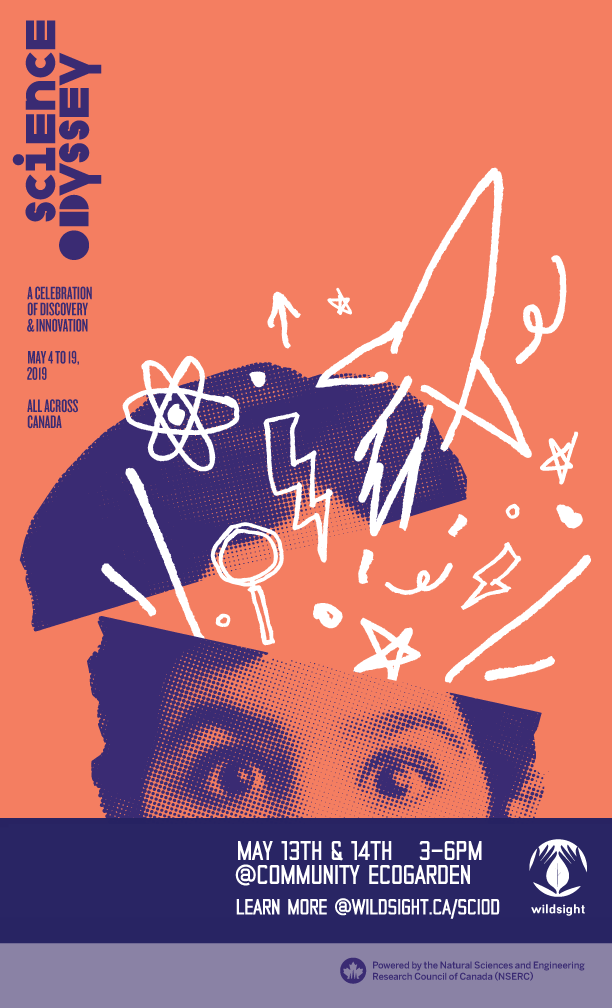 Come join us at the EcoGarden for some STEM-inspired all-ages science fun as part of Canada's Science Odyssey celebration. This is a free community event as part of Science Odyssey – Canada's largest celebration of science, technology, engineering and mathematics (STEM).
Events include:
GARDEN SCIENCE LAB: a science-based play space where kids can use graduated cylinders, test tubes, and beakers to be a scientist and experiment with garden materials.
SOIL SCIENCE: Gain a better understanding of the underground world of soil and explore a vermicompost bin.
BIODIVERSITY SCAVENGER HUNT: Explore garden biodiversity with a fun scavenger hunt and enter your completed page to win.
INSECT HUNT: Lounge under the giant cottonwood tree and explore some of our favorite bug books, guides, and magnified viewers to get a closer look at the world of bugs.
PLANT LIFE CYCLES: Take a reading walk and learn about seeds as you read a deconstructed book displayed throughout the garden.
MICRO-BIT TECHNOLOGY: Come and try out some cool technology with the Micro-Bit. Learn how to code this cool kid-friendly tiny programmable computer. https://microbit.org/
The ELK RIVER ALLIANCE will also be joining us.
Check out our Facebook event page as additional events will be added.
Led by the Natural Sciences and Engineering Research Council of Canada (NSERC), Science Odyssey brings together hundreds of fun and engaging activities across the country from Saturday, May 4 to Sunday, May 19, 2019. Events range from science in the streets, visits to labs, science fairs, talks and conferences, school field trips, encounters with scientists and engineers, special exhibits at museums and science centres, scientific events at community organizations, online activities, and much more. Learn more at www.sciod.ca