Application are now closed. Thank you for your interest in this program.
As climate change places increasing pressure on our global, regional and local ecosystems and communities, the need to address the climate crisis with meaningful action could not be more relevant. Harnessing the energy and ambition of young adults, the Youth Climate Corps program empowers you to inspire and implement solutions to the climate crisis through employment, training and leadership development.
We are seeking passionate, motivated and empathetic individuals, drawn to take meaningful climate action in your local community. Engaging with local professionals, Wildsight staff and deeply involved community members, you will gain the knowledge, skills and training necessary to contribute to climate action.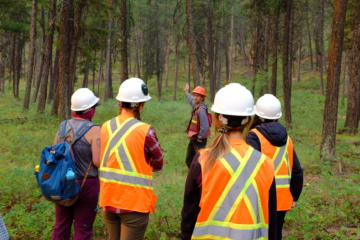 This position will include a mixture of hands-on skills and remote online programming. The online components will include some trainings, plus regular communications and public outreach about your experiences throughout the program. Work will be held at a variety of different locations around Kimberley/Cranbrook, both indoors, outside and, at times, remotely from home. When we work outside we are often in wilderness or wilderness-adjacent areas with little access to facilities.
Who can apply
As a condition of funding partnerships, applicants must:
Be between 17 – 30 years of age at the start of the contract
Be unemployed or precariously employed (employed seasonally, casually, part time, or at risk of losing your employment)
Be legally entitled to work in Canada (Canadian citizen, permanent resident or protected person)
Fully vaccinated against COVID-19
Requirements
Motivation to be part of solutions to climate change
Passion for community building
Adaptability and adventurous attitude
Experience working independently
Capable of working remotely
Willingness to engage others in climate action
Love for the outdoors, with the ability to work in a variety of conditions
Previous familiarity or experience with climate action or in climate-related fields is an asset but not a requirement
Job details
Dates:
May 2, 2022 – August 26, 2022
There is potential to extend pending funding and project availability.
Compensation: $17 per hour (including 4% vacation pay) + certifications, and training
Projects:
The scope of YCC Kimberley – Cranbrook 2022 will include:
Employment and skills training with Kootenay Employment Services
Theory and Practice of Food Sustainability with partners at:

Healthy Kimberley Food Recovery Depot
Cranbrook Food Recovery
Wildsight Kimberley – Cranbrook

Wildfire Fuel Mitigation and Monitoring
Location: Kimberley, Cranbrook and surrounding area.
Schedule: Monday – Friday, 35 – 40 hours per week
Your role: With support and direction from the Kimberley/Cranbrook YCC Coordinator, crew members will:
Participate enthusiastically and professionally in introductory and ongoing training and learning activities (both general and project specific),
Work collaboratively with fellow crew members and external partners to complete YCC projects at a high standard of quality,
Serve as an ambassador between YCC projects and community members,
Support the YCC team in producing and sharing communications content to tell the story of our work through multiple channels.
The Kimberley – Cranbrook Youth Climate Corps 2022 contract is a 4 month contract with the potential for extension and consists of multiple projects and trainings.
Throughout the season participants are responsible for creating communications materials and implementing a consistent communications plan (including social media, opinion editorials, video documentation and whatever else your team brings to the table). There is also an opportunity for crew members to be supported in focusing on a localized project that they are passionate about.
YCC strives to provide as diverse an experience to participants as possible, therefore we cannot guarantee that this list is exhaustive. More projects may come online as funding and partnerships are developed.
Certifications and trainings
During the course of this contract, crew members will receive a selection of trainings and certifications. These trainings will be provided free of cost and will be certifications that participants will be able to carry with them into future workplaces.
Trainings:
Introduction to fire ecology and fuel sampling methods
Introduction to food sustainability and equality
Gardening design basics
Exposure to Ktunaxa perspectives on the land
Leadership and communication skills
Social media strategy coaching
Knowledge of local ecosystems and how climate change is impacting this area both presently and in the future
Introduction to levels of government, community partners and methods and coaching for community organizing and engagement
Certifications:
WHMIS
Bear Awareness certificate
OFA Level 1
S100 / 185
Basic Chainsaw Operation and Maintenance

*These are not exhaustive lists and could increase as the season progresses
How to apply

Applications are open now! We will be reviewing applications as they arrive and will be offering positions on a rolling basis. We will alert applicants promptly if there are any concerns about their eligibility for required funding criteria

Important Dates:
March 1, 2022: Applications open
April 22, 2022: Deadline to apply
May 2, 2022: Contract start
August 26, 2022: Contract end*
*There is a high likelihood of an extended end date
This is a layered application process, but we are aiming to streamline the process as best we can while gathering the necessary information. There will be multiple components that attempt to understand the applicant and help us to make the most informed decisions possible.
Components of the application include:
Crew Member Eligibility Application
Short Answer Questionnaire OR Alternative Media Based Application
Resume and Cover Letter (optional submission)
Interview
Step one: Crew member eligibility application
This Google form can be found here. These questions are meant to determine how you align with potential funding criteria. They also help us understand what demographics we are reaching with this opportunity. They also provide us with information that will help us to reach people when advertising the program in future years. Once you have completed this form and clicked "submit" the answers will automatically be sent to us.
Step two: Please complete ONE of the following options:
Option A: Short answer questionnaire
Like the Eligibility Application, you can complete this via a Google form here that will be automatically sent to us once you hit submit. Please note that the Google form will not save your work. It is recommended that you draft your answers on a separate document and then copy and paste them into the form to submit when ready. If you choose to complete this section, you do not need to submit an alternative media application (Option B). However, you must choose one or the other.
Option B: Alternative media application
If you would prefer to introduce yourself through an alternative method other than the short answer questionnaire, we invite you to submit a piece of media of your choice (video, poetry, art, cartoons, or other of your choice). We would like for this media application to contemplate your community, your role within it, and how you envision the future of that relationship.
Please limit video submissions to four minutes. If the media that you are submitting does not include a verbal or written response to the prompt above, please provide a brief summary and interpretation of your response.
These submissions can be sent directly to kcycc@wildsight.ca with the subject line "2022 Kim-Cran YCC Crew Application". Please be sure to include your name with the application. This is also a good time to include a resume (see Step Three) if you're choosing to submit this document.
Step three: Resume (optional)
Please submit a resume to the Kimberley – Cranbrook YCC Coordinator at, kcycc@wildsight.ca. Rest assured, this position does not require you to be developed professionally in your chosen field, nor does it ask you to have years of experience. A resume is a good way for us to understand the types of skills you may have developed through previous work experience.
Step four: Interview
After you have successfully completed the steps listed above, you may be contacted to set up a brief interview.
Please feel free to get in contact with Tim Chapman, Kimberley – Cranbrook Youth Climate Corps Coordinator at
kcycc@wildsight.ca
with any questions.
For more information on the Youth Climate Corps program, please look into the following resources: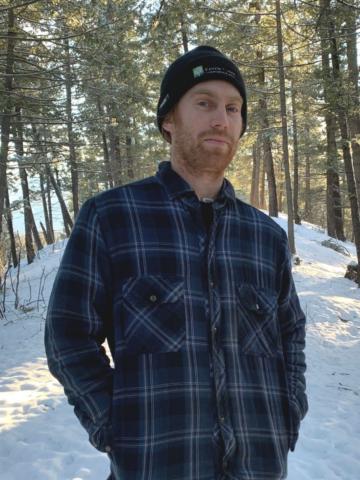 Meet your coordinator: Tim Chapman
Kimberley/Cranbrook Youth Climate Corps Coordinator
Born and raised in Guelph, Ontario, Tim grew up camping and road tripping with his parents, and at a young age developed an appreciation for nature and wild places. Driven by a passion to teach others, learn, and share knowledge and experience, he was drawn to his current role with Wildsight and the Youth Climate Corps. On a constant search for new adventures, Tim has worked in various capacities for Provincial Parks, Conservation Authorities, and a Forestry Consulting Firm. Tim is thrilled to be a part of the Wildsight team and to call the community of Kimberley home. You can reach Tim at kcycc@wildsight.ca