Spaces filled up fast for this program. However, we have a waitlist should anyone have the need to withdraw prior to the field course. Please fill out the form if you:
You're interested in being contacted in the event that a space in our 2022 course opens up, or
You are interested in participating in our 2023 course (location TBD — likely a different part of the watershed than in 2022)
Please note: This course is geared towards high school teachers and other kinds of educators in the Columbia Basin. However, if you teach in a different watershed and want to cross pollinate, please get in touch. We will contact you to discuss if your registration don't appear to fit our criteria.
Feel free to contact graeme@wildsight.ca or monica@wildsight.ca with any questions!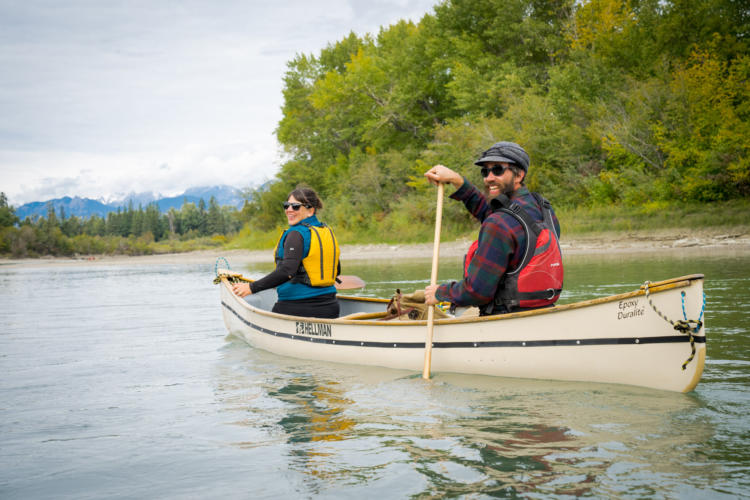 Field Course
Educators, it's your turn to learn! With a master canoe instructor as your guide, you'll paddle and explore the Columbia River over this four-day field trip. Learn new course material in a fun and welcoming environment alongside other educators interested in this amazing watershed we call home.
Like a miniature Columbia River Field School, this four-day, three-night adventure immerses you in the geography, history, ecology, hydrology, politics, economics and more of the Columbia River Basin. We'll workshop Wildsight's new suite of curriculum-based resources: Teach the Columbia, so you can take any or all of these 11 lesson plans back to your students with confidence this coming year.
You'll meet other educators interested in Columbia River Basin issues, and together we'll build a community of practice.
Field course: Monday, Aug. 29–Thursday, Sept. 1
This course will take place in the stunning Columbia River wetlands between Invermere and Golden (exact put in and takeout TBD). Participants will need to travel independently to the start location, but we will help organize carpooling and shuttle everyone back to their vehicles after taking out from the river. The course will start in the late morning on August 29th and conclude around mid-day on September 1st. Registrants will receive detailed information covering all logistical matters.
Cost:
Teach the Columbia and this field course are made possible by the generous support of our funders. To help cover a minor portion of trip costs, we ask that participants pay a course fee:
Early bird rate (register by June 24th): $300
Standard rate (register by August 7th): $500.
Financial aid available if necessary. All food, canoes, and specialized gear for the trip will be provided.
Meet your instructors: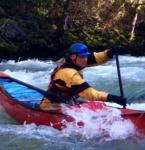 Roger Warnatsch:
Roger is dedicated to all things canoeing and outdoors. He is a certified Master Canoe Instructor, the Instructor Coordinator of the Recreation Canoeing Association of BC (RCABC), and has taught canoeing and outdoor leadership as a career for many programs (college, university, outdoor leadership, high school, etc.) throughout BC. He enjoys getting people of all ages out on the water and thriving in our magnificent outdoor environment. He has taught and guided extensively in BC, but has also paddled, instructed or guided in Mexico, California, Oregon, Washington, Idaho, Alberta, Saskatchewan, Yukon and the NWT.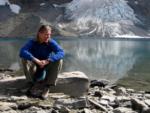 Monica Nissen:
A passion for the wilderness and a gift for teaching have drawn Monica into the field of environmental education where she has worked both inside and outside the classroom. With a background in outdoor leadership as an Outward Bound instructor and through hiking and ski guiding, she has spent the last 20 years developing and delivering educational programs that inspire the next generation of stewards of the Earth.
As a certified BC teacher and the Education Director at Wildsight, Monica and her team of educators have delivered environmental education programs to over 90,000 students throughout the Columbia Basin. Monica has worked on curriculum development for the renewed BC Science curriculum, and serves as an instructor with UBC's West Kootenay Teacher Education Program. She is committed to supporting educators in building place-conscious practice.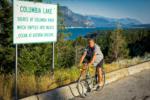 Graeme Lee Rowlands:
Graeme manages Wildsight's Columbia River Field School and Youth Climate Corps programs. He is passionate about the relationships that underpin the ways we make decisions about rivers and the climate. Graeme was born in Honduras, raised in California and has since lived across the Pacific Northwest. He first came to the upper Columbia watershed in 2017 while on a 35 day bike and kayak journey up the Columbia River from sea-to-source. He is now based in Golden but enjoys visiting familiar places and faces across the region. Graeme's written work on the Columbia River Treaty, salmon restoration, colonization and reconciliation, climate change, and related topics has appeared in over 50 publications. He has worked on the same with dozens of organizations across the international Columbia River Basin.