Wildsight was able to collaborate with Girls on Ice Canada for an expedition in August 2022. Read all about the 2022 Kootenay expedition!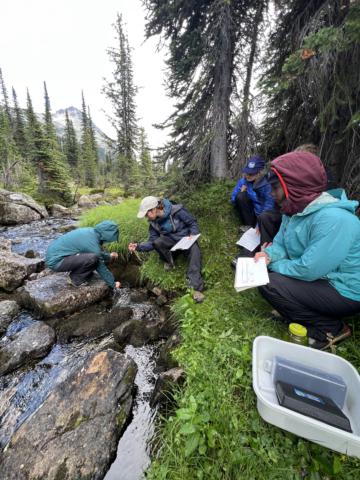 Wildsight collaborated with Girls* on Ice Canada in offering a tuition-free, summer wilderness expedition in August 2022. The program interweaves science, art and adventure to inspire leadership, curiosity and confidence in the next generation of leaders!
This Expedition is in partnership with Inspiring Girls Expeditions, the Alpine Club of Canada and Living Lakes Canada.
* While we acknowledge our name is imperfect, we want to clarify that Inspiring Girls* Expeditions welcomes cis girls, trans girls, and any girl-identified youth, as well as non-binary and gender non-conforming youth.
Inspiring Girls Expeditions empowers young women to lead and succeed through science, art, and wilderness exploration.
Inspiring Girls Expeditions seeks to…
Increase the participation and diversity of women in field sciences, art, and outdoor recreation. We encourage attitudes which foster supportive and inclusive science and outdoor communities.
Foster young women's self-confidence in their physical, intellectual, and leadership abilities while creating lifelong advocates for Earth science and wilderness stewardship.
Support a network for current early-career scientists, artists, and guides through continuing development opportunities and collaboration.
Kootenay Expedition
August 22-Sept 2, 2022
Explore the Kootenays' iconic glaciers
Girls* on Ice Canada – Kootenay Expedition is a unique BC mountain experience that is packed full of dynamic glaciers, hardy alpine ecosystems, and beautiful landscapes. Accompanied by certified mountain guides, professional scientists, and artists, a team of nine or ten girls* explores the glaciers and lakes in Kokanee Glacier Provincial Park in British Columbia. This location provides a perfect environment for developing scientific observational skills, understanding relationships between organisms and their surroundings, reflecting on our own interactions with the mountains through art, building self-confidence in difficult terrain, and gaining life-long friendships.
Tentative Itinerary
The day-to-day activities of the expedition may change due to weather and glacier conditions. The basic itinerary is generally as follows:
Day 1: Arrive in Kelowna if flying and drive to meet the team in Nelson, British Columbia! Together we will learn about traveling and camping in the mountains and stay the night at a campground.
Day 2: The first of several day hikes – these will let us get comfortable using our gear and begin the process of immersion science and developing observational skills.
Day 3: Venture to higher alpine environments on another day hike. By traveling through the mountains, girls* will gain essential technical skills and confidence in their abilities. Deepen our relationship with this landscape by developing our science projects. We will also meet local artists and scientists.
Day 4: Hike up to the alpine, in Kokanee Glacier Provincial Park, where we will be based, for the next five days.
Days 5-9: Explore the glacier and surrounding mountains while learning about ice, snow, lakes and the ecosystems that depend on them. One day we will make a summit attempt! Girls* will conduct their own science experiments as well as create art pieces that reflect their interactions with glaciers and perceptions of mountain environments.
Day 10: Hike out from the alpine back to the trailhead and travel to campground.
Day 11: Wrap up science experiments with a culminating presentation of the results.
Day 12: Final reflection activities and return home.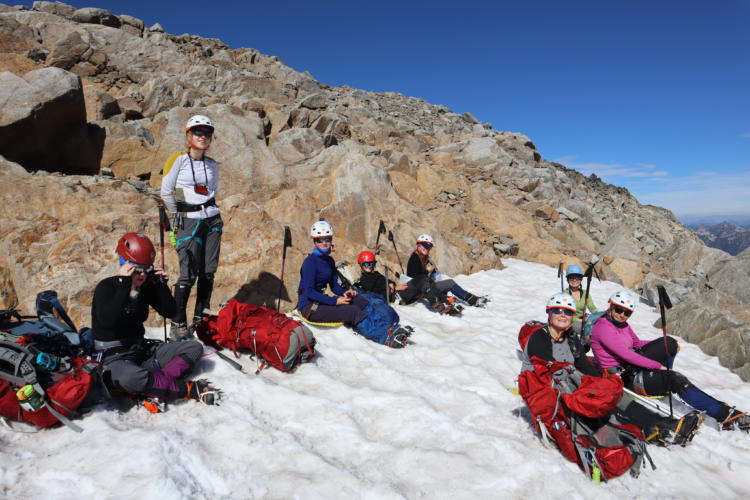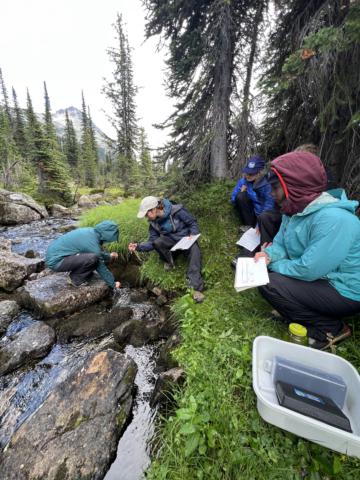 With support from National Sciences and Engineering Council of Canada (NSERC), BC Hydro, Arjay R. and Frances F. Miller Foundation, Engineers and Geoscientists of BC