Birds are all over our landscape if you know how to look.
Watch as Wildsight Educator Ayla reads Have You Seen Birds by Joanne Oppenheim, illustrated by Barbara Reid, pointing out some of types of birds and the many places you might find them while backyard birding.
Can you spot any nests in the story, or in your backyard?
Try this Bird nest activity to develop empathy and awe for these amazing feathered architects!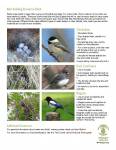 Nest Building Resource Sheet