Join Andrea Crook, who is passionate about sharing her love of growing your own food.
In this workshop, we will cover methods for propagating plants from seeds and cuttings. With cuttings, we'll examine different rooting methods such as rooting in water vs. using rooting hormones. We'll also discuss propagating common kitchen vegetables and herbs such as basil, thyme, rosemary, mint, lettuce, and sprouts. For seed starting, we'll discuss easy and more complex methods (e.g. scarification).
Join Ms. Crook and Wildsight Golden on February 10, 2021 at 7 PM, Mountain time.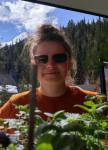 All presentations will be held on virtually on zoom. Registration is required, please register here
The event is free, but donations would be gratefully accepted. Click here to donate.
For more information, email golden@wildsight.ca
We are grateful for support from the following: